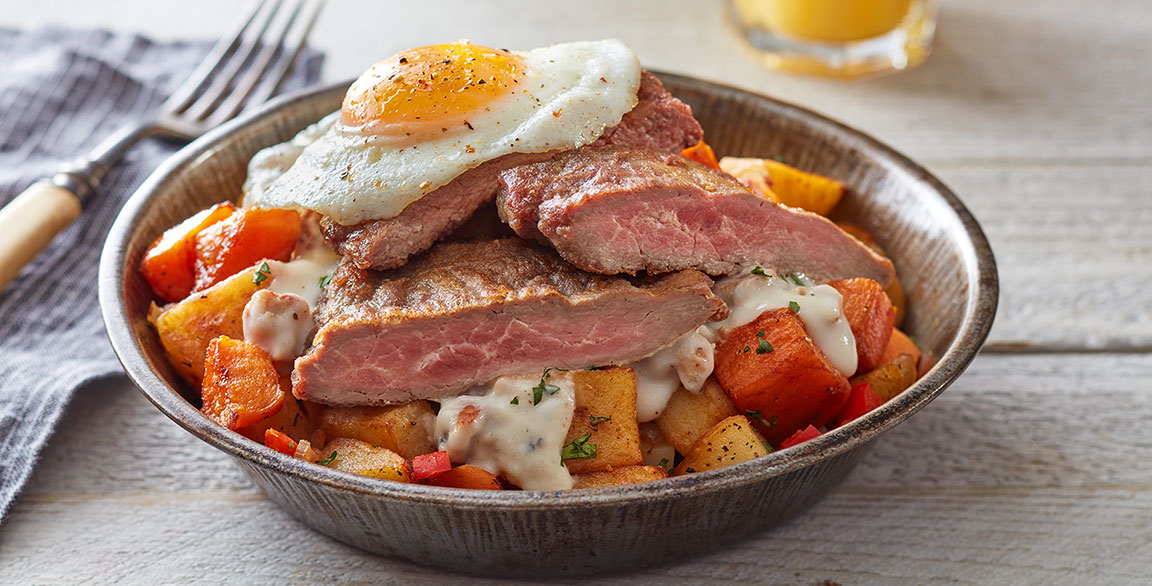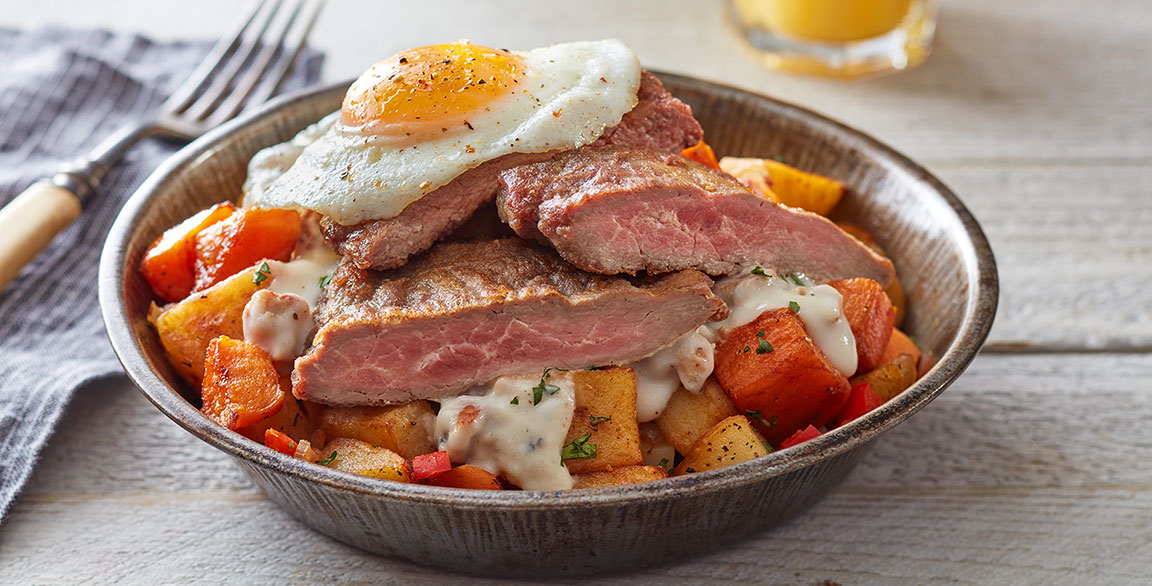 Chicken-Fried Aussie Steak Breakfast Bowl
Recipe courtesy of Chef Renate DeGeorge
Sponsor: True Aussie Beef & Lamb
YIELD: 10 Portions
PORTION SIZE: 7-8 oz.
PREP TIME: 1 hour
INGREDIENTS
Chicken-fried Aussie steak
9 pounds Australian grass-fed flank steak, cut into 3 wt. oz portions, pounded ¼" thick
1 teaspoon Kosher salt
¼ teaspoon fresh ground black pepper
For the batter:
4 cups all-purpose flour
1 Tablespoon Kosher salt
½ teaspoon fresh ground black pepper
½ teaspoon garlic powder
½ teaspoon onion powder
½ teaspoon hot paprika
Vegetable oil, for cooking
Sausage pan gravy:
1 pound breakfast-style sausage, crumbled
1/3 cup all-purpose flour
¼ teaspoon black pepper, ground
½ teaspoon Kosher salt
3 ½ cups whole milk
Potato hash:
¼ cup unsalted butter
¼ cup vegetable oil
1 pound shallot, minced
2 teaspoons Hungarian paprika
2 Tablespoons fresh thyme leaves
1 pound red bell peppers, diced ¼"
2 Tablespoons fresh garlic, minced
2 pounds Yukon gold poatoes, diced ½"
2 pounds sweet potatoes, peeled, diced ½"
1 teaspoon Kosher salt
¼ teaspoon fresh black pepper
To serve (per bowl):
6 ounces (wt.) chicken fried Aussie flank steak pieces
2 ounces pan gravy
8 ounces (wt.) potato hash
1 each fried egg, soft yolk
Sliced scallion, as desired
DIRECTIONS
For the chicken fried Aussie steak:
Season steak pieces with salt and pepper.
Mix flour with remaining seasoning and lightly coat the seasoned steak pieces.
In a large skillet over medium-high heat, pan fry coated steak pieces until golden and crisp- about 3 to 4 minutes. Drain off excess oil and reserve until ready to use.
For the sausage pan gravy:
In a sauce pot, crumble sausage and cook over medium-high heat, pressing into pieces smaller than half an inch.
Add salt, pepper, flour and stir until all pieces are well coated.
Slowly add milk and bring to a simmer, approximately 5 to 8 minutes.
For the potato hash:
In a large skillet over medium heat, add butter oil, shallot, paprika, thyme, bell pepper and garlic- lightly sweat for 2 minutes.
Add potatoes and increase heat to medium-high. Coat potatoes with vegetable mixture and cover until potatoes are al dente, about 6 minutes.
To serve:
Crisp the hash and top with steak, gravy, fried egg and scallion.
Project Management: Summit F&B
Photography: Carlos Garcia // Food Styling: Peg Blackley & Bree Williams