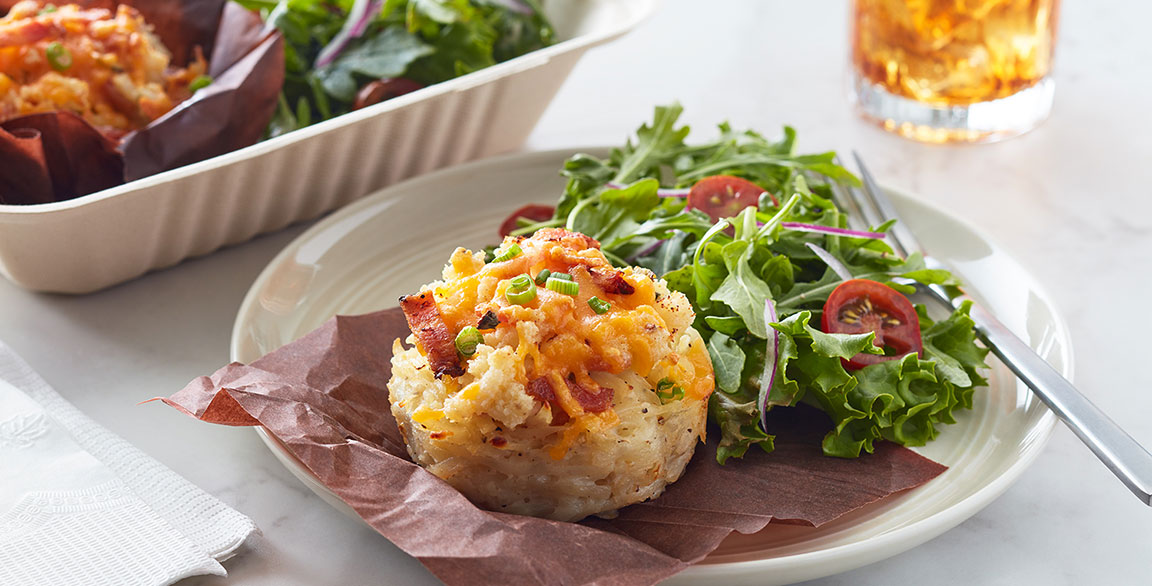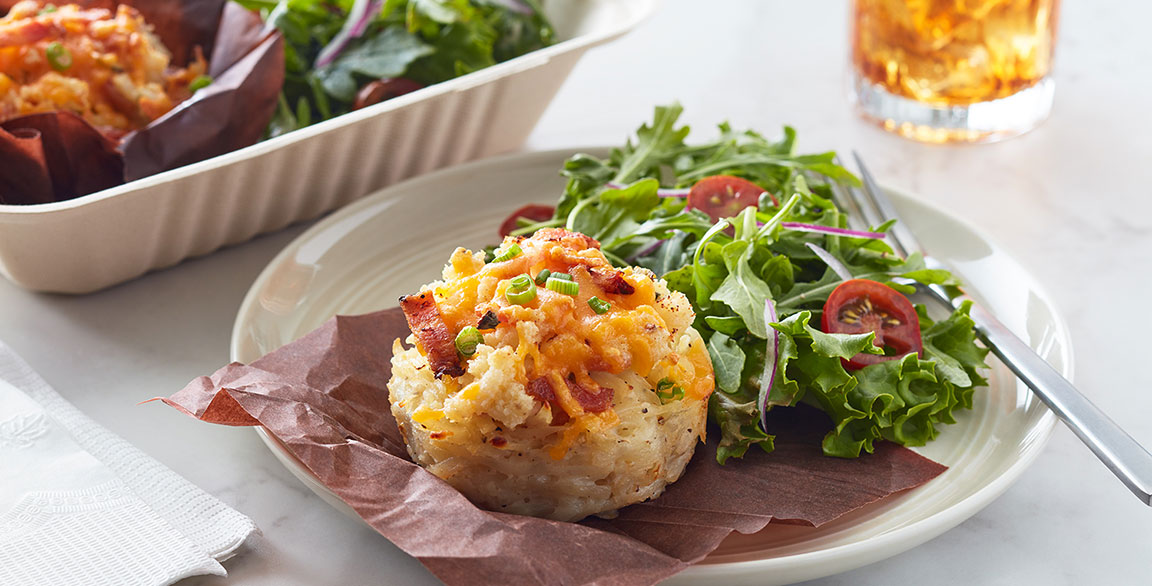 Loaded Baked Potato Gratin
Recipe courtesy of Renate DeGeorge
Sponsor: Potatoes USA
24 containers of 4 side servings each (96 side-dish servings)
Ingredients
Potato Gratin:
1 ½ cups All-purpose flour
½ cup Kosher salt, fine
1 tablespoon Black pepper
6 quarts Whole milk
1 ½ cups Unsalted butter, melted, or vegetable oil
6 1/4 pounds Potatoes, dehydrated, hash brown plain or sliced scalloped
9 quarts Boiling water
Potato Topping:
1 ½ pounds Panko breadcrumbs
12 ounces Bacon, cooked and chopped
8 ounces Scallions, thinly sliced
36 ounces Sour cream
12 ounces Cheddar cheese, shredded
Directions
For the Potato Gratin: Heat a convection oven to 350°F.
In a large container, whisk together the flour, salt, pepper, and milk. Blend in the butter. Fold in the potatoes.
Within 10 minutes, portion 24 ounces of potato mixture into 24 each 32-oz. dual ovenable or aluminum baking pans.
Pour 1 ½ cups boiling water into each pan to cover the potatoes. Cover each pan with foil.
Bake the gratins for 20 minutes, until potatoes are tender when tested with a knife or pick. The sauce should be bubbling and still a bit thin. It will thicken as it cools. Let cool for 15 minutes, then blast chill or refrigerate. Hold up to 2 days before topping and reheating.
For the Topping: In a large bowl, mix together the breadcrumbs, bacon, scallions, and sour cream. Cover and refrigerate up to 1 day.
Top each 4-serving container with 3.25 ounces breadcrumb mixture. Sprinkle it with ½ ounce cheese. Cover and refrigerate to reheat as needed.
To serve: Reheat each 4-serving container in a 375°F oven for 15 minutes, covered, on a middle rack. Uncover and bake for 5 more minutes to brown. Let rest for 1 minute before serving.
Chef's Notes
To use fresh raw potatoes in place of dehydrated, for each serving, increase potato weight from 4 oz. of dehydrated to 10 oz. fresh, omit water and increase milk from 8 to 12. fl. oz.
Project Management: Summit F&B Photography: Carlos Garcia // Food Styling: Peg Blackley & Bree Williams