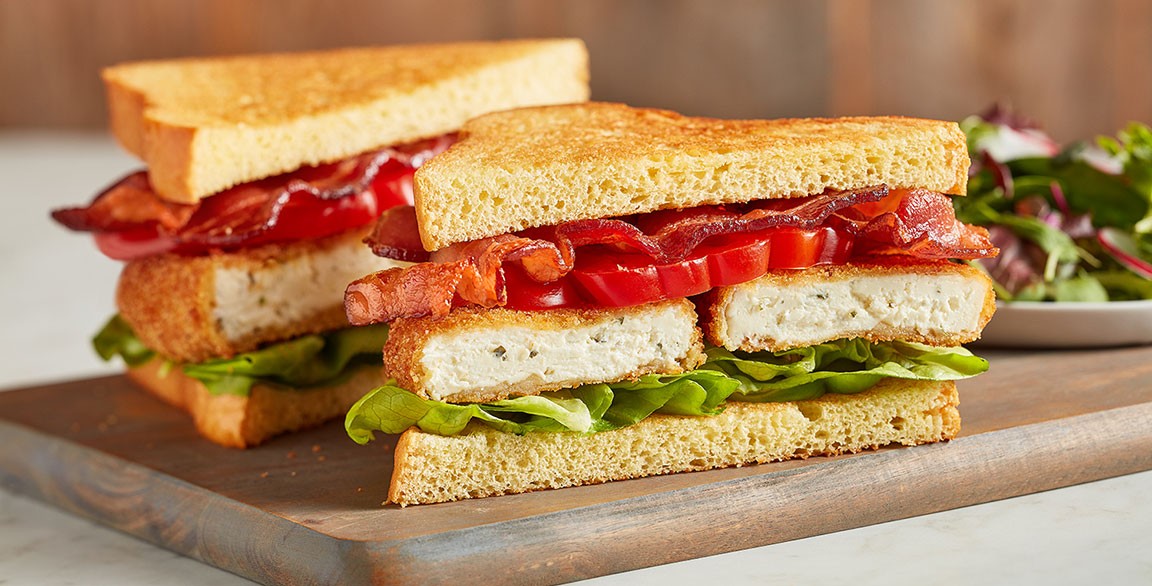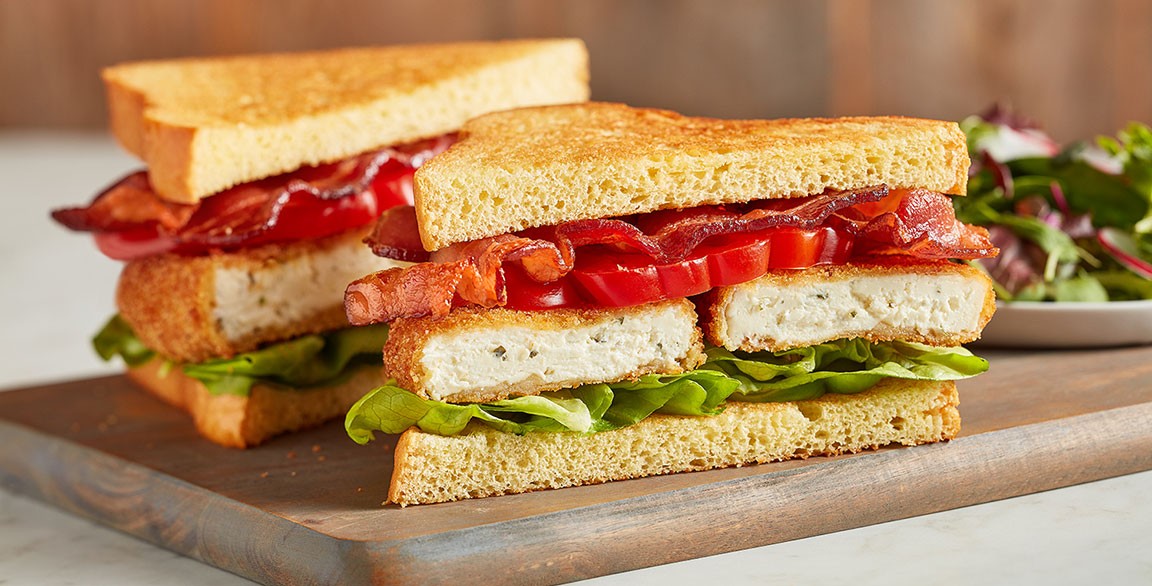 Boursin® BLT on Brioche
Recipe courtesy of Chef Renate DeGeorge
Sponsor: Bel Brands USA
This is a great steakhouse lunch item with crispy fried Boursin® Garlic & Fine Herbs and triple-thick grilled bacon, butter-toasted brioche, heirloom tomato, and Bibb lettuce. As sliders on small buns, this would also work well with pork belly.
Servings: 24
Ingredients
Fried Boursin:
16 (5-ounce) packages Boursin® Garlic & Fine Herbs cheese
3 pounds all-purpose flour
30 fluid ounces eggs, whisked
3 pounds plain breadcrumbs
1 quart frying oil
Boursin® BLT:
4 ½ pounds thick-cut applewood-smoked bacon
48 slices brioche, about 5 x 1 inch each
1 ½ pounds unsalted butter
4 ½ pounds heirloom tomatoes, sliced ¼ inch thick
2 ¼ pounds butter lettuce, separated into leaves
1 ½ teaspoons sea salt or fine kosher salt
¾ teaspoon cracked black pepper
Directions
To make the Fried Boursin®: Using a hot, dry knife, slice each Boursin® puck into 3 rounds. Lay them in a single layer on sheet pans ½ inch apart. Freeze for 15 to 40 minutes.
Coat each round in flour, egg wash, and breadcrumbs and return to the sheet pan. Refrigerate until needed.
To make each BLT: Grill about 3 ounces bacon, lightly charring the edges.
Melt 2 tablespoons butter in a skillet, season with salt and pepper, and griddle 2 slices of brioche. Cook both sides of the bread.
Meanwhile, deep fry or pan fry 2 rounds of breaded Boursin® until browned and crisp. The Boursin should give slightly but not be fully soft.
Layer the bread with lettuce, Boursin®, bacon, and tomato. Serve whole or halve the BLT and skewer each half.
Chef Notes
If the bacon is very chewy, place it below the cheese instead of on top.
Project Management: Summit F&B
Photography: Carlos Garcia // Food Styling: Peg Blackley & Bree Williams