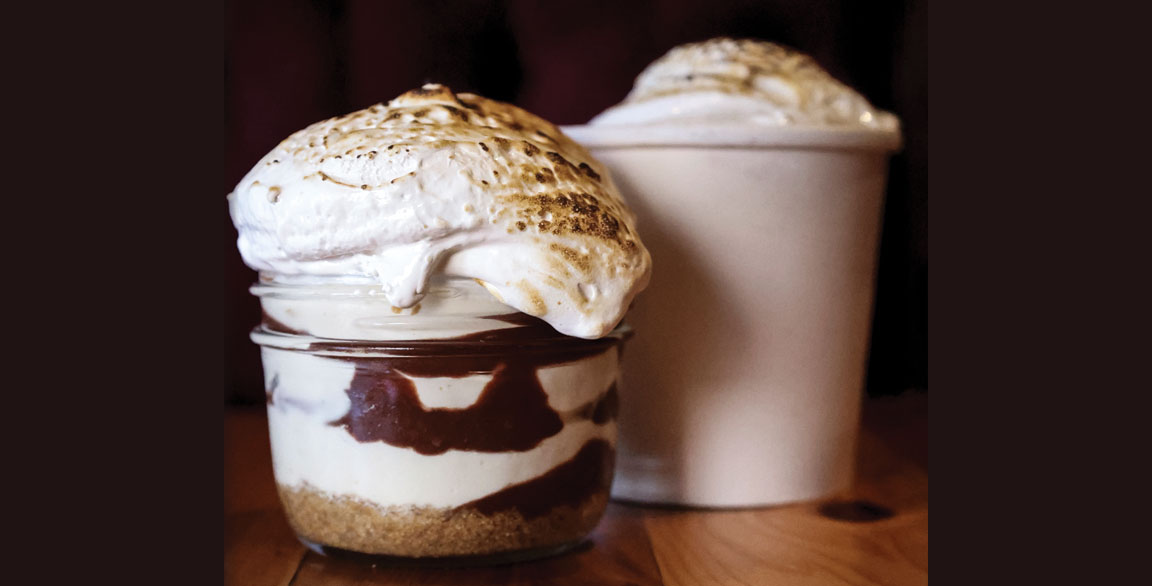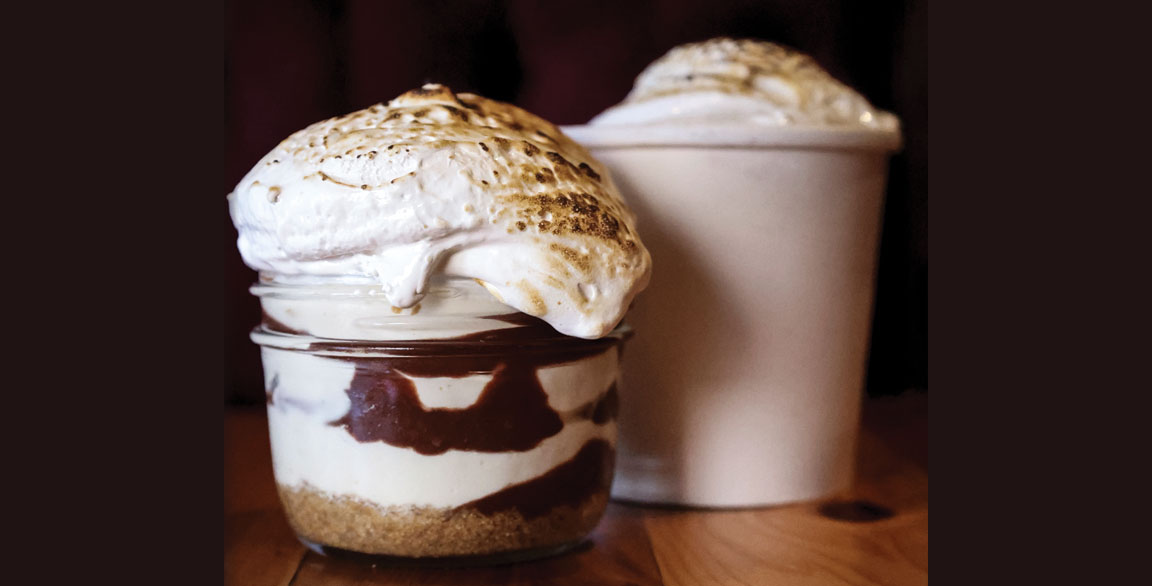 By Flavor & The Menu
November 18, 2020
Dessert has always served as a safe haven for diners, a soft landing at the end of a meal where favorite indulgences await. Of course, that familiarity doesn't mean that the dessert category lacks imagination. Quite the opposite is true. Whimsy, artistry and fun flourish here.
But what a year it's been. The desire for comfort comes as no surprise, but there's a shift in what else consumers are now looking for in a dessert. Whether that shift is temporary or longstanding, the sweet side of menu development for the foreseeable future needs to balance practicality with temptation.
Some of the pressing questions guiding development today are: Does this dessert translate well into a to-go offering? Can it bundle easily with a meal kit or offer a fun DIY at-home element? And most importantly, does it offer flavor combinations that consumers find compelling?
The recent addition of the S'mores Cheesecake at The Parish, a Southern fusion gastropub in Tucson, Ariz., was a winner among on-premise diners and an even bigger hit on the to-go menu. Rustic and homey, the no-bake cheesecake ribboned with sea salt ganache sits on a brown-butter graham cracker crust. The dessert, served in a mason jar for onsite dining or a to-go cup for takeout, is topped with a puffy cloud of brûléed housemade marshmallow fluff.
When developing the build, chef/owner Travis Peters wanted a dessert that could be prepped ahead of service and hold its integrity in a portable format. He also wanted to retain its crowning glory—the torched marshmallow fluff—in the off-premise format. "We have to brûlée it really carefully and get the timing right so the cup holds its integrity," says Peters. "It works great, and the effect is fantastic. It's a paper cup, but the marshmallow makes the presentation special."
The dessert has garnered so much success that he has created a series of cheesecakes, all fashioned in the same way.
Trend-forward flavors meet creamy comfort in offerings like the Mexican Candy & Pineapple-Tamarindo Goat Cheesecake and a Pickled Berry Cheesecake. "We go after what's delicious, and then design it so it works for takeout as well as in the restaurant," says Peters.
Ch-Ch-Ch Churros
Is it fair food? A ballpark snack? Dessert item? Yes to everything. Churros, those crispy, golden cylinders of deep-fried dough showered in sugar, are having a moment. Born in Spain and celebrated throughout the world, creative variations are popping up on menus here. Restaurant brands are leveraging the broad appeal of this craveable, dippable snack/dessert and creating memorable versions of their own.
Masia, a modern Spanish restaurant in Portland, Ore., offers diners a joyful abundance of choices on its all-day churros menu. Jose Chesa, executive chef, serves classic churros, dusted with cinnamon and sugar; stuffed churros with either dulce de leche or Nutella; ice cream sandwiched between churro buns; and a choice of either marshmallow dip or crema Catalana for any of the churro items on the menu.
Masia also makes churros a part of its to-go bundles. A recent picnic box of charcuterie, Russian potato salad and house pickles included churros as the sweet treat.
Concepts like The Gringo, an eclectic Mexican restaurant in Chicago, and Churroholic, based in Anaheim, Calif., add a gloriously silly side to churros, attracting younger diners and any of us looking for a little candy-filled fun. Each takes advantage of the churro's versatility which, at its core, is a simple choux pastry.
The Gringo's menu includes Pop Rocks Churros with a candy glaze and Samoa Churros with a caramel-coconut frosting. Churroholic is equally creative in its exploration of American candy culture, with offerings like the Matcha & Pebbles Churro, a giant churro loop coated with Fruity Pebbles cereal.
Churro Breakfast Bites are also on the menu, moving churros into a mini size: Fresh-cut fruit paired with churro bites are topped with whipped cream and powdered sugar and drizzled with raspberry and chocolate sauces.
Have Your Cake
Consumers are paying extra-close attention to functional foods, looking for nutrient-rich ingredients on menus in appealing food and beverage choices. But they typically don't expect a lot out of desserts—a health halo perhaps, from feel-good temptations like a turmeric- and ginger-infused cobbler, for instance.
Merissa Lyons, baker/owner of vegan bakery Enchanted Eats in Oakland, Calif., is finding the delicate balance between function and indulgence, keying into the specific health benefits of the ingredients used in her beautiful, seductive desserts. Starring flavors, textures and colors enhanced by superfoods, they're served up in mini formats, crafted for ease of portability.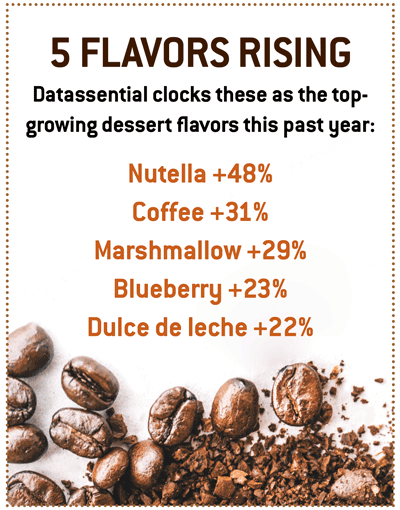 Lyons describes her Multigreen-Matcha Cream Mini Vegan Bundt Cake "like a green smoothie in a cake," helping guests understand the treat's nutrient density, provided through ingredients like spirulina, moringa and matcha.
Her Maca Cocoa Mini Bundts also feature nutrient-dense ingredients: maca root, ground black cacao (made from raw beans), flax seeds and chia seeds. "Maca is an ancient root from Peru that is a superfood and an adaptogen. It offers a lot of health benefits, including helping to build immunity, balance hormones and increase endurance," she says. "It also improves cognition and energy."
She describes the cake as "fudgy and chocolatey," and tops it with a date-caramel glaze made with coconut oil, Medjool dates, almond milk and vanilla bean.
Lyons opened Enchanted Eats this past August, in the midst of the pandemic, and business is thriving. "The mini bundt cakes are aesthetically pleasing," she says. "And they come with less guilt than most desserts—less guilt and more
restorative benefits for both the mind and the body."
Table Stakes
Lingering over desserts in a restaurant will become part of dining rituals again (and for some it already has). Tracking leading-edge restaurants for inspiration is important. Look to elegant desserts that showcase modern flavor play and unexpected textural elements. These two examples illustrate that sensibility nicely.
Chai Baklava Cheesecake: Executive Pastry Chef Janna Donohue skillfully balances warm spice, subtle heat and comfort in this sublime seasonal offering at Royal River Grill House in Yarmouth, Maine.
"This cheesecake was inspired by two of my favorite things: chai tea and baklava," she says. "I use a local chai tea that is steeped overnight to create a strong flavor. To mimic the layers of baklava, I made a honey syrup that contains toasted pecans and walnuts and candied orange peel. It's flavored with black pepper and clove. Despite being from two different regions, chai and baklava share a similar profile of warm spices. The addition of honey allows those spices to shine in each. With the foundation of cheesecake, I had the ability to highlight how the combination of a traditional dessert and beverage can create something new and yet comforting and familiar."
Sweet Corn Profiterole: Pastry Chef James Kubie at Coquette in New Orleans takes a modern approach to flavor pairing while keeping things playful and approachable with his garnishes. Here, the refreshing sorbet sports raspberry purée, lime juice, seeded jalapeño, sugar and glucose.
"The brightness from the Washington red raspberries and the acidity from the lime juice tame the heat from the jalapeños, allowing the green vegetable flavor to come forward and complement the tannic flavor from the red berries," he says. When moving this dessert with the seasons, Kubie says he switches out the sweet corn for roasted sweet potato purée with cinnamon and swaps the popcorn for crushed pepitas.