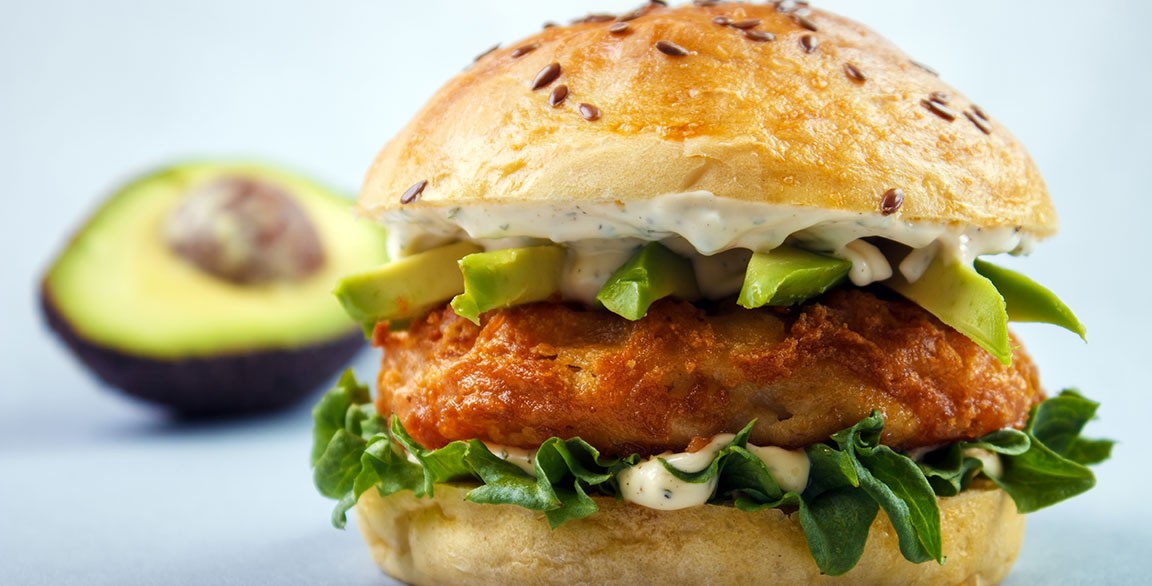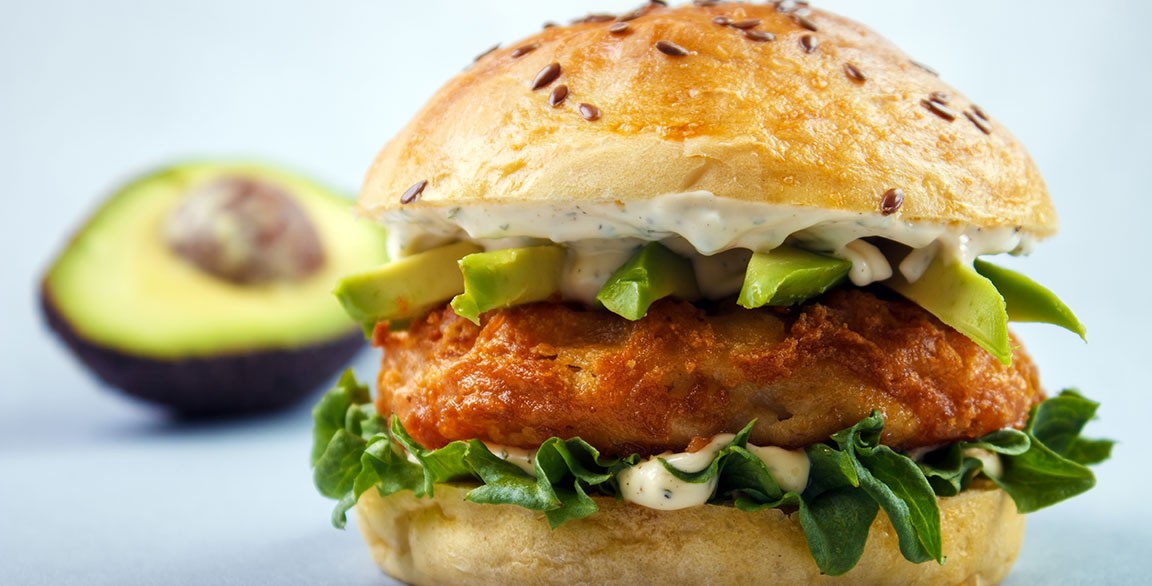 Amid the fried chicken sandwich craze and the steady burger boom, opportunities abound within the seafood sandwich category. Innovation here is certainly timely, with Datassential confirming that seafood was something consumers missed most about dining out during the early days of the pandemic. Through trend-forward seafood sandwich development, operators can hit multiple connection points with their guests.
Articulating a sustainability story behind the seafood you've chosen to spotlight and the sources you've chosen to partner with gives your sandwich a meaningful narrative. Highlighting seafood's inherent health and wellness attributes can help drive interest, particularly among non-meat eaters and flexitarians. Seafood handhelds can also connect to guests looking for more indulgent options, so showcase its diversity by menuing both light and hearty offerings. And of course, modern flavor play and seafood marry well through thoughtful uses of different seasonings, spreads, sauces and condiments.
From full builds to bite-sized tastes providing creative latitude in all dayparts, here are 10 seafood sandwich platforms sure to net diner intrigue.
1

CRAB CAKE SANDWICHES

The cachet of a crab cake sandwich can justify a higher-end price point and potentially increase the perceived value of the overall sandwich menu. This handheld perches nicely between luxury and casual, serving up craveability with its crispy exterior and luscious filling.

Crab Cake B.L.A.T.

Crab cake + smoked bacon + butter lettuce + sliced yellow tomato + avocado aïoli + toasted potato bun

Crab Cake Benedict Sammy

Crab cake + fried egg + Jack cheese sauce + 'nduja + toasted English muffin
2

HAND PIEs

With greater demand for grab-and-go items, this is a category ready for more creativity. Hand pies afford operators the opportunity to convert seafood entrées into portable to-go snacks or meals with endless possibilities for flavorful fillings.

Jambalaya Hand Pie
Crawfish and andouille jambalaya + herbed puff pastry

Shrimp & Chorizo Alfredo Hand Pie

Creamy orzo Alfredo + shrimp + chorizo + Parmesan pie dough
3

ROLLS

Seafood rolls invite modern flavor play, giving diners the deluxe-yet-casual eating experience that these classics promise along with a signature spin. Chefs can leave their mark with trend-forward flavor combinations or by creating regionally- or globally-inspired limited-time offerings (LTOs).

Warm Lobster & Clam Roll

Butter-poached lobster + fried clams + Bibb lettuce leaf + toasted, buttered split-top bun

Crab Croissant Roll

Chilled lemon-pepper crabmeat salad + leaf lettuce + tarragon aïoli + split-top croissant
4

TACOS

The versatility of the taco makes it a dominant player in handheld carriers. Seafood is an ideal star for this "anything-goes" menu category, as it pairs well with an array of flavor profiles, regional/global influences and price points.

Imperial Grouper Taco

Red miso-marinated grouper + creamy Sichuan cabbage slaw + sweet orange sauce + flour tortilla

Brown Butter Scallop Taco

Brown butter (with lemon and parsley) scallop slices + lettuce + Cotija crema + white corn tortillas
5

DIPPERS

Fried calamari boasts a ubiquitous presence on menus, and has set the stage for a new generation of housemade fritters and croquettes featuring other seafood stars. These bite-sized, grab-and-go handhelds speak to the fun of noshing and dunking—delivering on the enduring appeal of experiential dining.

Tempura Salmon Dippers
Tempura salmon fillet strips + horseradish-dill cream cheese dip

Southern Crab & Cheese Fritters

Fried crab and pimento cheese fritters + fresh sweet corn relish dip
6

BURRITOS

Seafood offers diners a surprising and satisfying alternative to conventional burrito fillings. It's an easy substitute for classic proteins and can take burritos in exciting flavor directions that invite trial.

Maui Mahi Burrito

Seared blackened mahi-mahi strips + pineapple fried rice + shelled edamame + Sriracha-tomato salsa + flour tortilla

Popcorn Shrimp & Grits Burrito

Fried popcorn shrimp + white cheddar grits + garlic gravy + blistered bell peppers and onions + tomatoes + flour tortilla
7

GRILLED CHEESE SANDWICHES

Chefs can turn fish trimmings into delectable spreads that can become the savory star of grilled cheese sandwiches. Used strategically, these spreads and salads amplify the reliable craveability of melted cheese and griddled bread.

Hot Smoked Tuna Griller

Smoked tuna salad + shredded cheddar cheese + harissa-pickle relish + ciabatta bread

Garlic Bread Whitefish Griller
Whitefish spread + sliced tomatoes + shredded mozzarella + garlic bread
8

FISH MUSUBI

Sparked by the burgeoning interest in Japanese cuisine, mini comforts like musubi are gaining notice and appreciation by today's diners. Seared or poached petite sliced fish fillet can be substituted for the traditional grilled Spam, further upping the intrigue of global breakouts.

Onolicious Tuna Musubi
Nori wrap + furikake Japanese short-grain rice + seared ahi tuna with shoyu-sugar sauce

Salmon Musubi

Nori wrap + Japanese short-grain rice + shiso leaf + poached salmon
9

PO' BOYS

Classics can benefit from reinventions, especially when the format remains intact and the upgrades offer a surprising, welcome flavor experience. Iconic po' boys afford operators the flexibility to craft modern sandwich takes. Implement your interpretations with less traditional seafood proteins and impactful dressings.

Soft-Shell Crab Po' Boy

Pan-fried soft-shell crab + pickled green tomatoes + finely shredded cabbage + rémoulade + New Orleans French bread

Garlic Shrimp & Calamari Po' Boy
Sautéed garlic red shrimp + fried calamari rings + pickled red onions + romaine + creamy cocktail sauce + French bread
10

FISH SANDWICHES

Whole fish fillets featured as the centerpiece of a sandwich can be positioned as a wholesome, lighter alternative to burgers and fried chicken sandwiches. They can also stand alone as craveable, alluring menu stars. Generate buzz with both fried and non-fried options.

Hot 'n' Crispy Cod
Crispy beer-battered fried cod fillet (dipped in hot sauce) + iceberg lettuce + creamed hot honey mustard + brioche bun

Mediterranean Trout Flatbread Wrap
Seared rainbow trout fillet + fresh spinach + shaved red onion rings + avocado slices + white bean-black olive spread + flatbread
SEA OF
 POSSIBILITIES
Handhelds provide chefs with countless combinations for flavor exploration and recipe development. Tempt guests with a creative LTO, merging the popularity of seafood with the familiarity of iconic handhelds. Consider the essence of any classic meat-centric sandwich, swapping the protein with a seafood option, while retaining most or all of the other traditional elements of the recipe. Here are five suggestions to kickstart culinary creativity:
1

Shrimp
 Hot Brown

Sautéed shrimp with Roma tomato slices and Mornay sauce on Texas toast, broiled open-faced and topped with crispy pancetta rounds and a paprika sprinkle.
2

Salmon
 Cuban Sandwich

Flaked roasted salmon with house-cured and smoked salmon slivers, caper-cream cheese and whole-grain mustard, served on grill-pressed Cuban bread.
3

Indiana-style Breaded Monkfish Medallion

Oversized, pounded, breaded and pan-fried monkfish fillet with smoked mayonnaise, served on a King's Hawaiian hamburger bun.
4

Carolina
 Pulled Bass

Hand-flaked chunks of roasted striped bass lightly tossed with Carolina barbecue sauce, topped with jicama slaw and served on a cornmeal bun.
5

Chicago-style
 Italian Tuna

Thin slices of roasted garlic-lemongrass tuna loin topped with pickled vegetables and roasted red bell pepper strips on a French roll and dipped in a Thai red curry fish broth.