Sundaes are like the nachos of dessert menus: layered, fun, craveable. And like a good plate of nachos today, modern sundaes are mindful in construction. Chefs are upping the flavor and textural ante, choosing intriguing combinations and pulling in on-trend ingredients.
At Little Goat Diner in Chicago, executive chef Stephanie Izard serves a Choco Taco Sundae starring sour cream gelato, shards of chocolate-dipped tortilla chips, goat's milk caramel and candied pepitas. Sundaes are no longer just childish indulgences.
At The Franklin Fountain in Philadelphia, the Lightning Rod Sundae riffs on the classic brownie sundae, with crumbled dark-chocolate brownie topped with coffee ice cream, a shot of espresso, chocolate-covered espresso beans, whipped cream and a salty pretzel rod.
> Dainty Gentleman Sundae: Honey-lavender ice cream, hot fudge, blood-orange olive oil and Maldon sea salt
—Bi-Rite Creamery, San Francisco
> Nougat Sundae: Rhubarb spoon sweets, fennel kataif, white-chocolate pistachio bark
—Oleana, Cambridge, Mass
> Ultimate Sundae: Four scoops on a giant chocolate chip-walnut oat cookie, brownies, almond brittle, hot fudge, caramel, whipped cream and toasted marshmallow
—Sweet Republic, Phoenix & Scottsdale, Ariz.
> Gobbler Sundaes: Pie-crust crumble, apple butter, vanilla soft serve, fresh whipped cream
—Big Gay Ice Cream, based in New York
> Honey Saffron Caramel Sundae: Vanilla bean and melted chocolate ice creams topped with homemade saffron honey caramel, saffron salt, whipped cream and a Chukar cherry
—Molly Moon's, based in Seattle
"Our Holy Sundae is a balance of sweet, salty, creamy and crunchy. It's a showstopper that appeals to just about everyone because of all the different flavors. The foundation is a layered combination of chocolate chip cookie, Oreo and fudge brownie. We top that with MooTime Creamery vanilla ice cream that's been coated in crushed Cinnamon Toast Crunch cereal and deep fried. It's finished with housemade bourbon caramel and chocolate sauces, then topped with a Luxardo cherry."
Brant Crenshaw, Owner, Social Tap Eatery, 4 locations in California & Arizona
Sundae Best
For those looking to update their dessert menu without losing the cachet of familiarity and nostalgia, the sundae offers a sweet platform for modern innovation. From on-trend flavors like red velvet cake ice cream to satisfying brittles, the possibilities for signature sundaes are endless.
"I think the modern sundae build is about staying true to the compelling, classic elements of a sundae—creamy ice cream, some kind of ribbon and a crunchy inclusion. Our Sundae Funday [Tahitian and Madagascar vanilla-bean ice cream, roasted almonds, chocolate-hazelnut swirl] does just that! The vanilla is a different take on things, incorporating two different beans—Tahitian being more refreshing and Madagascar being deeper and richer. The ribbon is a near-overload of Nutella/chocolatey decadence, and the almonds have that salt and crunchy texture to drive it all home."
Natasha Case, Co-founder, Coolhaus, based in Los Angeles
"Freddy's Funnel Cake Sundae is a fan favorite offered during July and August. We use premium frozen custard, which is denser and creamier than traditional ice cream. The smooth texture and rich flavor of the custard combines deliciously with the warmth of the funnel cake, which we fry fresh for each order. We work to create sundaes for the menu that we think our guests will enjoy, but sundaes also give our guests the opportunity to innovate. Each day we see new and unique combinations that, while they may not have broad appeal, are exactly what that specific guest was craving on that particular day."
Scott Redler, Co-founder & COO, Freddy's Frozen Custard & Steakburgers, based in Wichita, Kan.
"Sundaes are classic ice cream treats for a reason; anyone can make a sundae on their own with the variety of ice cream flavors and topping options Baskin-Robbins has to offer. Featuring the best of both worlds, our Warm Lava Cake Sundae is a rich, warm chocolate cake with a smooth, melted chocolate lava center, combined with delicious, cool ice cream that's completely customizable with a guest's favorite ice cream flavor and toppings."
Justin Drake, Senior Public Relations Manager, Baskin-Robbins, based in Canton, Mass.
"The Brown Butter Blondie Sundae is an updated take on one of our favorite, classic treats. It has a little bit of everything: a warmed, homemade blondie, scoops of our Stumptown & Compartes Love Nuts and Freckled Woodblock Chocolate ice creams, hot caramel sauce, whipped cream, and crushed pretzel streusel. Just like our menu, it's both nostalgic and contemporary—mixing the right amount of inspiration from childhood memories with the ingredients and style that are unique to Salt & Straw."
Tyler Malek, Co-founder/Head ice cream maker, Salt & Straw, based in Portland, Ore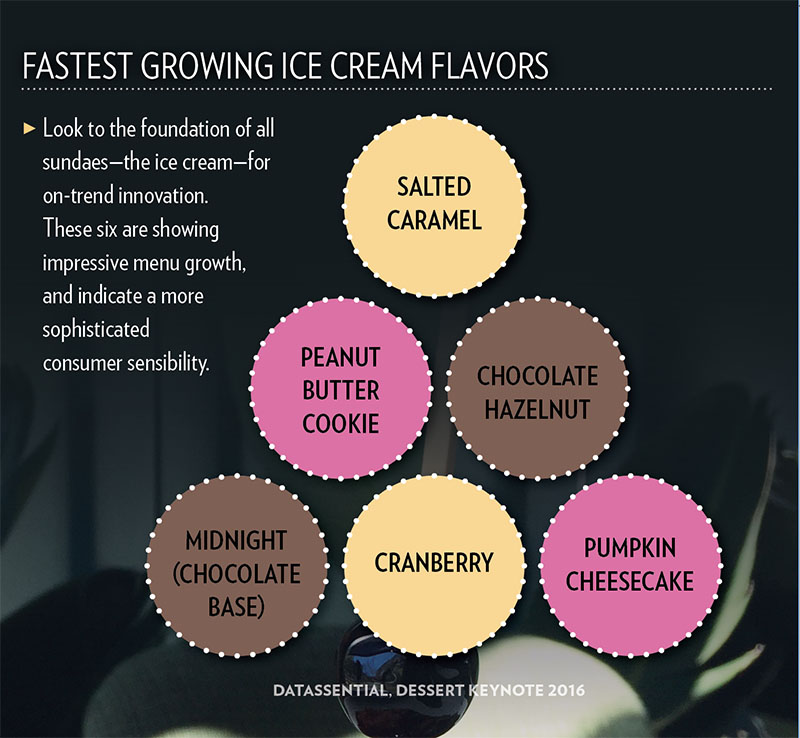 Sundae Best