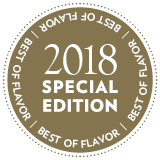 Chefs continue to showcase creative burger development, leveraging the huge opportunity in one of America's favorite dishes. In our most recent "Best of Flavor" issue, where we feature 125 successful builds sourced from our readers, innovation in the burger category was evident.
Culver's new Pretzel Haus Pub Burger (above) leans into modern flavor play—all while delivering on the brand's promise beautifully. Two beef patties and bacon strips share space with Wisconsin cheddar cheese and Culver's new signature cheddar-cheese sauce, along with house-pickled onions and a tangy mustard bistro sauce. "This concept was the second-most successful burger we've ever tested," says Quinn Adkins, Director of Menu Development at this family-friendly, Wisconsin-based burger chain. "It's an incredibly nuanced and harmonious balance of flavors and textures."
Spanish Influence
Executive Chef Trevis Langley of craft burger joint Red Cow, with three locations in Minnesota, built a Spanish-inspired burger—all thanks to a taste of a piquillo pepper at a food show. The Barcelona Burger stars piquillo peppers, jamón serrano, smoked pepper aïoli and manchego. It's the most popular burger on a menu that features more than 15 burgers. "The Barcelona Burger's flavor combination hits on almost every note you can think of—spicy, sweet, smoky, salty, earthy and nutty—all on top of a savory burger patty," says Langley. "It really epitomizes our goal of elevating the everyday burger. The higher-end ingredients and the unexpected flavor combination take it to a whole new level."
The Indulgent Burger
The Avalon Burger at Ted's Montana Grill holds rank as both a classic and cornerstone on the menu, says Dan Bednar, Manager of Culinary Training and R&D at this American restaurant based in Atlanta. The beef or bison (customer choice) patty sees a decadent array of toppings—Gruyère, blue cheese, bacon-caramelized onions and roasted garlic aïoli. Fresh arugula offers a bright, peppery counterpoint. "To this day, the team continues to receive the most positive comments mentioning the burger, even years after its introduction," he says.
Like tacos, pizza and sandwiches, burgers offer an ideal canvas for innovation, with an opportunity to help build brand identity and explore more adventurous flavor combinations.