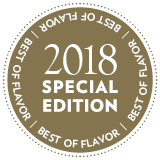 Culver's new Pretzel Haus Pub Burger plays into the burger boom nicely, offering guests a complex flavor profile brimming with craftsmanship.
"This concept was the second-most successful burger we've ever tested," says Quinn Adkins, Director of Menu Development at the burger chain. "It's an incredibly nuanced and harmonious balance of flavors and textures."
Beef and bacon provide dependable bases, but it's the toppings that make this burger sing: Wisconsin cheddar cheese and Culver's new signature cheddar-cheese sauce top the beef, along with house-pickled onions and a tangy mustard bistro sauce.
This marks the first time Culver's has used its cheese sauce on a sandwich—it's usually paired with fries or onion rings—but for a burger on a pretzel bun, it made total sense.
All the elements work well together, but Adkins says the pickled onions and bistro sauce truly make it click. "The balanced vinegar/sweetness from the onions really brightens the flavor and stands up to the richness from the beef and cheese, and the combination of a touch of horseradish and Dijon mustard in the bistro sauce complement the other flavors as well."
Attention to detail at every layer has made this burger one of the chain's best-tested concepts in flavor, appearance and value.