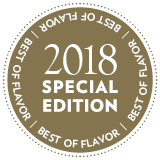 As Sriracha has become commonplace in recent years, operators look for new ways to feature this spicy sauce. Bruegger's Bagels couples it with an unexpected carrier—cream cheese—and pairs it with honey.
The bagel and sandwich shop's Sriracha-honey cream cheese brings an element of surprise to the Sweet Heat Turkey Sandwich.
"Sriracha has become a true condiment staple, but we're presenting it in a new way by combining it with cool, creamy cream cheese and sweet clover honey," says Bruegger's Executive Chef Robert Kabakoff. The Sriracha-honey cream cheese is spread on marbled rye bread, then topped with roasted turkey, melted cheddar cheese and bell peppers. A drizzle of Sriracha turns up the heat.
"This is the first appearance of this proprietary cream cheese on our menu, and it really adds distinctive flavor," he says. "This has been one of our all-time, best-performing, limited-time-only sandwich platforms."
Bruegger's Bagels has also found success with the Sriracha-honey cream cheese on a breakfast egg sandwich.