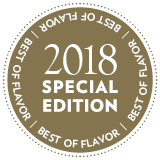 Seafood dishes continue to see creative, flavor-forward applications, propelled in part by diners looking for the next hip shareable plate. At Público, a Latin-inspired, wood-fired cantina concept., the Baked Oysters by Chef/Owner Mike Randolph shine, served with corn custard and smoked trout roe.
The dish has been a huge success, in part thanks to its attractive presentation. "This is one of those dishes that once one goes out into the dining room, others see it and follow suit," says Randolph.
But it's a classic jumping-off point and flavorful spin that makes these oysters a winning dish. "It's really taking a classic technique like oysters Rockefeller, but with a whole new flavor profile," says Randolph.
A luscious corn custard fills the oysters on the half shell, adding a new flavor experience to the traditional dish. The oysters are cooked on Público's wood-fired grill, lending smoky undertones. They're topped with crispy tortilla strips and smoky trout roe, adding textural and visual interest. Fresh cilantro, radish and lime finish the appetizer with bursts of flavor that fit the restaurant's Latin brand.