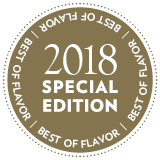 K.F.C. gets a veg-centric makeover at 100 Sails Restaurant & Bar, located inside Honolulu's Prince Waikiki Hotel. In this case, there's no fried chicken involved. Instead, K.F.C. stands for Korean Fried Cauliflower, a popular bar snack created by Executive Chef Joseph Almoguera.
The dish, featuring a spicy soy glaze, showcases the craveable power of vegetables when both texture and flavor are amplified. "Guests trying it for the first time are surprised that our cauliflower tastes delicious," says Almoguera.
To make these flavorful bites, cauliflower florets are dipped in tempura batter, then deep fried until crispy, giving diners the crunch they crave, but with the health halo of a vegetable. The florets are then tossed in a spicy soy-based Korean sauce and topped with Kewpie mayonnaise, chile threads, sesame seeds and microgreens.
"The flavors are fresh, savory, sweet, garlicky and spicy," says Almoguera. Made from locally sourced Hawaiian ingredients, the cauliflower also pairs well with 100 Sails' Hawaiian craft beers, giving the dish regional appeal.
As consumers opt for more veg-centric snacks to complement their happy hour drinks, sexy bar bites like the Korean Fried Cauliflower answer their demand for plant-based options that don't skimp on flavor or texture.