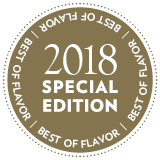 It's telling that a sandwich that built the Schlotzsky's brand almost 50 years ago is still going strong. In 1971, Schlotzsky's began as a small sandwich shop in Austin, Texas, selling one sandwich: The Original. When the shop ran out, it closed for the day.
Now, with more than 350 restaurant locations across the nation, Schlotzsky's fans still crave that same sandwich that was created almost 50 years ago.
"The Original sandwich consists of 13 unique ingredients served on a toasted housemade sourdough bun, an interesting flavor combination that just works," says Maira Isabel Morales, Corporate Executive Chef.
Ingredients include: lean smoked ham with Genoa and cotto salami, cheddar, mozzarella and Parmesan cheeses, black olives, red onion, lettuce, tomato, mustard and Schlotzsky's signature sauce. "The combination of these flavors and layers creates a 'Wow!' moment for our fans."
Always a strong performer, Schlotzsky's sold more than 9.5 million of The Original sandwiches last year alone. "For many chefs, the ultimate goal is to create recipes that people will crave forever," Morales says.
"The Original is the heart of Schlotzsky's. The 13-ingredient build and secret sourdough bread recipe will always remain the same. Creating a recipe is like working on a giant puzzle but with ingredients, flavors, spices and textures as puzzle pieces. The key is to get the pieces to fit in the right spot, which is when you know you've created something really special and unique."