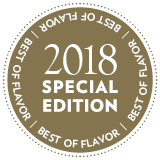 The inspiration behind Red Cow's popular Barcelona Burger started with one bite of a piquillo pepper. Executive Chef Trevis Langley tasted a piquillo pepper at a food show and knew he could build an amazing burger around its distinct sweet and spicy flavors.
He started with a quality burger patty made from Certified Angus beef. Then, because the piquillo hails from Spain, Langley looked to the country's vibrant cuisine to find the perfect complementary ingredients.
He added jamón serrano, smoked pepper aïoli and manchego.
"The Barcelona Burger's flavor combination hits on almost every note you can think of—spicy, sweet, smoky, salty, earthy and nutty—all on top of a savory burger patty," says Langley. "It really epitomizes our goal of elevating the everyday burger. The higher-end ingredients and the unexpected flavor combination take it to a whole new level."
The Spanish accents seem to be working. "It's easily our most popular burger," he says. "I think that's because people really like to be surprised by a fresh take on something they already love."