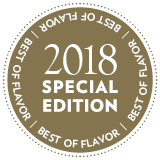 In 2012, Ted's Montana Grill tested five new burgers, including the Avalon Burger. It received such great feedback from both longtime and new guests, it became a permanent fixture on the menu of this American restaurant.
"To this day, the team continues to receive the most positive comments mentioning the burger, even years after its introduction," says Dan Bednar, Manager of Culinary Training and R&D. "We consider the Avalon one of our classic and cornerstone burger offerings that we don't anticipate will leave the menu anytime soon."
Flavor success comes through a winning combination of decadent toppings over a delicious freshly ground beef or bison burger: bacon-caramelized onions, Gruyère, blue cheese and a roasted-garlic aïoli. Arugula lends a bright counterpoint on the Avalon Burger, served on a toasted brioche bun.
Bednar describes the flavor experience as a blend of sweet and salty with a hint of crisp pepperiness. "It is a combination of classic flavors that keep guests coming back," he says.