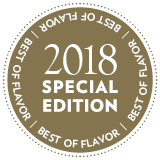 In "Best of Flavor," our annual special issue that crowd-sources 125 dishes that stand out as menu successes, it's interesting to track innovation within a specific category. Take wings, that ubiquitous appetizer that always ranks as a fan favorite. Chefs are always looking for the best way to present these, in a manner that fits well with their brand story and stands out among the sea of choices. Innovating here actually showcases the constant need to update, tweak and improve—even on proven classics that today's diners gravitate toward. That driving innovation is what fuels modern American menus and makes foodservice such a dynamic industry.
At Chroma Modern Bar + Kitchen, an American small plates concept in Orlando, Fla., Executive Chef Jason Bergeron keys into the global flavor trend with his Thai Sticky Wings, ratcheting up flavor while also serving up a unique textural experience. Soaked in a 24-hour marinade spiked with garlic, ginger, cilantro, tamarind and soy sauce, the wings are then roasted and fried until hot and crispy. They're tossed in Thai sticky sauce with a base of sweet chile, tamarind, cilantro, green onion, mango, coconut milk and lime juice. For crunch, he finishes the wings with crushed peanuts, green onion and crispy strips of spring-roll wrappers. That garnish is especially interesting, showcasing a growing trend in creative textural play, where chefs are looking to create a craveable experience by dialing up the contrast in memorable, unexpected ways.
Chefs are not only playing with sauces and accompaniments, they're also looking at the form itself. At The Immigrant Restaurant inside the American Club, a five-star hotel in Kohler, Wis., Head Chef Douglas Stringer makes wings fit his upscale menu with Duck Wings served with celery leaves and blue-cheese potato chips. He also ensures big flavor, coating the wings in a sauce made from emulsified vinegar, butter, Sriracha, sesame oil, honey, orange and ginger. He confits, then deep-fries them for that familiar craveable crunch. Keeping the profile refined, he replaces the traditional celery sticks with celery leaves dressed in a vinaigrette dotted with sesame seeds, and spins the blue cheese element into a playful topping of crunchy blue-cheese potato chips.
More Ways to Wing It
Wings are definitely a favorite playground for culinary innovation. Dive into a few more pieces with inspiring flavor stories that interpret the beloved chicken wing.