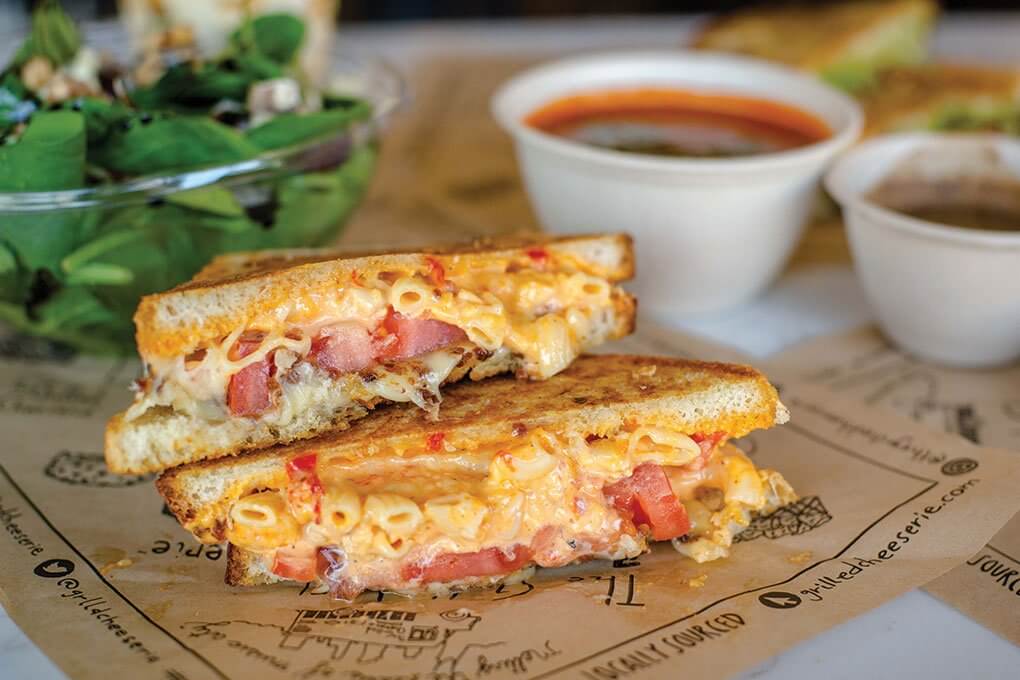 A double dose of nostalgia makes the Pimento Mac & Chee sandwich the ultimate comfort-food experience at The Grilled Cheeserie, a counter-service concept serving gourmet grilled cheese melts and milkshakes. This sandwich combines two childhood favorites—grilled cheese and macaroni and cheese—in one whimsical melt.
"As with all of the items on our menu, we try to take a fresh, unique approach to dishes that are already delicious and comforting," says Chef/Co-Owner Crystal De Luna-Bogan. "Lucky for us, bread and cheese offers a blank canvas." Four ounces of zesty housemade pimento mac and cheese is spread onto buttered sourdough, giving the sandwich a unique texture. "We wanted to give a nod to the South, which is where the pimento cheese comes into play," says De Luna-Bogan.
On top of the macaroni comes a slice of tomato that adds fresh acidity, bacon bits that contribute smoky flavor, and a slice of buttermilk cheddar that ups the cheesy craveability. Grilled for two minutes on each side, it's gooey and good to go.
With a reasonable price point, the success of the Pimento Mac & Chee signals the continued opportunity in elevating childhood classics for mature palates.