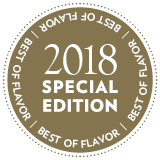 Exemplifying the modern approach to eatertainment, Pinstripes, a bowling and bocce venue with 10 locations and growing, places as much emphasis on its menu as it does on its fun and games.
Finding the right balance between culinary craftsmanship and engaging entertainment, dishes like Gnocchi & Ahi Tuna entice diners, says Chief Culinary Officer Cesar Gutierrez.
Housemade ricotta gnocchi is seared and tossed in garlic butter, Parmesan and herbs, then layered with fresh tuna marinated in olive oil, lime juice, red onion and cilantro. It's accompanied by a well-balanced Calabrese pepper vinaigrette.
"The sweet and spicy balance of the Calabrese vinaigrette marries perfectly with the light citrus flavor of the tuna and the garlic and herb flavors of the gnocchi," he says. "The unique flavors and the unexpected combination of hot gnocchi and cold tuna make the dish a hit among guests."
Gutierrez says the dish inspired the addition of an Ahi Tuna Flatbread to the menu. "Similar to the gnocchi, our housemade flatbread dough is brushed with garlic and extra-virgin olive oil, baked with balsamic shallots and grape tomatoes, and topped with fresh avocado, arugula and the same ceviche-style tuna."