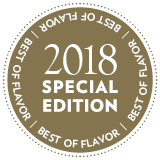 The breakfast and brunch space is one of the most exciting to track, as chefs are tapping into a number of trends and interpreting them for that category. Today's dining consumer seems to be particularly receptive to global flavors here, along with an openness to an almost-cheeky approach to both flavors and forms. Here are three breakfast themed dishes that demonstrate the creative side of recipe development in the breakfast/brunch category.
Portsmith in Chicago is known for its elevated seafood menu, as well as its acclaimed weekend brunch. One of the stars of its brunch menu is the Fried Fish & Waffle, a clever rendition of the popular chicken-and-waffles pairing, switching out the protein to fit its seafood theme while still delivering on that flavor system's promise of comfort and craveability. "This recipe combines sweet and savory notes for a unique flavor you can't find anywhere else," says Executive Chef Nate Hennsler, a New Hampshire native whose dishes reflect the influence of the state's coastal fishing heritage. The pairing of lightly fried fish atop waffles presents a creative take on the craveable classic. The dish is further enhanced with a side of housemade tartar sauce, as well as Dark Matter malt maple syrup—a product of Portsmith's relationship with Chicago's Dark Matter Coffee.
Burlock Coast, located inside the Ritz-Carlton in Fort Lauderdale, Fla., menus a Challah Brioche French Toast Sandwich. Inspired by "the creativity of Prohibition-era rum-runners," Chef de Cuisine Paula DaSilva taps into that spirit with this unique brunch item that captures today's modern brunch vibe. Two thick slices of challah are soaked in milk spiked with rum. Next, each piece of bread is toasted and caramelized, then slathered with rum cream and stacked together like a sandwich. More rum butter and seasonal fruit jam are spread on top and then sprinkled with crunchy pecans, all working to build a full, flavor-forward profile. "It's the perfect sweet treat to start your day or the perfect boozy breakfast with all the layers of rum," says DaSilva. She says the playful and indulgent dish is a hit with her guests, answering their demand for memorable brunch dishes and revamped classics.
Looking beyond our borders for inspiration makes a lot of sense today—global flavors play seamlessly in the morning hours. One of the most craveable—and malleable—items is finding its way from China. The jianbing, or bing for short, is a breakfast street food that combines savory, sweet, crunchy and soft in a crêpe made with mung bean, rice and wheat flour, then coated with egg, scallion and sesame. Umami-rich hoisin, chile paste and crushed wonton often round out the profile. The bing is rolled and then served, hot off the griddle. Sometimes nicknamed the "Beijing burrito," the jianbing is being adapted by operators here in the United States. Mr Bing, with two storefronts and one food cart in New York, offers the traditional version, along with a number of menu items that include more fillings, like a BBQ Pork Bing with Cantonese-style roast pork. On its breakfast menu, guests can choose from four bings, including a Nutella Bing, along with a Maple Bacon, Egg & Cheese Bing.