Barbecue has a long history in this country, loved by consumers who have been wooed by expert cookery and deep, complex flavors. And although there are still guardians of barbecue's ritual and heritage who strive to uphold the legacy of certain traditions, there is also a movement to embrace the global mash-up trend.
The New American style has chefs pulling from whatever pantry they please—as long as the result is delicious. It's certainly having an impact on other categories, from tacos and pasta dishes to pizzas and more. The mash-up has made inroads in barbecue over the last few years, but now more chefs are throwing down and diving further into creative translation.
Barbecue today invites experimentation—melding Korean with Texan, Carolina with California. It also encourages a push outside of traditional barbecue formats, moving into bar bites and shareables, and adapting flavor systems that don't typically see a play in barbecue.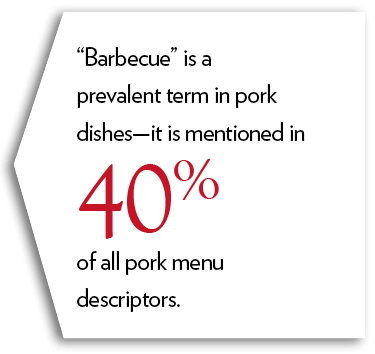 At Atoboy, a Korean-themed restaurant in New York, barbecue offers a familiar bridge to more adventurous flavors. The Pork Rib Ssam (pictured above) is cooked confit-style for 10 hours, then roasted with a housemade shin ramyun rub—inspired by the flavors of the college-favorite instant ramen dish (gochugaru, soy sauce, smoked paprika and brown sugar). The dish is served with chimichurri, Korean ssamjang and housemade moo maleang yi, a spicy quick pickle made with rehydrated Korean radish. Crisp lettuce wraps accompany the Pork Rib Ssam.
"Our intention behind the dish is that our guests truly experience the different flavor combinations that make the perfect bite," says Junghyun Park, executive chef.
"It is an updated take on Korean pork with inspirations from the great Southern barbecue tradition. We hope that it is an all-encompassing and a well-balanced way to enjoy a newer take on traditional Korean flavors."
Rethinking Ramen
San Antonio has strong Texas-sized roots in American barbecue, and Tim Rattray, chef/owner of The Granary, menus traditional fare, sliced and served to order market style. But he also features modern barbecue with a touch of Southern hospitality. His signature Ramen Brisket stars smoked beef brisket.
"This dish was about translating my love of ramen into our world of beer and barbecue," he says. "We use brown-ale alkaline noodles, smoked pork shoyu broth, crispy shallots seasoned with our barbecue rub, smoked beef brisket and crispy collard greens—all a spin-off from traditional ramen components. We serve the ramen with the traditional onsen [slow-cooked] egg. I wanted to bring something that may be traditional to Asian culture, and open the door to experimental barbecue."
And although Asian-inflected barbecue is certainly not new, the idea of using a barbecue protein star in on-trend formats like ramen is ingenious.
Ribs, Glorious Ribs
Matt Abdoo, executive chef/owner at Pig Beach, a barbecue and booze spot in Brooklyn, N.Y., has experimented a lot with barbecue. He's taken that 'cue to the famed World Championship Barbecue Competition at the annual Memphis in May International Festival with his Pig Beach partners Rob Shawger and Shane McBride. The three have placed every year since 2014 in the Whole Hog category. Abdoo, who also owns Pig Bleecker in New York, describes his approach to barbecue as using tried-and-true technique, adding global flavor touches and forward thinking when needed.
"Barbecue used to be controlled by the masters in the South because they were better than anyone else, but with such a big push for it across the country, there's been more exploration," he says. "There's a new culture of experimentation that we're a part of, where chefs can gain credibility in barbecue by just making it taste really great." There's a lot of terroir associated with barbecue culture, he says, like pecan wood in Mississippi, oak in Texas. "New York doesn't really have a barbecue culture, so we can break the rules and do it in our own style. I think we're in a time of food where if it's good, you develop credibility and people will come back," says Abdoo.
His Loin Back Ribs with competition-style brown sugar and sticky honey glaze showcases attention to detail. The dish is among the top three bestsellers at Pig Beach. He starts with an aggressive rub, waits until it looks like a sugary glaze, then rubs light brown sugar on the top side of the ribs. The ribs are put in a smoker with cherry wood, spritzed occasionally with a mixture of apple juice, apple cider vinegar and water. They're then glazed with honey, peach nectar, butter and seasoning, and wrapped in foil, where they sit and baste, getting sticky and delicious.
On The Menu: Just a Bite
Barbecue snacks are a wonderful thing, downsizing all the comfort, familiarity and flavor into modern appetizers that fit into today's dining scene. Hutchins BBQ is a barbecue joint with locations in Frisco and McKinney, Texas. The menu serves the playful side of barbecue, offering a version of jalapeño poppers in its Texas Twinkies, jalapeños stuffed with marbled brisket and cream cheese wrapped with a thick slice of peppered bacon, then smoked, topped with a sweet glaze and grilled
so the bacon crisps up.
Rib Tips with Kansas City mop sauce
—Barrel & Ashes, Los Angeles
Smoked Pepperoni Flatbread
—18th & Vine, Dallas
Pig Candy Bacon: Thick-cut bacon caramelized in brown sugar and house spices
—Baby Blues BBQ, based in Los Angeles
Fruit Forward
Dickey's Barbecue Pit is a legacy brand based in Dallas that has been featuring barbecue classics like beef brisket, pulled pork, smoked turkey and St. Louis-style ribs for almost 80 years. It has more than 600 locations in 46 states. Dakotah R. Van Patten, chef at the Kenosha, Wis., location, recently teamed up with Gurnee, Ill., general manager Colin Robin and franchise owner Bill Zimmerman; they experimented with the sweet-heat trend and created a Blueberry-Rubbed Pulled Pork Sandwich with Blueberry-Jalapeño Barbecue Sauce.
It took first place in a recipe contest sponsored by the U.S. Highbush Blueberry Council in March. "I enjoy adding heat to barbecue sauce for depth of flavor, but it can be a bit overbearing. The combination of sweet with heat is perfect," says Van Patten. "The combination of pork and blueberry actually goes really well together—it takes that sweetness on nicely. Jalapeño is a mild-ish chile, so it works really well here." The sandwich is running as a limited-store offering until Labor Day.
A Little Leg
Duck seems to be finding more favor these days, popping up in modern wings and meatball presentations. Soby's in Greenville, S.C., a Table 301 concept that serves modern takes on Southern fare, turns to duck for its take on barbecue. With dishes like Fried Green Tomatoes with blackened haricots verts, pimento cheese fondue and crispy carrots, the diners there expect the unexpected.
Rodney Freidank, corporate chef of Table 301 restaurant group, makes a Braised Duck Leg with Chipotle BBQ that boasts deep, smoky flavors. "The duck leg becomes very rich, tender and packed with flavor," he says. "The chipotle barbecue sauce is the right choice to finish the dish because the smoke flavor from the chipotles is a great foil for the fact that we braise the duck rather than slow smoking it, as we are in the South. The tangy sweetness and spice of the barbecue glaze cut through the richness of the duck leg and make it exciting on the palate."
Globe-trotting: Menu Sightings
The modern dining consumer has embraced global takes on barbecue, most notably Korean barbecue. Today, chefs are expanding horizons, dipping into a number of different flavors and cultures, then turning them toward their specific brand of barbecue. At Lakewood Smokehouse, a neighborhood barbecue spot in Dallas, the BBQ Cuban Sandwich spins the classic, popular Cubano to fit its barbecue vibe by featuring pulled pork and brisket instead of the traditional ham and pork loin, all pressed into a hoagie roll with seasoned mustard, pickles and provolone cheese.
Mama Leah's Coconut Beef: Sixteen-hour smoked top round, cubed and stewed in coconut cream, vinegar, chile and fish sauce
—The Park's Finest, Los Angeles
Vietnamese Hot Wings with cilantro ranch
—Hometown Bar-B-Que, Brooklyn, N.Y.
Chinese-Spiced Pork Belly braised for eight hours, served over sautéed cabbage
—The Hungry Pig, Los Angeles
Lola's Pork Shoulder with crispy plantains, Korican sauce
—Belly Q, Chicago