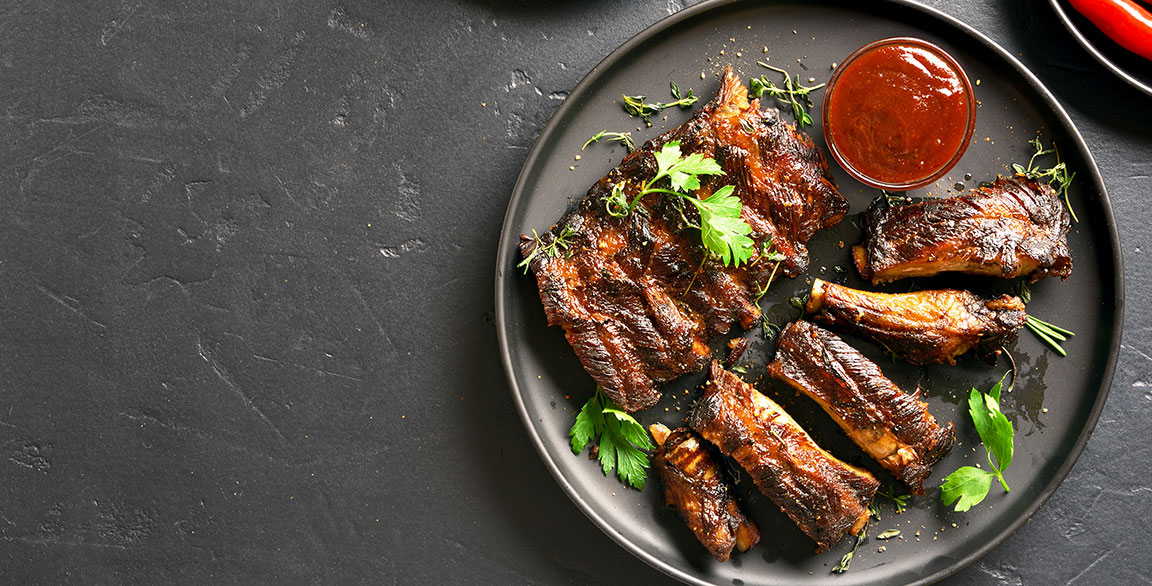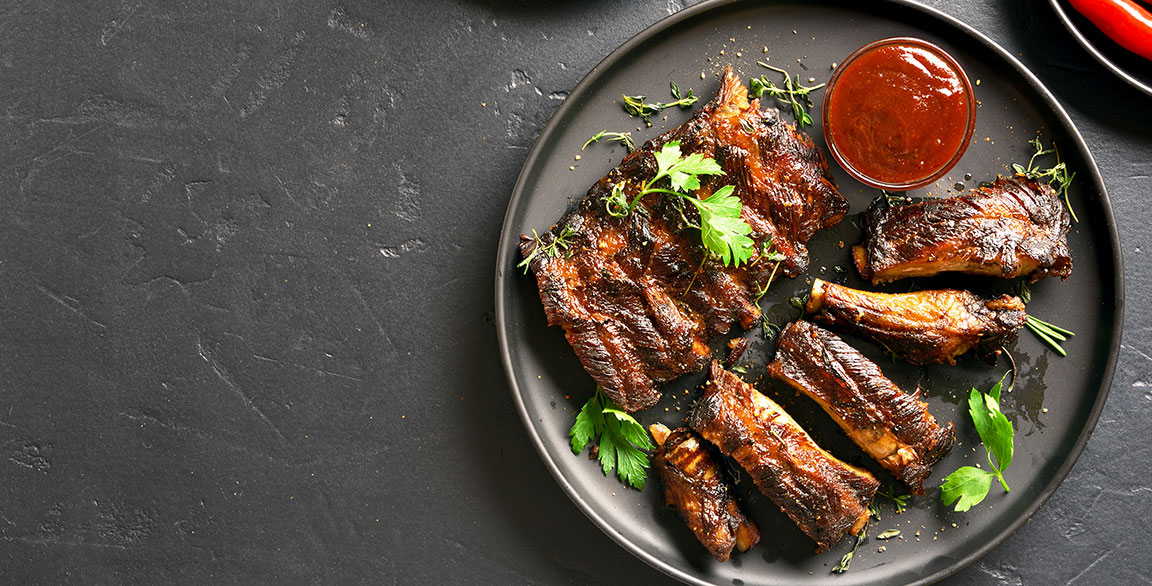 By Flavor & The Menu
May 26, 2020
Hot honey is a revelation, gaining followers across the country thanks to the glorious contradiction of smooth, abiding sweetness rolling over biting, smoky, funky or tickling heat. With so much enthusiasm, chefs have expanded their field of play, choosing different honey varietals and various chile peppers or sauces. They're also looking at popular menu categories, finding creative ways to apply hot honey in order to deepen the flavor story. That complexity of flavor is what drives the success here, answering the call by diners for subtlety, intrigue, surprise, and yes, the always popular—heat.
CHICKEN WINGS
This is perhaps the category with one of the deepest affinities for hot honey, with a built-in craveability and familiarity that helps varying degrees of experimentation find safe passage.
Korean Fried Chicken Wings with Sriracha honey-lime sauce
Dak & Bop, Houston
Beer Brined Jumbo Wings with gochujang honey, served with celery and buttermilk ranch or blue cheese
Arts District Kitchen, Las Vegas
Harissa Chicken Wings with honey and Marcona almonds
Devon, New York
Wings with ancho honey glaze
Wingstop, based in Addison, Texas
PIZZA
Remember the days when a shake of chile flakes was the only way to really spice up a pizza? Old school has its charm, but a drizzle of hot honey—when finishing the right combination of toppings—lifts and shifts the experience in wonderful ways.
Fresno & Honey Pizza with red pepper purée, bacon, purple bell peppers, wilted turnip greens, mozzarella, Parmesan and a Fresno honey drizzle
EVO Pizzeria, two locations in Charleston, S.C.
Hot & Sweet Pizza: Charred pepperoni and Mike's Hot Honey
Flour Pizza & Pasta, based in Miami
The Risk Manager: Spicy Italian salami, mozzarella, Calabrian honey
Bebu Pizzeria, Chicago
BREAKFAST
This might be a newer category for hot honey to move into, but the sweet-heat works on both the savory and sweet side of the menu.
Hot Honey and Ham: Fluffy biscuit and thin-sliced country ham with hot honey
Roots Cafe, Southend, N.C.
Breakfast Burrito: Scrambled eggs, hash browns, melted cheese, avocado and chorizo, with choice of sauce, including guajillo honey
Chanos Latin Kitchen, two locations in New Jersey
Chicken and Waffle Breakfast: Belgian waffle crust topped with fried chicken, mozzarella cheese, Mike's Hot Honey and maple syrup
Toss & Fire Wood-fired Pizza, Syracuse, N.Y.
BAR SNACKS
Craveability and shareability are the name of the game here, with hot honey offering a flavor complexity, either as a drizzle, sauce or dip. Here, the sweet heat dials up the profile in veg-centric snacks while contrasting the savory, rich notes in meaty snacks.
Crispy Chicken Skins with hot honey
Tolson Bird Bar, Washington, D.C.
Crispy Sriracha Honey Pork Belly Lardons
Rose & Crown, Nantucket, Mass.
Jalapeño Honey Fries
Southern Kitchen & Bar, Birmingham, Ala.
FEATURED RECIPE