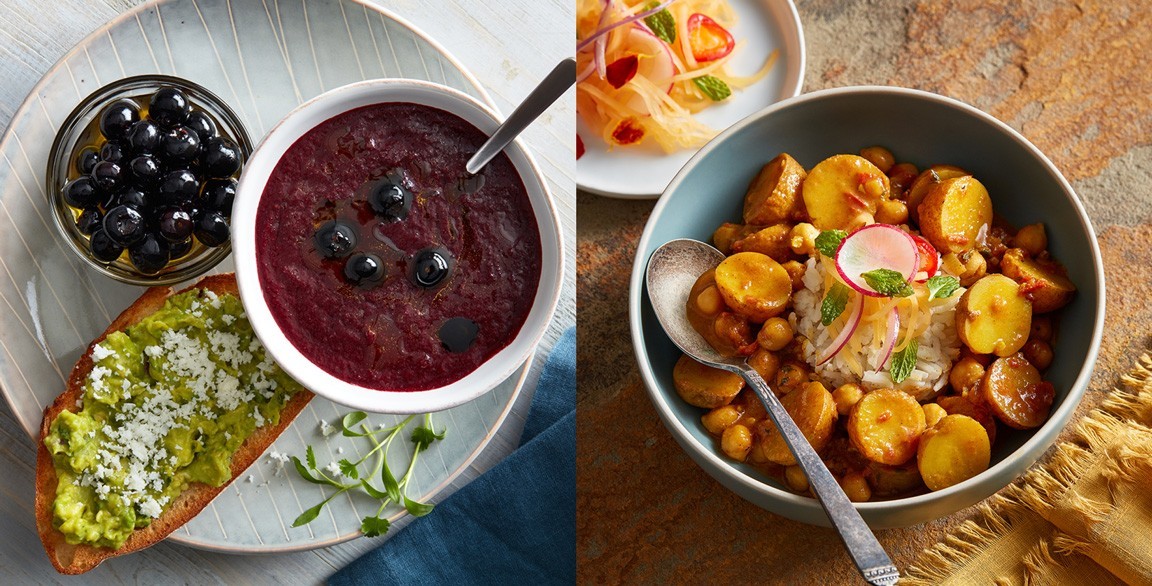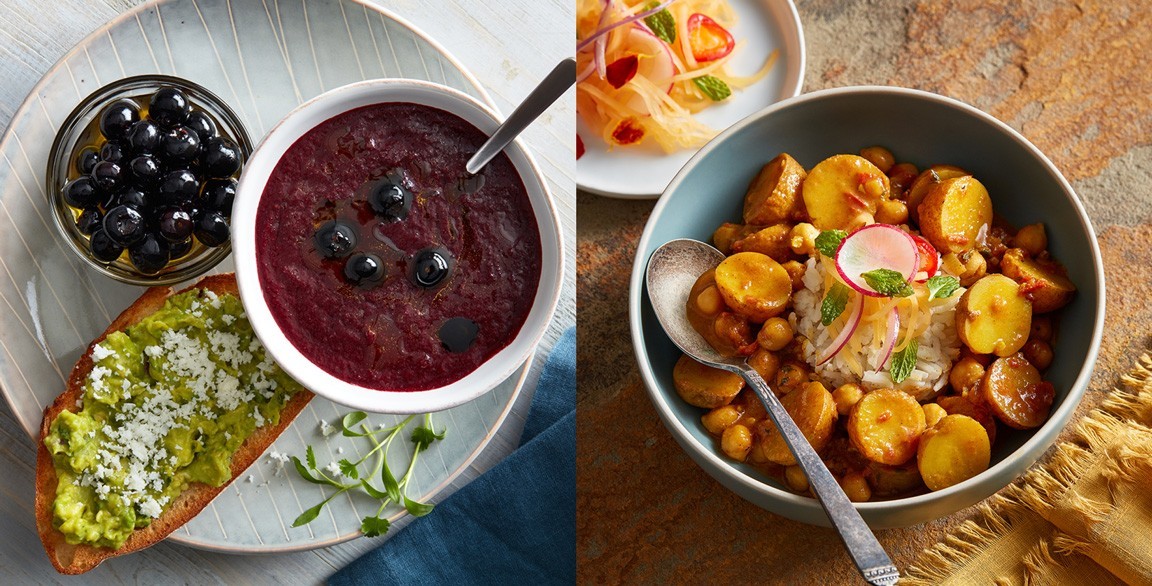 By Flavor & The Menu
May 28, 2020
Kitchen Collaborative is a recipe-development initiative formed by Summit F&B and Flavor & The Menu with support from sponsor brands and commodity boards looking to help chefs create, inspire and collaborate during these difficult times. To fuel flavor innovation, a group of talented chefs partnered with sponsors to create recipes that showcase the passion and potential of our industry.
CHEF SPOTLIGHT: AARON BROOKS
The world of plant-forward menu development is exciting, with many consumers continuing to look for offerings that excite the palate and serve up something new. Both recipes developed by Aaron Brooks, Executive Chef at Four Seasons Hotel, Miami, deliver. His Caribbean-Style Potato-Coconut Curry with a Green Papaya and Mint Salad is satisfying, aromatic and well spiced, and balanced by a bright, refreshing salad. His Blueberry & Cucumber Gazpacho with Marinated Blueberries and an Avocado and Queso Fresco Tartine surprises with a clever, thoroughly modern take on the classic pairing of soup and a sandwich.
Blueberry & Cucumber Gazpacho, Marinated Blueberries, Avocado and Queso Fresco Tartine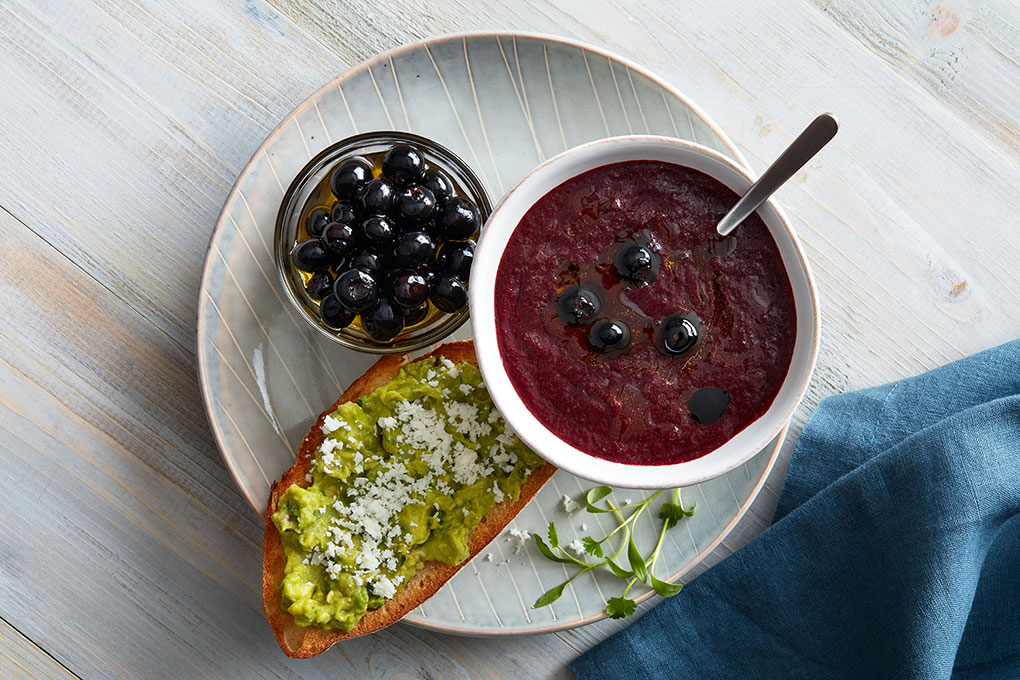 Carlos Garcia
The star of the show here is the Blueberry & Cucumber Gazpacho. Brooks subs out the tomato in this classic Spanish soup with frozen blueberries, blending them with cucumber, red onion, green bell pepper and jalapeño, along with red wine vinegar, lime juice and extra-virgin olive oil. "The blueberries have a natural acidity and sweetness, just like ripe tomatoes do, so they create a perfect balance and contrast to the other ingredients," he says. He serves pickled blueberries as both a garnish and an accompaniment. "I like them as a textural contrast to the soup. The gazpacho is silky smooth so the addition of the marinated blueberries not only gives a bite it also complements the flavor of the soup," says Brooks. He pairs the soup with an Avocado and Queso Fresco Tartine, choosing toasted rustic sourdough as the base.
Caribbean-Style Potato-Coconut Curry, Green Papaya and Mint Salad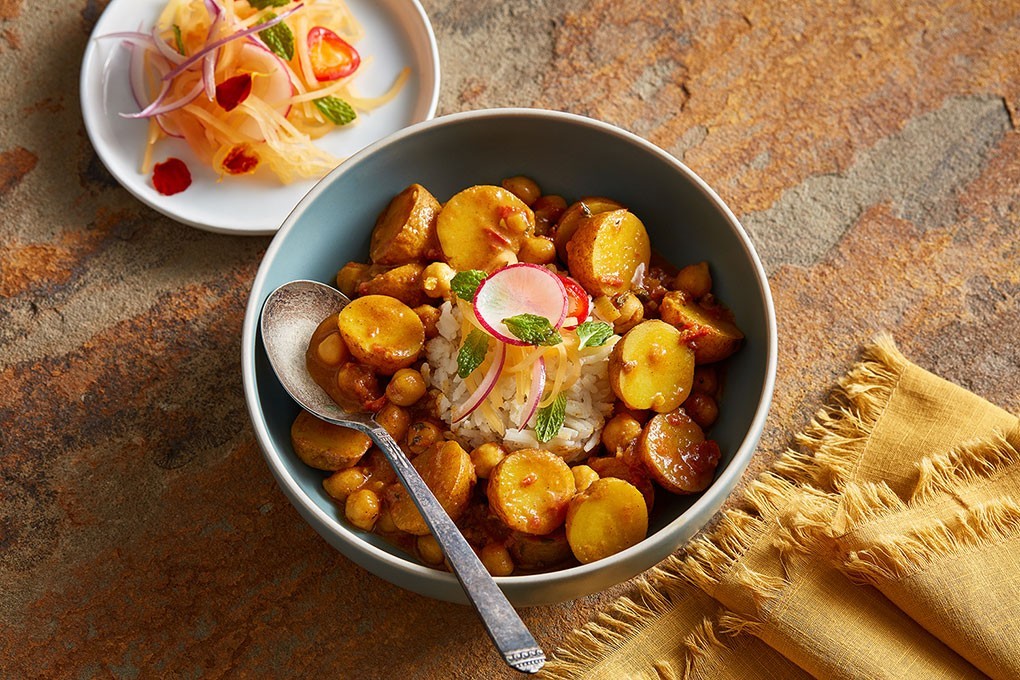 Carlos Garcia
Brooks lifts the flavors of his potato-based dish with tropical ingredients, leveraging the region's bountiful source of heady spices and lush fruit. Creamy coconut milk tempers the ginger, garlic, cinnamon, allspice, cumin, Jamaican-style curry powder, turmeric and chile flakes. He chooses baby yellow potatoes as the main component in the curry. "I love how rich and waxy they are," he says. "When cooking, they hold together really well and work great with this dish by not overcooking and falling apart." Brooks pairs the potato curry with a Green Papaya and Mint Salad, flecked with radish, red onion and sweet pickled peppers, then tossed in a dressing of honey, lime juice, white vinegar and extra-virgin olive oil. "The curry is redolent with spices, rich from the coconut milk and a tad spicy," he says. "The salad counters all of these flavors and creates a nice cooling, crunchy contrast to go with everything."
Project Management: Summit F&B
Photography: Carlos Garcia // Food Styling: Peg Blackley & Bree Williams