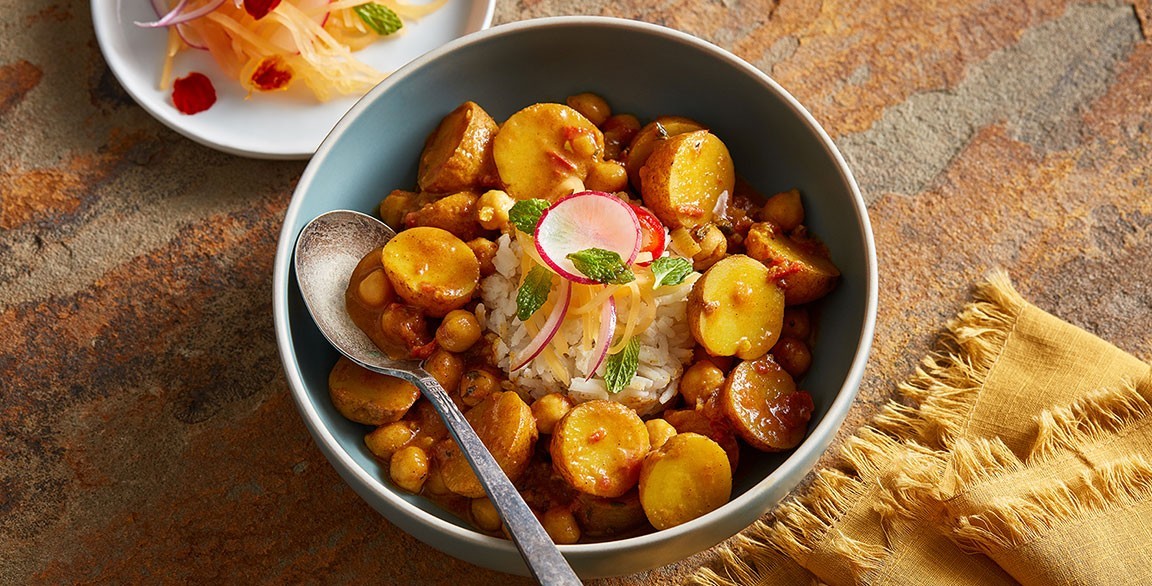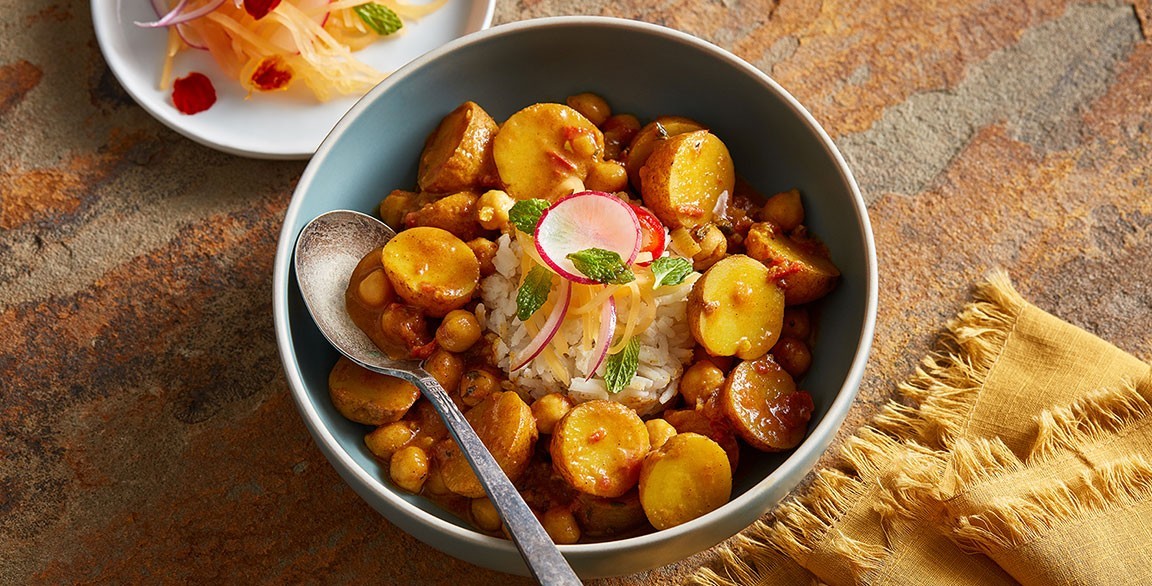 CARIBBEAN-STYLE POTATO-COCONUT CURRY, GREEN PAPAYA AND MINT SALAD
Recipe courtesy of Aaron Brooks, Executive Chef, Four Seasons Miami
Sponsor: Potatoes USA
Servings: 24
Ingredients
Potato-Coconut Curry:
1 cup Butter
¾ cup Canola oil
4-inch piece Fresh ginger, peeled and finely chopped
10 cloves Garlic, peeled and finely chopped
2 cups Finely chopped yellow onion
4 Cinnamon sticks
¼ cup Cumin seeds
¾ cup Jamaican-style curry powder
4 teaspoons Ground allspice
2 teaspoons Chili flakes
4 teaspoons Ground turmeric
¼ cup Ground coriander
4 cups Canned crushed tomatoes
6 pounds Baby yellow potatoes, halved
6 cups Coconut milk
4 teaspoons Kosher salt
12 sprigs Fresh thyme
4 Bay leaves
6 cups Canned chickpeas
Green Papaya and Mint Salad:
½ cup Lime juice
½ cup White vinegar
¾ cup Extra-virgin olive oil
¼ cup Honey
8 cups Shredded green papaya
1 Red onion, thinly sliced
4 cups Fresh mint leaves, torn
20 Radishes, thinly sliced
1 cup Sweet pickled peppers
Directions
For the Potato Curry: In a large pot, heat the butter and oil and sauté the ginger, garlic, onion, cinnamon, and cumin with a pinch of salt.
Cook slowly on low to moderate heat without color, stirring occasionally.
When the onion is translucent and the ginger and garlic fragrant, add the curry powder, allspice, chili flakes, turmeric, and coriander. Continue to sauté on low for 1 minute, stirring constantly so the spices don't burn.
Add the tomatoes and cook, stirring constantly, until the oil separates from the tomato, about 10 minutes.
Add the potatoes and cook, stirring for 1 minute.
Add the coconut milk, thyme, bay leaves, salt, and 5 cups water.
Bring to a simmer and cook for 20 minutes, until the potatoes are cooked through,
Add the chickpeas, stir, bring to a simmer, and set aside.
For the Salad: In a bowl, whisk together the lime juice, vinegar, oil, and until the honey has dissolved.
In a large bowl, toss together the papaya, onion, mint, radishes, and pickled pepper with the dressing, season with a little salt to taste.
To serve: Heat the curry up to a simmer and place a 5-ounce portion in a bowl. Serve with a ½-cup portion of the Papaya Salad. Serve as-is or with steamed Coconut Rice.
Project Management: Summit F&B
Photography: Carlos Garcia // Food Styling: Peg Blackley & Bree Williams