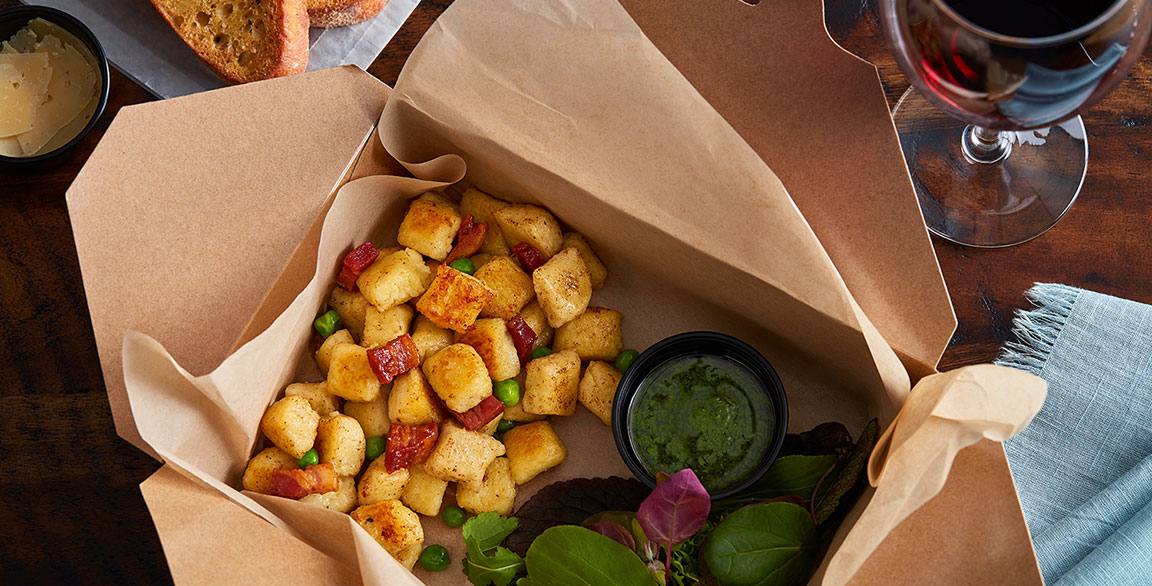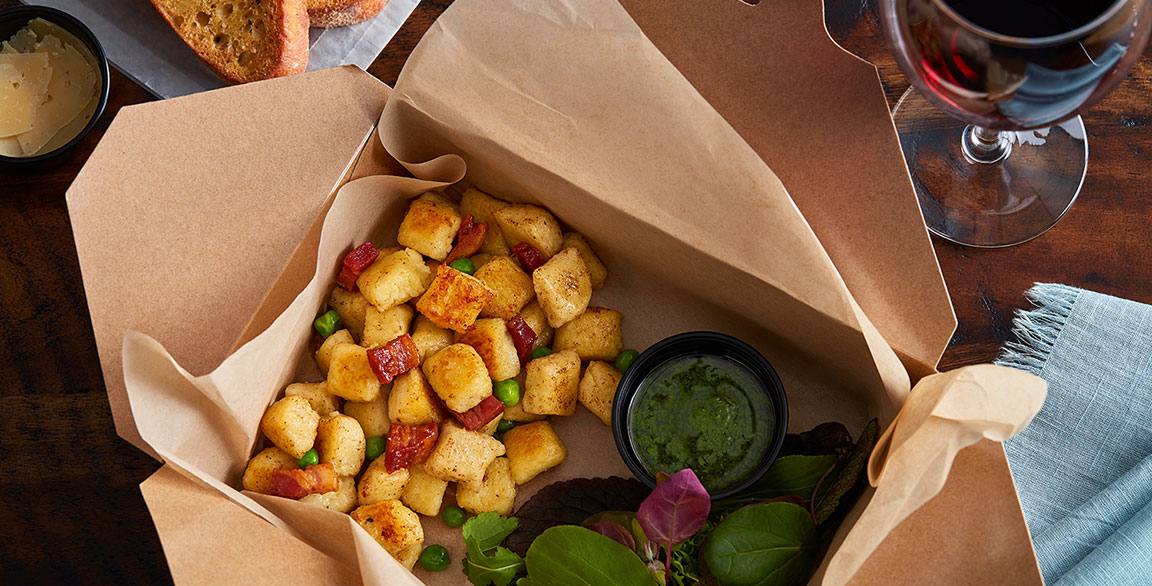 BROWN BUTTER POTATO GNOCCHI
Recipe courtesy of Grant Morgan, Chef/Founder of Chopped Thyme Culinary Innovation
Sponsor: Potatoes USA
Servings: 12
Ingredients
Potato Gnocchi:
12 large Russet potatoes
As needed Kosher salt
12 large Egg yolks
2 ½ cups All-purpose flour
2 tablespoons Unsalted butter, melted
2 tablespoons Ground white pepper
Basil Puree:
8 ounces Fresh basil leaves
6 tablespoons Extra-virgin olive oil
1 teaspoon Kosher salt
Crispy Pancetta:
5 pounds Pancetta, cut in ½-inch slices
To serve
1 1/2 cups Unsalted butter
3 cups Spring peas
¾ cup Fresh lemon juice
6 ounces Grated Parmesan cheese
¾ cup Micro greens
As needed Salt and white pepper
Directions
For the Potato Gnocchi: Preheat the oven to 350 degrees. Bake potatoes on a bed of salt for about 1 ½ hours, or until very soft. Remove from oven and let rest for 20 minutes.
Clean out the potatoes using a spoon and discard the skins. Put the potatoes through a ricer.
In a large bowl, mix the riced potatoes with the yolks, flour, butter, pepper, and 1 tablespoon salt by hand. Add more flour if needed, so the final product is almost the consistency of bread dough.
Lightly flour a work surface and grab a small piece of the dough about the size of a lemon. Using your hand, roll out the dough until it is about ¾ inch in diameter.
Using a bench knife, cut the dough into ¾-inch pieces and place them on a lightly floured sheet tray. If using gnocchi that day, place in refrigerator; if not, place in freezer.
For the Basil Puree: Bring a large pot of water to a boil and blanch the basil for 20 seconds.
Transfer cooked basil to an ice water bath for a few seconds, then drain and pat the basil dry with a towel.
Place basil, oil, and salt into a food processor and blend until completely pureed. The final product should be smooth, thick, and dark green.
For the Crispy Pancetta: Render the pancetta in a rondo over medium-low heat until crisp. Drain and reserve.
Project Management: Summit F&B Photography: Carlos Garcia // Food Styling: Peg Blackley & Bree Williams