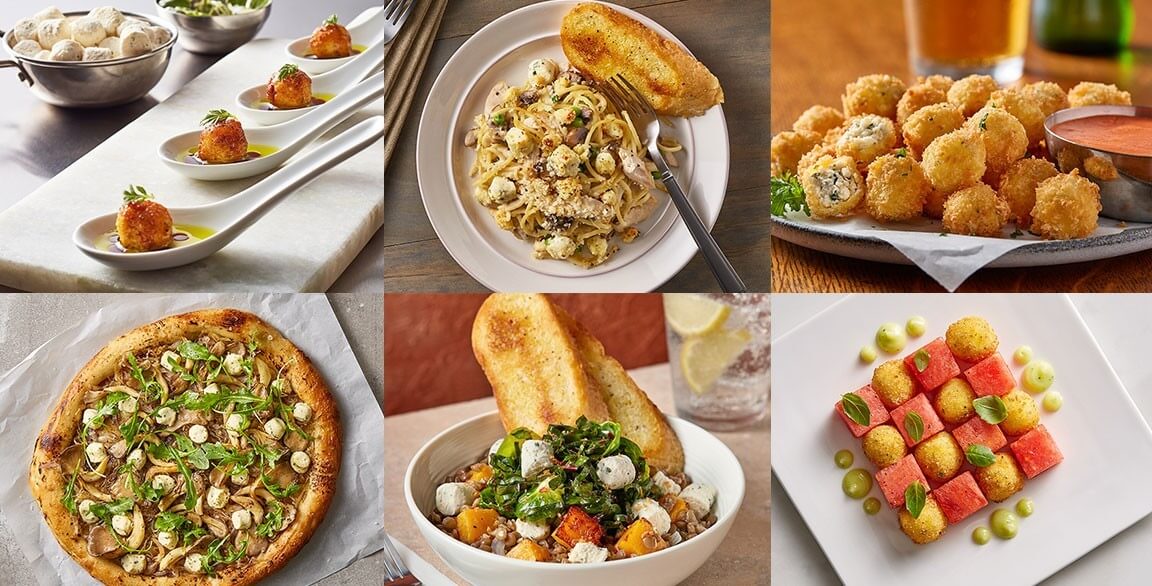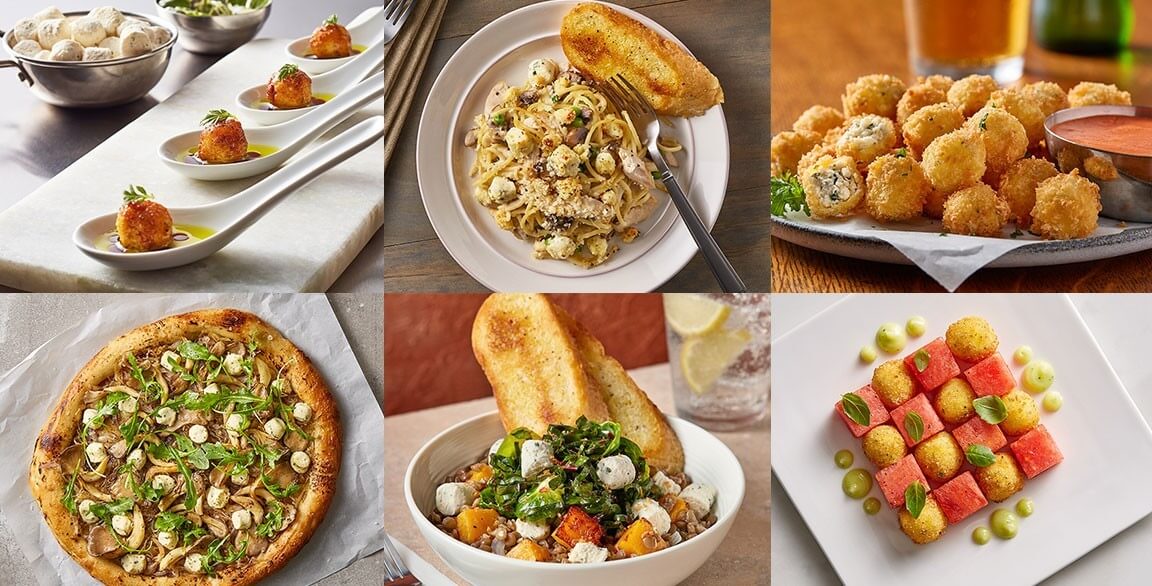 By Flavor & The Menu
April 20, 2021
Chefs are exploring the menu potential and touting the convenience of new-to-market Boursin® Professional Frozen Gournay Cheese Cubes—miniaturized versions of the iconic French fresh cheese. At a time in foodservice when ease of prep, cross utilization and flavor impact are crucial factors, innovations in product development make all the difference.
FLAVOR FIRST
Developed by parent company Bel Group, trusted cheese purveyors for more than 150 years, the IQF product, packed into 3g pellets, features the signature herbaceous flavor and creamy-crumbly texture of Boursin Garlic & Fine Herbs Gournay Cheese. A number of chefs have been leveraging Boursin's high-impact flavor across their menus for years.
"Boursin is special. It has that richness, but with a touch of dryness, which makes it an excellent spread on a sandwich or flatbread, but it can also melt beautifully into an omelette or pasta dish, or get crumbled over a summer salad or artisan toast. Boursin's versatility in the modern professional kitchen is fantastic," says Olivier Desaintmartin, Chef/Owner of Caribou Café in Philadelphia and a French Master Chef, Membre de l'Académie Culinaire de France.
EASE OF PREP… ALSO FIRST
Boursin Professional Frozen Gournay Cheese Cubes introduce a convenience factor, making portioning, measuring and handling quick and easy while limiting waste and controlling costs. They're ideally portioned for quick hits of that iconic Boursin profile— real cream, garlic, parsley and chives.
SIX WAYS…
A cube has six sides and these Boursin Professional Frozen Gournay Cheese Cubes inspire AT LEAST six culinary ideas. Six chefs share their creative menu ideas.
1

FRY IT!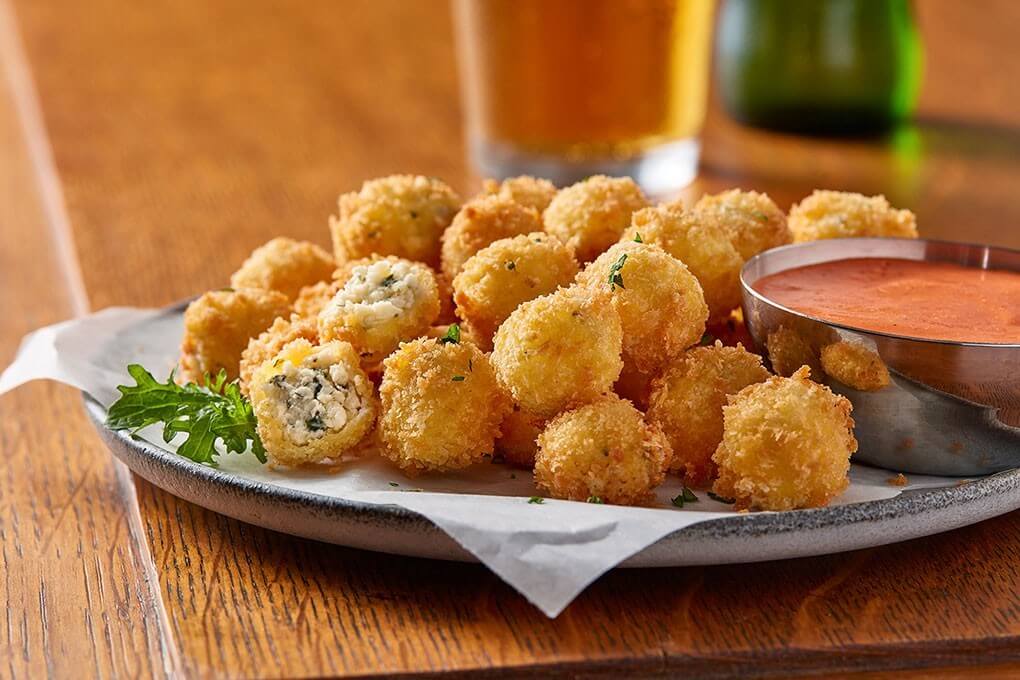 Crispy and crunchy on the outside, savory and cheesy on the inside, these Fried Boursin Cheese "Curds" with Red Pepper Pesto Crema is a craveable, flavor-packed snack. Michael Slavin, VP Culinary & Menu Innovation of Houlihan`s Restaurant Support Center, based in Leawood, Kansas, first tosses the Frozen Boursin Cubes in fry batter, then in fry flour, then once again in the fry batter. He coats them with panko, shaking off the excess and deep-fries the "curds" until golden brown. Slavin serves these fried bites with a dipping sauce made with puréed red peppers, cream cheese, Espelette pepper and garlic.
2

SCATTER IT!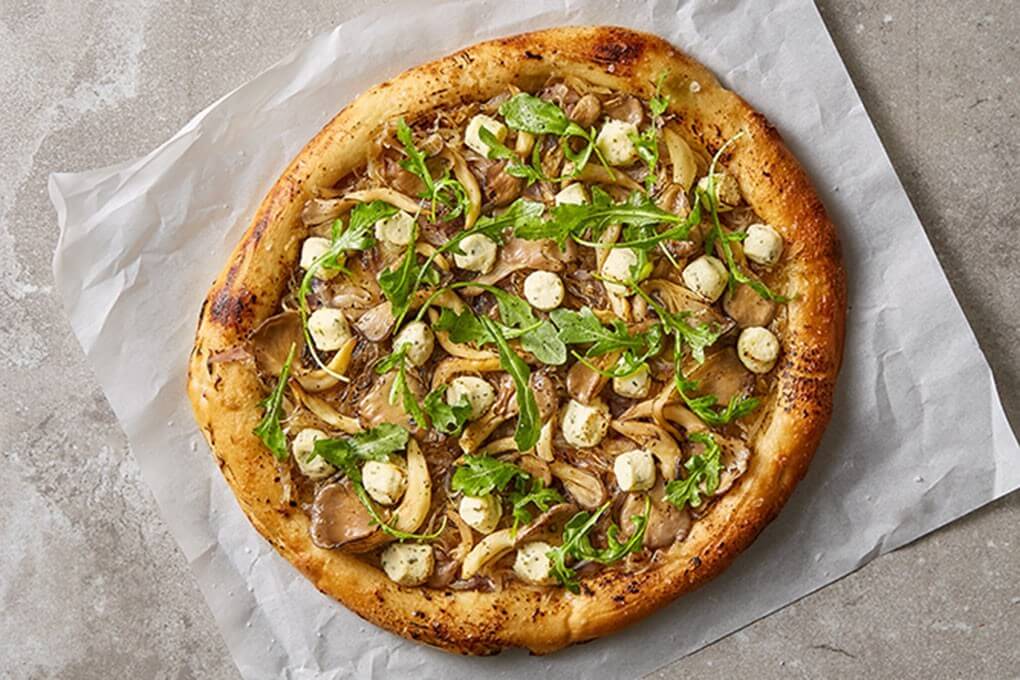 Sweet, savory and creamy, this Oyster Mushroom & Boursin Pizza was developed by Executive Chef Christophe Joignant, Capital City Club in Atlanta. It features caramelized shallots and butter-roasted oyster mushrooms. Boursin Frozen Cubes are scattered over top and the pizza is then baked until the cheese is crispy and golden brown on the outside, yet still creamy and lush on the inside. Once out of the oven, the pizza is topped with dressed arugula, giving it a peppery, bright finish.
3

BAKE IT!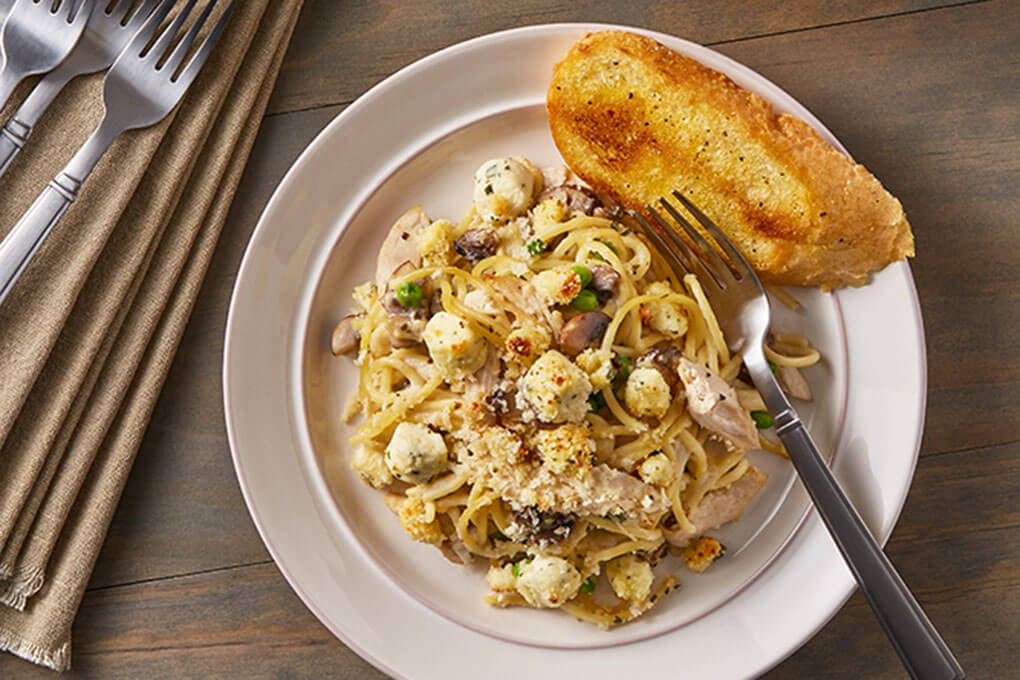 Matt Harding, Senior VP of Culinary & Menu Innovation with Piada Italian Street Food, based in Columbus, Ohio, relies on the convenience of Boursin Frozen Cubes when assembling his Boursin, Cremini Mushroom and Chicken Bake, a comfort-centric savory bake ideal for takeout menus. It features a craveable, satisfying combination of roasted chicken, spaghetti, Parmesan, Boursin, Monterey Jack, cremini mushrooms, vermouth and panko.
4

TOP IT!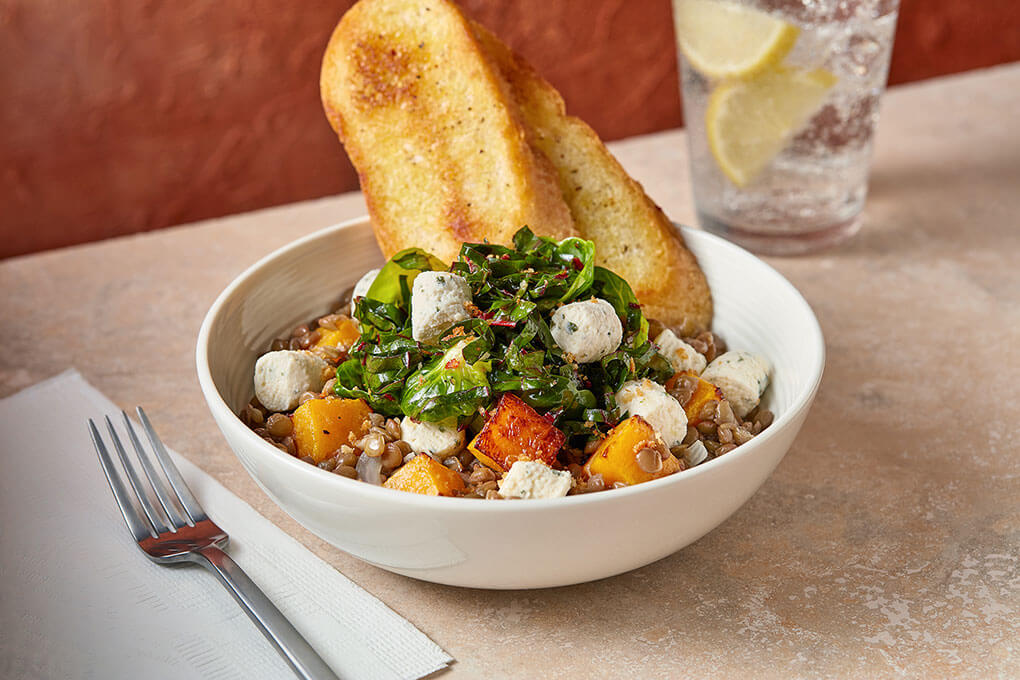 Chandon Clenard, Senior General Manager at Stanford University in Stanford, Calif., creates a wholesome, hearty dish with his Roasted Butternut Squash, Lentils, Chard and Brussels Sprouts Salad with Boursin. It features an inviting combination of warm lentils and sweet roasted squash with a cold salad made with red chard and Brussels sprouts leaves dressed in a bright lemon-garlic dressing. He tops the dish with Boursin Gournay Cheese Cubes, introducing the cheese's signature savory punch of flavor, and pairs it with grilled slices of baguette.
5

POP IT!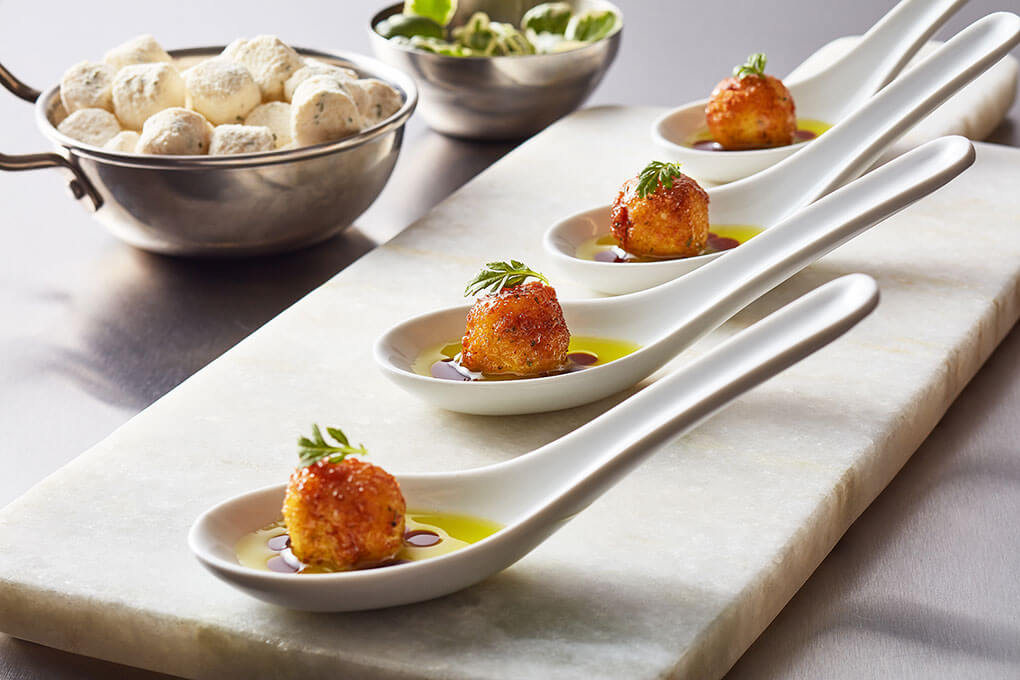 Although serving defrosted Boursin Cubes as poppable bites is a shareable menu idea filled with opportunity, Joignant takes it up a notch with his Boursin Cheese Bites by adding basil oil and balsamic glaze. He dips the cheese cubes in an egg wash, dredges them in flour, coats them in bread crumbs, freezing until firm and then deep-fries until crispy and golden. He sits the one-bite morsels in a pool of fragrant basil oil, then drizzles with balsamic vinegar.
6

STYLE IT!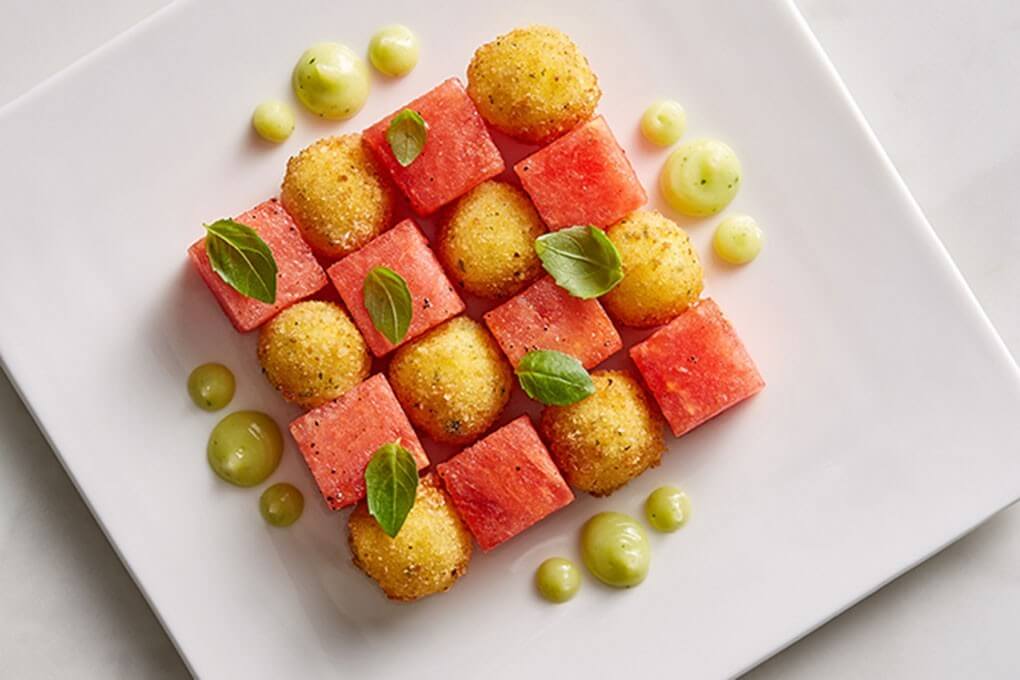 Boursin Frozen Cubes can introduce a new dimension to plate presentations. Desaintmartin leverages their shape to make a gorgeous mosaic salad. His Watermelon and Boursin Salad with Basil stars rows of watermelon squares (gently tossed in olive oil, fresh basil and pepper) with breaded and crispy-fried Boursin cubes. Lght, fresh and delicious, Boursin gives a savory, creamy counterpoint to the sweet, crispy watermelon and fragrant pesto.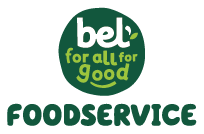 To find out more about Boursin Professional Frozen Gournay Cheese Cubes and request samples, visit belbrandsfoodservice.com/contact-us