Nick Testa was eating a bag of Cheetos in bed, after a long day of menu planning at Sweet Afton, a modern burger and bar joint in Astoria, N.Y. "I was like, 'This would be great if it was a little healthier, with a veggie,'" he says. That inspired his bar snack of Shish-eetos: shishito peppers with "magic cheddar cheese dust." Testa, who is the executive chef at this hot spot, batters and fries the peppers, then dusts with cheddar cheese powder for an updated riff on jalapeño poppers, using an on-trend ingredient and eye-catching name.
"I put it on the menu three months ago, and it's one of the most popular items," he says. "I have one customer who comes in almost every night after work just to order them."
He is currently toying with other ways to use cheese powders, including adding a powdered blue-cheese rim on Bloody Marys and tossing with popcorn for an easy, impressive bar snack. "I happen to always have some form of cheese powder," he says. Testa has leveraged the power of cheese—all while creating something new, unexpected and signature on his menu.
Chefs across the country are using a similar strategy, taking something inherently craveable and familiar—cheese—and relying on it to elevate a menu item. Infinitely adaptable and universally loved, cheese offers a sound strategy in modern menu development. Here's what's hitting creative menus today.
Play with Presentation
Nostalgic riffs, global mash-ups and customizable options will always win over diners. Add in a healthy dose of cheese, and you've got a winner. An unassuming potato delivers major "Wow!" factor at Bad Hunter, a vegetable-focused fine-casual restaurant in Chicago, where Dan Snowden, executive chef, uses a sharp Der scharfe Maxx from Switzerland to create an aerated cheese sauce. "It's a wheel, almost in the vein of a Gruyère, but super creamy, super funky. It introduces a really nice addition of fat and a strange acidity to the potato, which is a humble beginning that only gets better," Snowden says.
Taking new potatoes from local farms, he cooks them salt-mine style, boiled in a solution of salt and water, creating almost a salt crust. Then the potatoes are drained and cooled, flashed in the wood grill, and smashed into rough chunks of baked potato. Using the cheese base with lemon, rosemary and a touch of milk, he charges with nitrogen to add a fine foam bubble. Dehydrated milk solids are cooked in brown butter to create a brown-butter crunch, served with a meringue made of leftover egg whites, preserved lemon and espresso grounds.
"The best potato is either covered in sour cream or cheese, like potato skins, but it has all those smoky lactic flavors," says Snowden. "This is an intense dish because the potatoes are literally boiled in salt, so it's heavily seasoned. Der scharfe Maxx is a cheese I fell in love with. It's got such a cool name and is something you've never seen before, which helps to sell the dish. It's not only an interesting presentation of cheese itself but an interesting story of where the cheese is from and what it tastes like." Cheese can certainly build a narrative on a menu, introducing a strong sense of place and tying a restaurant's sourcing story to dairy farmers and cheese producers in a meaningful way.
The Slice is Right
A sandwich without cheese is like a cookie without milk—they're just better together. Which is why cheese is one of the most important ingredients at McAlister's Deli, a fast casual based in Atlanta with more than 400 restaurants nationwide. "We use cheese on everything. I don't think there's a sandwich or a salad on the menu that doesn't have a cheese component," says Will Eudy, McAlister's corporate executive chef. "The big overall trend is artisanal, regional and even hyper-local."
While hyper-local might not be a feasible option for an operation as large as McAlister's, increased consumer interest has led to the proliferation of higher quality cheeses on the market. Flavor-forward but familiar tweaks like Parmesan crisps for its Caesar salad and an all-natural pimento cheese for a BLT heighten the guest experience.
Havarti, specifically, is having a moment on the menu at McAlister's, built into its new Garden Fresh category of sandwiches that rolled out a year ago. It's stacked between smoked turkey with herb mayonnaise on a wholesome nine-grain roll. The non-sandwich vegetarian option, Veggie Spud, features roasted vegetables covered with Havarti as a more flavorful alternative to the classic baked potato.
"It's a fairly straightforward cheese, really creamy, very easy for our guests to recognize," says Eudy. "It's unique because it's a callout. It's a perception. Havarti is perceived to be of higher quality. We've been working with the notion that we don't want to really educate our guests, but we want to offer more fresh, wholesome, upscale ingredients so the perception of McAlister's becomes a raised perception of quality."
Authentic Parmesan, feta, burrata and fresh mozzarella have also become widely accessible in recent years. "Generally, guests are understanding that cheese is better," says Matt Harding, director of culinary/corporate executive chef at The Piada Group, based in Columbus, Ohio, a restaurant group that operates fast-casual chain Piada Italian Street Food. "Ten years ago, feta was still exotic. And now you have all of these goat cheeses that are making their way onto the menu."
Along with sourcing an authentic Parmigiano-Reggiano, Harding has been test-driving Crescenza-Stracchino at the company's flagship location, in a salad build with arugula, nectarine and prosciutto di Parma. "It's a very soft cheese that's typical in a piada. It's milky, slightly funky, and has a creamy richness without being over the top," he says.
When Savory Met Sweet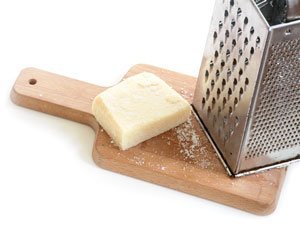 During an ingredient challenge for Chef's Roll, Ian Ramirez, director of culinary innovation and operations at Creative Dining Services, found an ingenious way to play up Parmesan in a dessert: cheesecake. Taking a cue from the classic flavor profiles found on a cheese board, he shredded the cheese finely and folded it into a mascarpone cheesecake batter, then paired the cake with figs, bee pollen and fresh currants.
"Parmesan naturally goes so nicely with fruit and has that umami flavor, so the figs, fruit and honey turned out really good," he says. "You fold in enough so that you taste the Parmesan, because it's such a dry cheese. We did it for a private event and guests went bonkers for it."
Stretch Your Stash
At Calvin College in Grand Rapids, Mich., students go nuts for the grilled cheese bar at the university dining hall concept, Dairy Press. The menu was conceptualized by Ian Ramirez, director of culinary innovation and operations at Creative Dining Services, a hospitality and dining services provider based in Zeeland, Mich. Students can load up on cheeses ranging from high-end blue cheese to classic cheddar, Swiss and Muenster, paired with creative toppings like teriyaki chicken, smoked pork belly, and different types of jams, grilled on a panini press. But beyond offering a cool way to present cheeses, the bar is a sneaky sustainable solution.
"People love customization, where they can build whatever. Cheese is not cheap, however—proteins aren't either—so with all of the toppings, you use less protein. But it's a good way to reduce waste and use excess product," Ramirez says.
For a more high-end application, Ramirez has also played around with different mac-and-cheese bars at pop-up events. His favorite iteration: smoked Gouda mac and cheese mixed into a Korean take on okonomiyaki with crispy onions, chile powder, cabbage, carrots, Korean pancake batter, chicken, kimchi and Sriracha mayonnaise. "The people who dared to try it definitely loved it. A lot of people who tried it didn't even know what okonomiyaki was, and meanwhile we're doing a total bastardized twist on it," he says. "The way I approached it was fried mac and cheese, where it gets crispy, but it's cheesy and gooey on the inside."
Snowden of Bad Hunter buys whole wheels when ordering and saves the rinds of his pricey cheeses to make use for dishes in the future. Leftover Parmesan, malga stagionato or even Der scharfe Maxx can heighten the flavor of a dairy component in a dish, he says. In his spring menu, he boiled a mixture of rinds and juiced asparagus byproducts in milk, combining with cream cheese, flour and egg whites for a savory take on a Japanese-style cloud cake.
"It's a great way to use byproduct for things that would typically go into the trash, but you can suck out every last bit of flavor," he says. "It adds a nice, rich, umami, salty undertone that elevates the flavors."
Cheese is magical that way.