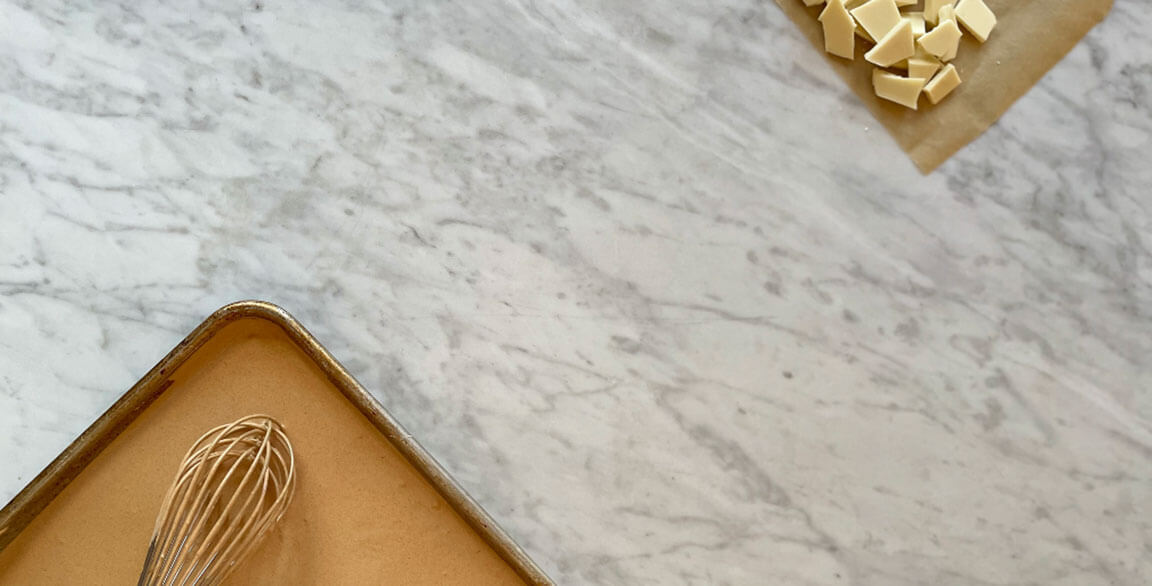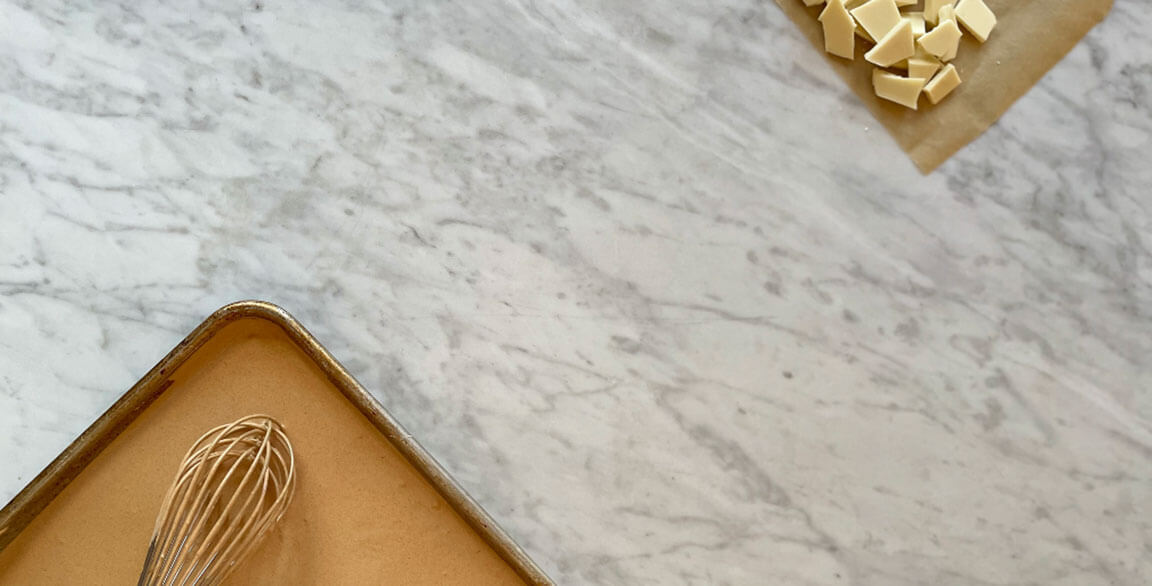 By Maeve Webster
April 21, 2021
Most food trends begin in and are driven by foodservice, which makes the exceptions to that rule interesting to consider. Toasted white chocolate is one such case. While retail may have primed the pump by investing in it first, foodservice now has an exciting opportunity to elevate it in an array of different applications. Whether you call it "toasted," "caramelized" or "roasted" white chocolate, this emerging flavor trend takes a nearly ubiquitous ingredient and provides a platform for brand-new flavor experiences.
Flavor Play
White chocolate—made of cocoa butter, sugar, milk solids and, sometimes, vanilla and lecithin—is a one-note ingredient. Caramelizing the white chocolate builds a deeper, richer flavor range, and suddenly, it becomes a far more versatile ingredient traveling the spectrum from light to nutty to darkly complex, adaptable for both savory and sweet applications. The technique is simple enough: White chocolate is baked at a low temperature, stirred occasionally for even browning, then pulled out and chilled when it gets to the desired color intensity.
Word Play
Chefs gain more than a newly versatile ingredient by toasting, roasting or caramelizing the white chocolate. The preparation method also invites engaging menu descriptions. For example, at retail, toasted white chocolate was labeled as "golden," a general, color-based descriptor likely meant to build off of the success of the previously introduced "ruby" chocolate, which was designed, in large part, to target Millennials.
"Golden," however, offers little information on the taste or other attributes that make it different, beyond the color. By opting to use "caramelized," "toasted" or "roasted" as descriptors, menu developers emphasize the differentiation, capturing attention and suggesting a white chocolate experience that is both unexpected and extraordinary. We've seen this approach of promoting the technique as part of menu names and descriptions used effectively with many other ingredients. Consider, for example, toasted coconut, roasted corn, grilled peaches and smoked cheddar.
Given how new this trend is, the term that works best with a prepared white chocolate ingredient will depend on the restaurant brand, as well as on the application. "Roasted" may work best for desserts with bold flavors or, potentially, savory applications. All three terms also may reflect the degree to which the white chocolate has been manipulated and the depth of flavor achieved. For example, "roasted" is not a great descriptor for a very lightly toasted white chocolate, while "caramelized" may understate the complexity and interest of a deeply roasted white chocolate.
First Moves
Toasted white chocolate is still very much in its infancy as a trend, which gives chefs time for experimentation and thought about how this flavor could work in their operations. It also offers menu developers the opportunity to be on the leading edge in creating unique options using a familiar ingredient. While Datassential finds less than 1 percent of menus feature some variation of roasted white chocolate, and most of those are in the fine-dining category, the ingredient has already grown by 22 percent in the past year and is expected to grow 10 percent across the next four years.
Chefs share creative insights and ideas for modern recipe development
APPEAL "Slow roasting white chocolate gives so much complexity to an otherwise straightforward product. What starts as sweet, creamy and a little nondescript develops notes of butterscotch and toasted marshmallow. White chocolate is a very approachable and affordable ingredient; it is made much more interesting and complex by roasting."
APPLICATIONS "I want to use it chopped and cooked into pancakes or drizzled as a finishing sauce over top. It would be delicious swirled into ice cream with bourbon-soaked sour cherries. I also love the idea of using it as a substitute for caramel in a classic Southern caramel layer cake. The toasted notes would add depth and complexity."
CAMMIE SPILLYARDS-SCHAEFER, VP of Culinary and Menu Strategy, Cracker Barrel Old Country Store
APPEAL "Just the name of it is exciting. It evokes so many sensory triggers—'toasted' calls out warmth and depth in flavor. 'White chocolate' calls out a more delicate flavor and a bit of sophistication. It offers a visual signal that there is something different about this menu item, or that it's used to augment another flavor and/or color. So much of what we do at Dunkin' is about flavor—white chocolate allows a bit of comfort. It's not too out there, but it offers a change from the usual."
APPLICATIONS "I could see us using it as a doughnut topping, like roasted white chocolate shavings or an icing or finishing. It also would be interesting in a filled croissant or muffin, or as a dipping sauce for bakery or doughnut innovation."
MIKE BRAZIS, Director of Global Culinary Innovation, Dunkin' Brands
APPEAL "The product versatility and menu penetration potential vastly increase with the addition of that warm and toasty attribute. Think of a delicious marshmallow pleasantly charred over an open campfire, then layer in the rich mouthfeel you get from cocoa butter."
APPLICATIONS "I see toasted white chocolate playing in the signature sides menu category, as well as in small plates/appetizer builds. Toasted whipped white chocolate would be amazing with a nice wood-fired grilled swordfish steak, or made into a fondant and glazed on roasted butternut squash with toasted spicy squash seeds.  I could also see it as a layer in a pork cheek or oxtail rillettes build.  And definitely as a tableside finish for a pumpkin bisque—spooned atop hot soup, inspired by rouille served with fish stews."
MICHAEL SLAVIN, VP of Culinary & Menu Innovation, Houlihan's Restaurants