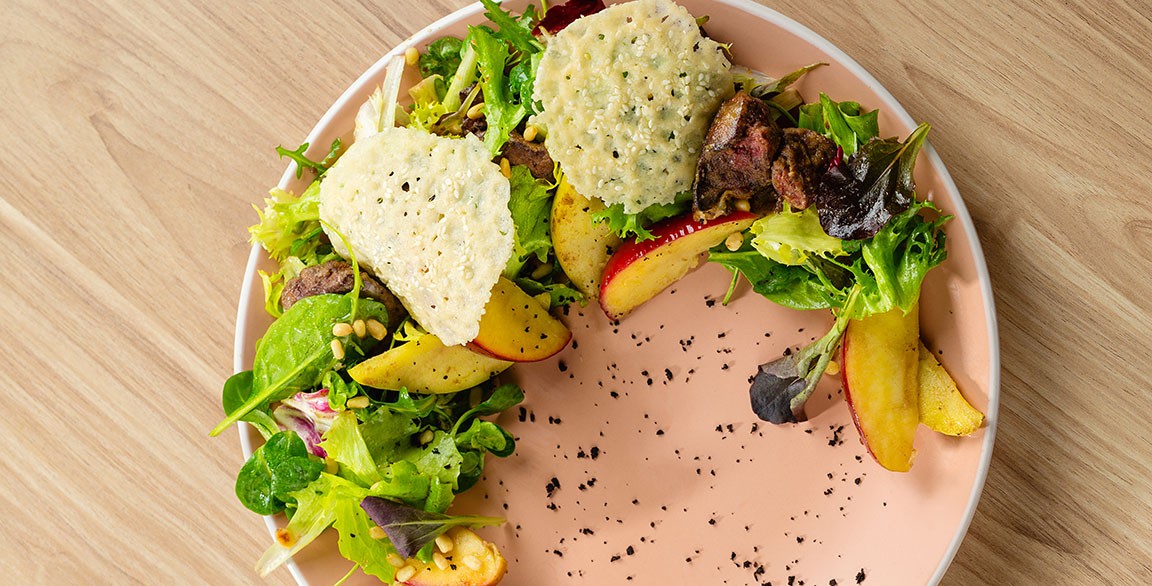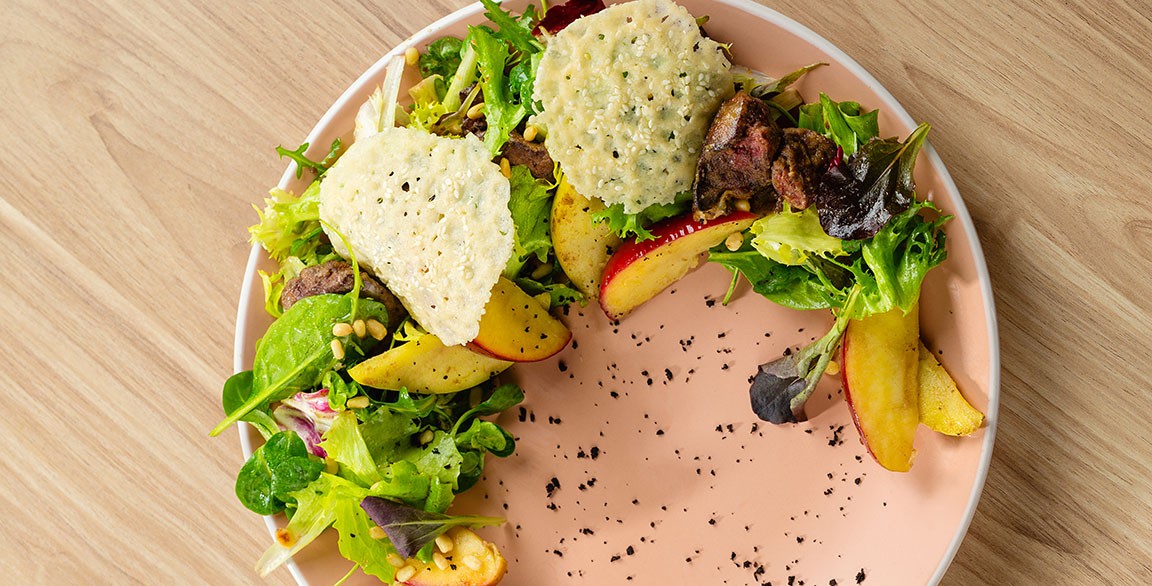 The salad category is ripe for new introductions of flavor and textural play, making it an ideal canvas in which to showcase fruit-centric creations with unique pairings. Savvy operators can flip the script on veg-centricity, highlighting fruit as the star component and moving vegetables into a supporting role. This is about fashioning a next-level experience. These salads can be healthful, refreshingly indulgent and satiating, and can easily showcase the addition of a variety of meats and proteins. Articulate these attributes to your guests, positioning your menu offerings with engaging ingredient combinations, interesting texture nuances, seasonal cues and contemporary plate presentations.
Here are "try-this" ideas that place fruit as the centerpiece—throughout the year:
SPRING
Craft a sense of renewal and excitement around transitional flavors.
Grapefruit Salad: Pink grapefruit wedges + English cucumber slices + avocado chunks + pink peppercorn citrus oil
Mango Salad: Julienne green and ripe mango + julienne sugar snap peas + watercress + coconut milk dressing
SUMMER
Bright, light and refreshing are the call-outs here.
Peach Salad: Grilled fresh peach wedges + lemon verbena granita + gazpacho dressing
Strawberry Salad: Pickled green strawberry slices + red strawberry slices + baby spinach + whipped honey vinaigrette + feta crumbles
FALL
Introduce an unexpected twist with favorite fall flavors presented in surprising, wonderful ways.
Pear Salad: Gingered red and green Bartlett pear slices + purple endive + charred red onion rings + harissa-pomegranate syrup
Plum/Clementine Salad: Miso-maple glazed plum slices/clementine segments + roasted delicata squash slices + shredded kale
WINTER
Cue comfort and deliver a premium salad experience through robust fruit flavors in surprising combinations.
Grape Salad: Roasted whole red seedless grapes + roasted golden beet wedges + micro greens + warm mustard seed vinaigrette
Apple Salad: Cider-dipped granny smith and Honeycrisp apple wedges + Manchego cheese shavings + pecan-fig-sweet potato compote
FEATURED RECIPE
GET THE RECIPE FOR ANCHO CRUSTED PORK BELLY SLIDERS