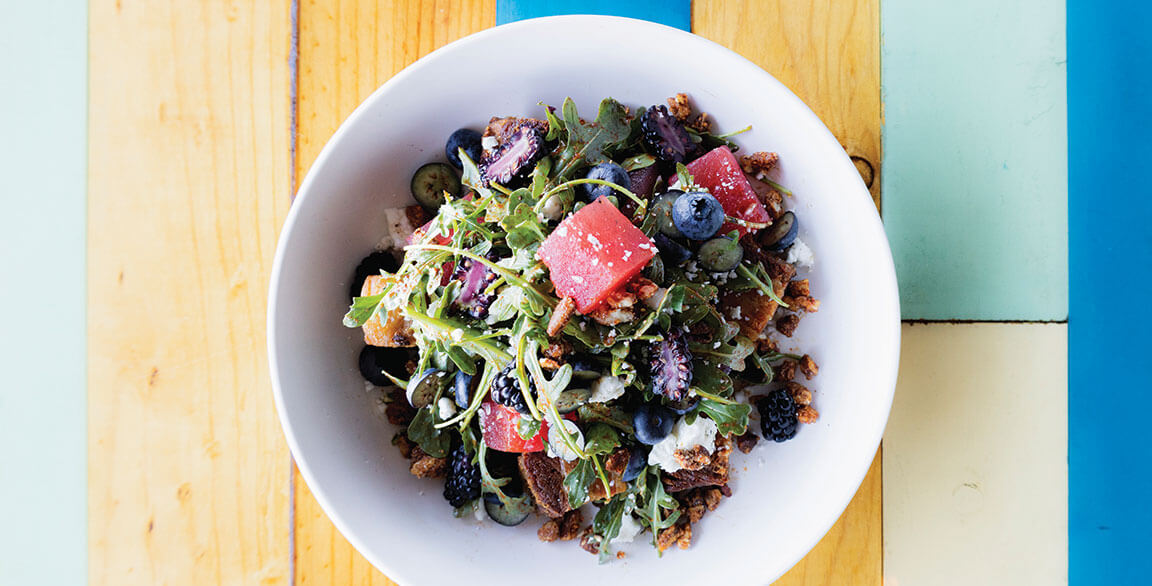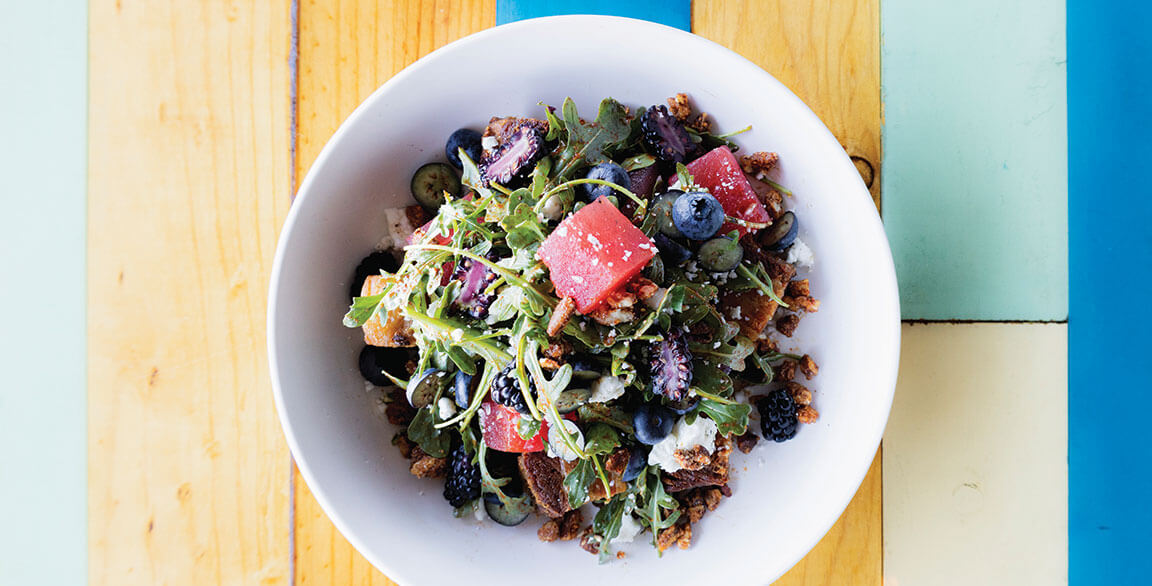 By Katie Ayoub
June 28, 2021
Chefs are making salads work harder for their menus, leveraging key attributes that are especially important in today's foodservice landscape. Of course, salads rock a glowing health halo—earned or not—that makes them attractive to diners looking for a boost in immunity, gut health or overall wellness. They are also adept at playing host to current flavor trends, offering a welcoming venue for pops of the new, the unexpected, the whimsical and the adventurous. Menus that provide trend-forward salads carve out a competitive edge, especially in the crowded digital space of off-premise options.
Travis G. Peters, chef/owner of The Parish, a Southern fusion gastropub in Tucson, Ariz., uses the salad format as a canvas for playful and original flavor builds. He menus a Compressed Watermelon Salad with crispy pork belly, fresh berries, candied pecans, fresh herbs, local goat feta and baby arugula.
It's tossed in a spicy tamarind vinaigrette made with tamarind pulp, New Mexico chile powder, paprika, coriander, cayenne, turmeric, black pepper, sugar, fresh lime and apple cider vinegar—a combination that was inspired by the tamarind-flavored Mexican candy laced with chile powder that Peters remembers eating when he was a kid growing up in Tucson. "With this salad, you get warm, cold, crispy, fatty, salty, sweet, spicy, crunchy, fresh, tangy, tart and rich all at once," he says.
Peters' playful take is just one example of salad innovation in action, as chefs consider new and inviting compositions of color, flavor and texture.
FORWARD THINKING
The salad category provides a natural home for vegetarian offerings, but making them stand out in an increasingly crowded field is a tall order, given the burgeoning world of plant-forward menu items today. The team behind Vital Root, a vegetarian fast casual from the Denver-based restaurant group Edible Beats, has succeeded in this arena, running two popular choices: the Roasted Beet and Arugula Salad, with pickled butternut, goat cheese, hazelnuts, beet pesto, balsamic vinegar and a caper vinaigrette, and the Vital Cobb Salad.
"The Vital Cobb was our way of trying to do a lighter, healthier and, of course, vegetarian and gluten-free interpretation of a classic salad," says Jeremy Kittelson, culinary director of Edible Beats. Vital Root's version features a bed of lettuce topped with chopped boiled egg, rice paper "bacon," medjool dates, feta, marinated tomatoes, radish, lentils, mung beans, quinoa, smoked almonds and a "toga-ranch-i" (togarashi-seasoned cashew-based ranch) dressing.
"We included the lentils and mung beans because they are extremely nutritious, grain free, high in protein and low in carbs," he says. "We then added some classic components of the Cobb, but made them our way."
One of those classic Cobb elements is bacon, and replicating its flavor was no easy task. "The rice paper bacon came about from a lot of research and development," Kittelson says. "When we first did the salad, we made our own coconut 'bacon,' but Justin Cucci, our chef and owner, wanted to continue to evolve and push what could be done with making our own vegetarian and gluten-free 'bacon.'" Now, they marinate rice paper in a housemade bacon seasoning, then slowly dry out the paper in a dehydrator to give it a crispy texture. "It's definitely one of the more unique and delicious products that we make," says Kittelson.
Here are other plant-centric salads from across the U.S. that showcase next-level creativity:
Kale Sea Salad: Mixed sea veggies, lacinato kale, housemade kimchi and onions tossed with spiced and dehydrated almonds in housemade teriyaki dressing, then topped with cucumber ribbons and a dehydrated cheesy kale crisp
—Âu Lac, Los Angeles
"Chicago Spring" Vegetable Garden: Smoked beets, roasted baby carrots, arugula pesto, fennel, radish, mushroom crumb, hazelnut, housemade ricotta
—Wood, Chicago
Local Salad: Shaved Brussels sprouts, spinach, kimchi, avocado, shallots and coconut "bacon," with vegan ranch
—Café Gratitude, multiple locations in California
STAR TURN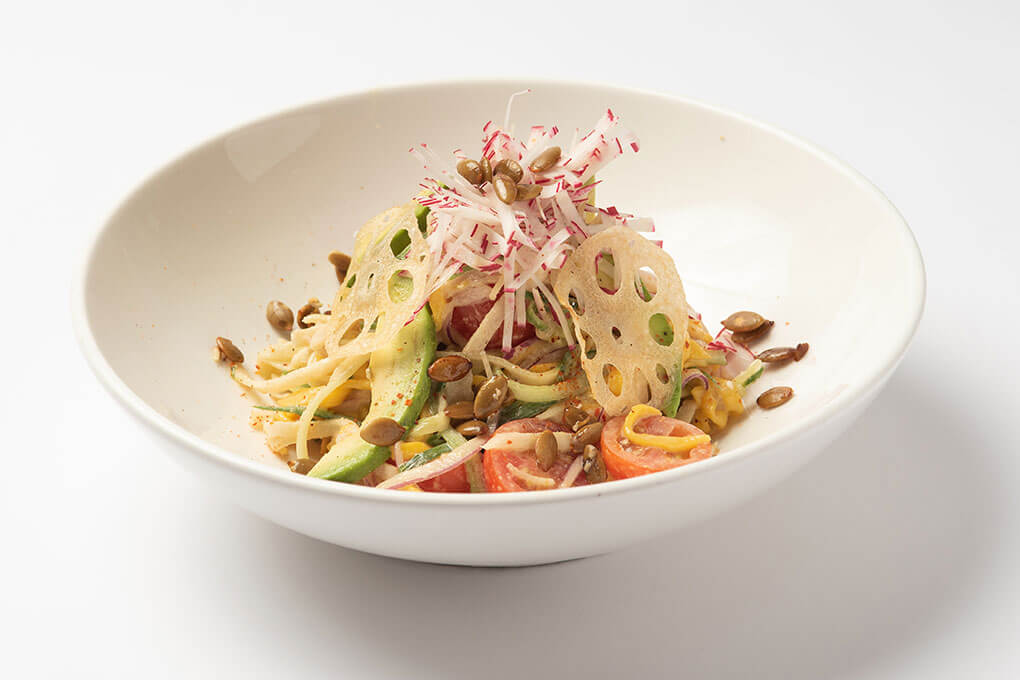 At the Mexican-inspired street food concept TTT, with locations in both Clarendon and Silver Spring, Md., the new house salad (above) demonstrates an elegant approach to salad development. It features flavors and ingredients that align with its Latin sensibility without presenting them in a way that is typical.
Instead, the TTT Salad features an artful presentation of avocado, tomato, mango, jicama and cucumber, tossed in a sesame-rice vinaigrette. The restaurant levels up the pepitas trend, garnishing the salad with candied pepitas to introduce a crunchy, sweet garnish.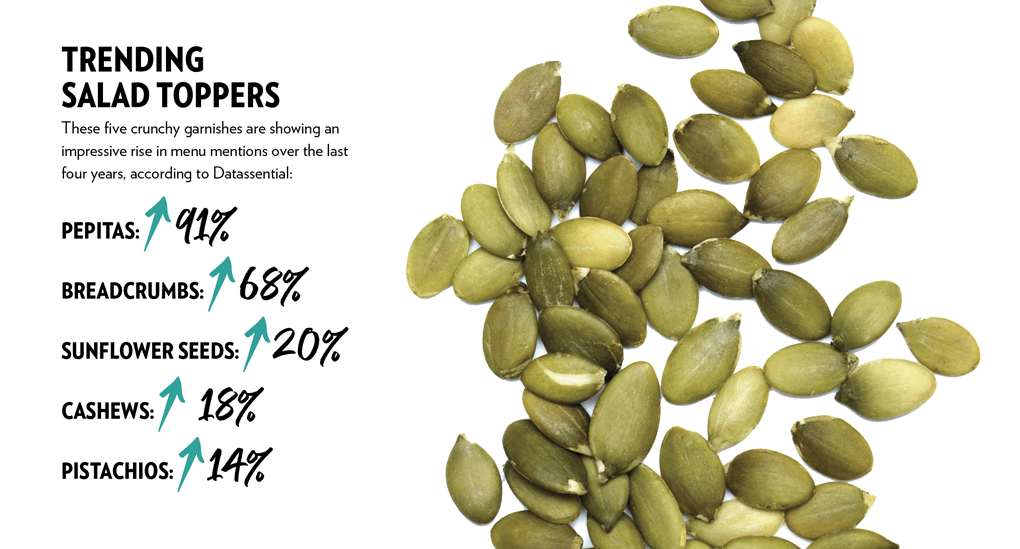 SWIPE UP
The modern salad composition is taking cues from bowl builds, borrowing the inclusion of a distinctive smooth textural component, like a hummus or pesto. Instead of dolloping, chefs are swiping artfully, laying down a rich, soft textural pathway that intersects beautifully with the crunchy, fresh ingredients found in a crisp salad. At Dolphin Marina and Restaurant in Harpswell, Maine, the Summer Salad changes up the eating experience through its modern composition.
The salad features mixed greens, fresh blueberries, hazelnuts and pickled onions, tossed in a Meyer lemon and blueberry vinaigrette. Rather than biting into random nuggets of goat cheese interspersed in the greens, diners can dip a forkful of salad through a generous swipe of whipped, airy goat cheese that covers nearly half the plate.
At the newly opened Italian-Croatian restaurant Rose Mary in Chicago, chef/owner Joe Flamm uses an emulsified bagna càuda as the swipe element on his salad version of pinzimonio, a classic Italian dish of raw vegetables served with a bright vinaigrette. The Pinzimonio Salad stars a mix of vegetables, shaved very thin on the mandoline and tossed in olive oil and lemon juice.
He deepens the flavor experience by plating it atop the herby bagna càuda, which adds both umami and rich texture. "Bagna càuda literally means 'warm bath' and is a dipping sauce for vegetables. Ours is made with garlic, anchovies and olive oil emulsified with chives, parsley and other herbs," says Flamm.
SMASHING SUCCESS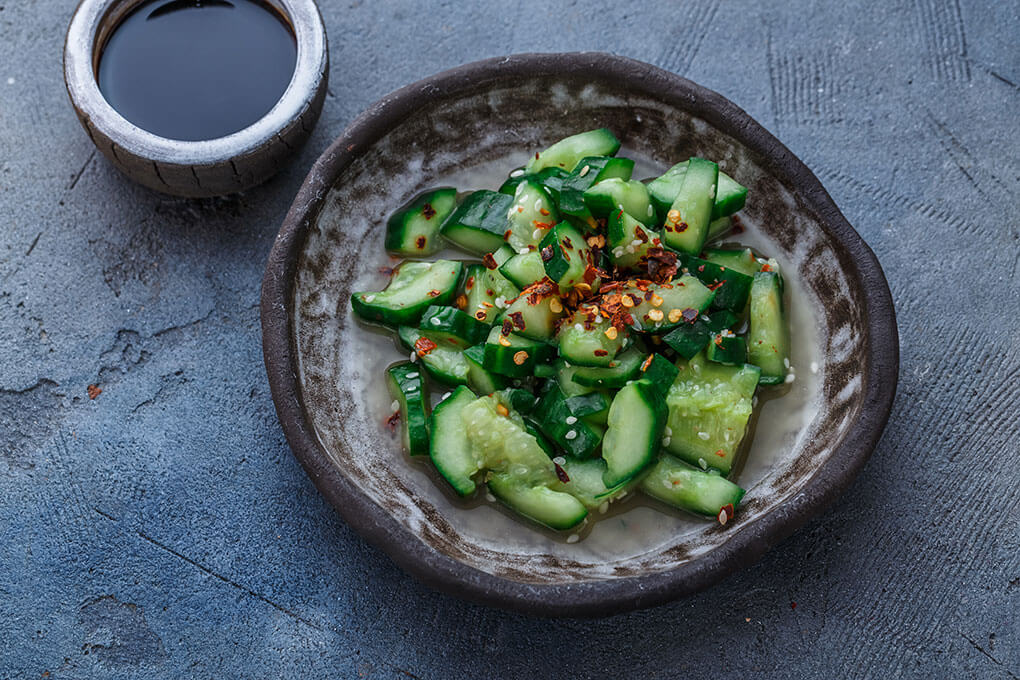 The smashed cucumber salad is having a moment. This classic Chinese dish is typically dressed with a blend of soy sauce, rice or black vinegar, garlic and sesame oil and is sometimes spiked with Sichuan peppercorns. Smashing (and salting) the cucumber before dressing the salad changes its texture, softening the skin and opening up jagged surface areas that absorb flavors really well. But chefs are beginning to play with its assertive, yet refreshing, profile, bending it in creative directions designed to reflect their concept's culinary viewpoint.
Craveable variations abound. Fat Choy, a Chinese-American veg-centric restaurant in New York, features smashed cucumbers tossed in both a tahini-based dressing and a "leopard sauce," a vinaigrette that includes chile oil and a reduction of Chinese black vinegar and Chinese brown sugar.
American-Asian restaurant Best Quality Daughter in San Antonio also finds a happy partnership between tahini and cucumber. Its Smashed Cucumbers are dressed in garlic tahini and chile oil.
The thickly cut cucumber salad at Bacanora PHX in Phoenix moves the profile toward a Southwest sensibility, topping it with crunchy nopales and thinly sliced radishes.
A modern American approach marks the Cucumber Chile Salad at Siembra, a Peruvian pop-up in Seattle. The cucumbers are marinated in rice wine vinegar, dusted with beet root powder and served with peppers, red onions and toasted corn.