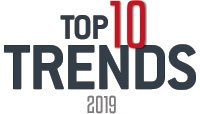 We are living in the Golden Age of culinary innovation, where the pace of translation and adaptation has never been more vigorous. It's invigorating for chefs, thrilling for dining consumers.
Today, few categories in the foodservice landscape have been left unexplored. Vegetables are now sexy, flavorful and surprising, thanks to the veg-centric movement. Whole grains, with quinoa leading the charge, have been given significant attention, adding texture, complexity and wholesomeness in craveable flavor combinations. They have moved beyond side-dish-only considerations into bowl builds, salads, taco fillers.
Now, rice is making moves, following the creative pathway carved out by whole grains and demonstrating menu versatility, daypart fluidity and unbeatable consumer awareness. Chefs are leveraging those attributes and using rice in creative, craveable ways.
At Guerrilla Street Food, a Filipino concept in St. Louis, a side item of Fried Rice Tots boasts local jasmine rice and togarashi, and is served with banana ketchup.
Super Six, a hip Asian-American restaurant in Seattle, offers breakfast fried rice as a companion to eggs, Spam or Portuguese sausage.
What's Behind the Rice Trend?
"What can really propel this trend forward is the familiarity of rice with nearly every consumer in the world," says Maeve Webster, president of Menu Matters consultancy. "There's a rice for almost everyone. Want the low-flavor, high-carb experience of white rice? Check. Nutty, more complex flavors? Check. Healthy? Check. Indulgent? Check. It's a universally familiar, broadly accepted ingredient that is almost infinitely versatile, either through the varieties available, the preparations used, or the flavors included."
In addition to versatility and familiarity, a few other drivers are moving the needle. First, rice is naturally gluten-free, opening up all sorts of menu development for chefs responding to guests who are looking to limit or eliminate gluten when dining out. Second, a whole world of rice is ready for discovery, bringing with it stories of origin, heritage and flavor.
"We have seen more restaurants utilizing more exotic or unique rice grains to set themselves apart," says Chris Casson, director of produce and specialty foods for Shamrock Foods Company. "The color, texture and flavors are what differentiate these from traditional white rice. Black or forbidden, Pink Rose or Minnesota wild rice are just a few examples. When cooked properly, these can become the centerpiece of the dish and transform a plate from traditional to exotic."
At Cassava, a New American restaurant in San Francisco, Koshihikari rice anchors the Japanese Breakfast, serving as the base for the accompanying dishes of miso soup, pickled cabbage, bean sprouts kimchi, shio koji-marinated market fish, local wakame, carrots and sesame, white miso-marinated corn and tomatoes, and a poached egg. That opportunity to highlight rice varietals, including heirloom or lesser-known ones, helps lend a menu specificity and premium positioning.
Third, global comfort food is a big influencer on menus today, speaking a universal language of love and memory. Whether it's an African rice dish like jollof, a modern Chinese fried rice, or a globally inspired bowl build, a comfort-forward rice dish scores instant points and makes that all-important emotional connection.
---
Rice Trend Insights – insights into the rice trend from our panel of experts.
---
Bowls and Breakfast
The huge embrace of bowl builds by diners has certainly helped position rice in a more prominent place. The bowl acts as a fantastic carrier for any type of ingredient combination. The Rice Shop, a fast-casual bowl concept in Cleveland, uses white rice as its platform for flavor-forward, Asian-inspired builds.
The Hong Kong Roast Chicken Bowl includes Chinese spinach and a yuzu-kosho vinaigrette, and the BBQ Pork Belly Bowl is topped with honey-mustard kale and sambal sour cream. The rice is the familiar anchor, tethering approachability while serving up adventurous flavor combinations that resonate with modern consumers.
Gerard Craft, chef/owner at Cinder House, a South American-inspired restaurant in St. Louis, offers his version of the Brazilian stew, feijoada, with pork, beef, black beans, chimichurri and orange, served over a comforting bowl of rice.
And at Lat14, a newly opened Asian eatery in Golden Valley, Minn., a rice bowl moves into Laotian territory with its Lao Jeow Bong Fried Rice, flavored with chile paste, roasted galangal, dried shrimp, roasted garlic, roasted shallots and fish sauce, then finished with a fried sunny-side egg and soy sauce.
"Bowls have allowed rice to come to the forefront again," says Shane Schaibly, VP of culinary strategy and corporate chef for First Watch Restaurants. "And rice helps us push the envelope in bowl builds because it's a familiar comfort food. There are also great stories to be told around rice."
This spring, he's rolling out a limited-time offer aimed at all dayparts. The Pork Belly Banh Mi Breakfast Bowl performed well in test last year. It starts with a base of brown rice, quinoa and farro and is topped with pickled daikon and carrots, fresh jalapeño, five-spice/brown-sugar-glazed pork belly, a baked egg and Sriracha. "It's hearty and delicious, and we think it'll sell great throughout the day," he says.
---
Perfect Porridge – Porridge + Puffs in Los Angeles creates explosively flavorful porridge bowls that feature elaborate layers of ingredients.
---
What's interesting here is that First Watch is known as a breakfast-themed place, and it's choosing a rice-grain blend as its familiar anchor. That signals a shift in the perception of where rice belongs on menus.
Breakfast is proving to be rice's new frontier. "Rice is definitely working now at breakfast thanks to a broader behavior during that daypart," says Menu Matters' Webster. "Asian influences are growing at breakfast, and rice is a traditional element in that part of the world, which makes it both familiar to American consumers as well as a little unexpected, but welcome."
At Ma'ono Fried Chicken and Whisky, with three locations in Seattle, the Curry & Bacon Fried Rice and Eggs makes fried rice the base and tops it with poached egg, peas, mung bean sprouts and furikake.
Tasty n Alder, a New American restaurant in Portland, Ore., serves Bim Bop Bacon & Eggs at brunch that, after a proper stirring, yields crisped rice from the bottom of the hot stone bowl.
Crisped and Fried
The application of a crispy rice element is helping make rice a menu darling today. Texturally, it's a home run. Visually, it adds interest, particularly when sporting vivid colors from saffron, turmeric or za'atar.
At Sunda, an Asian fusion concept with two locations in Chicago and Nashville, Tenn., Mike Morales, chef de cuisine/partner, uses crispy rice in a few menu applications. On the menu's Signature Crispy Rice entrée section, guests choose a topper, including: Spicy Tuna with masago (capelin roe), Japanese chile oil, Sriracha, chives and jalapeño; and Wagyu flavored with sambal, chives, red chile and Asian pesto.
"We take our sweet and savory sushi rice, made with rice wine vinegar and a hint of yuzu. We hand press and precision cut it into dense rectangles, searing them to a golden-brown crunch on each side with butter and tamari," he says.
Morales also uses crispy rice in his Braised Pork Belly on Crispy Rice Patty, served with a poached egg and hollandaise.
"Crisped rice can add a fun and delicious crunch to any dish," says Kathy Casey, chef/founder of Kathy Casey Food Studios – Liquid Kitchen. "For example, tossed in a high flavor coating like harissa then re-dried, it makes a unique finish to crudo drizzled with lemon zest-infused olive oil."
Globally Themed Rice
Globally themed restaurants have been tapping into the craveability of crispy rice for decades, and they provide a great source of inspiration for modern adaptation.
Funky Elephant, a Thai restaurant in Berkeley, Calif., menus a Crispy Rice Salad with fried jasmine rice in housemade red curry paste, herbs, peanuts, lime, fish sauce, fermented pork and pig skin, maximizing the crunchy, savory profile of the crispy rice in a salad presentation.
Tahdig, an Iranian rice dish that translates to "bottom of the pot," stars the crispy, golden crust that forms when rice is cooked a certain way. Typically, long-grain white rice is soaked and par-cooked, then mixed with variations on yogurt, egg, melted butter and saffron water. The coated rice is placed in a well-oiled pot, then cooked. The crispy, savory, rich layer of rice is tahdig, which offers potential for a number of modern dishes, including as a shareable served with mix-ins, or as a bar snack, broken off into shards and dusted with spices. It's beginning to make inroads on menus and offers huge opportunity for wider translation.
Bhel puri, a savory Indian snack, is also making headway, as diners respond favorably to the combination of puffed rice, vegetables and tamarind sauce.
Chai Pani, an Indian street-food restaurant in Asheville, N.C., serves a vegan bhel puri on its snack menu, describing it as "tangy, crunchy and spicy." Its version combines puffed rice, flour crisps, crunchy chickpea noodles, cilantro and onion tossed in tamarind and green chutneys.
Curry Up Now, an Indian fast casual based in San Francisco, menus bhel puri in a cone, making it as portable and familiar as french fries. "Our bhel puri is made with puffed rice, potato-garbanzo mash, crispy sev noodles, chaat masala, cucumber, red onion, chutney and hot sauce," says Akash Kapoor, co-founder and CEO. "It's a true 'party in your mouth' experience with its crispy, crunchy texture, as well as its sweet, sour and spicy flavor profile."
Thanks to the continuing interest in global flavors, a relatable comfort-food profile, and a foodservice landscape that is hungry for interesting new takes on menu staples, rice is having a rebirth. "We had the quinoa revolution of 2011," says First Watch's Schaibly. "Ancient grains have held the spotlight. Heritage rices, heirloom rice varieties, 'regular' rice reimagined—they've been lying in wait and are ready to come to the forefront again."