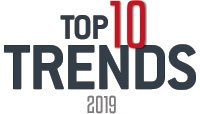 Condiments are often the ones setting today's furious pace of innovation. They're flavor ambassadors, wooing consumers with global intrigue and bold profiles, often finding their way as adventurous accents on familiar formats, like burgers and tacos.
Successful market penetration is evident on everyday menus, with the proliferation of condiments like Sriracha, gochujang and harissa.
One of the drivers that helps move these global flavors into American recipe development is that they're foreign and exotic, bringing with them a bit of bravado. An ultra-cool, lesser-known condiment is moving in, introducing its unique profile to American menus. It's XO sauce—the name alone promises a free pass to the cool kids' table.
The Origins of XO Sauce
Relatively new on the scene, it was first concocted in the 1980s in Hong Kong, then became a staple of Cantonese cooking. Borrowing the term "XO" from expensive Cognacs that are "extra old," this sauce was named XO to relay its pricey pedigree.
This savory, smoky, spicy, sweet and salty sauce features a coarse mixture of dried scallops, dried shrimp, Jinhua ham, garlic, dried chiles and oil.
"XO sauce is an umami bomb," says Quinn Adkins, director of menu development for Culver's. "It's got a slow build on the heat with deeply savory notes. I think diners in this country are now ready for it. In fact, if used carefully as an accent rather than a main ingredient, it's got that crave factor that will make it a home run."
Why now? Part of the reason is that accelerated innovation cycle that we talk about so often. What's next? What's new? There's a fervor in flavor exploration, and XO sauce answers the call. "Two factors are behind the rise of this trend," says Chris Koetke, CEO of Complete Culinary LLC. "XO sauce sounds mysterious and special. The second is that it is a 'new' vehicle for an umami hit, following in the footsteps of soy sauce, miso, fish sauce, gochujang and so on."
Traditionally used to add intense flavor to simple dishes like noodles, dumplings and fried rice, chefs here are using XO in thoroughly modern ways, ratcheting up menu differentiation along the way.
At Toups South, an inventive Southern restaurant in New Orleans, the Seared Redfish is topped with XO butter.
Aviary, a New American eatery in Portland, Ore., menus Oxtail Cannelloni with daikon radish, rutabaga, housemade XO sauce, mint and peanuts.
And Lucky Buns, a burger joint in Washington, D.C., shows how XO can fit into a burger profile in its Bogan Bun, with grilled red onion, Gouda, arugula, "lucky" sauce and bacon XO jam. That last iteration is particularly interesting, as it plays up the chutney-like consistency of XO and adds bacon to make it more approachable for American consumers.
XO Sauce Is All About Umami
Chefs have long understood the magic of umami. Now, more consumers are embracing that fifth taste, thanks to a curiosity and enthusiasm for global flavors. XO sauce is one of the most umami-rich condiments out there, where just a little goes a long way to extend complexity and bring out inherent flavors in the other ingredients on the plate.
"I've been playing with XO sauce lately," says Ian Ramirez, director of culinary innovation and operations for Creative Dining Services. "Chefs are constantly on the hunt for new forms of umami, and although it's been around forever, we love figuring out new ways to leverage it."
He likes to pair umami with umami, so he recently created what he calls a "funky, spicy tomato sauce" using San Marzano tomatoes, Parmesan, clams and XO sauce.
"I like XO because it's milder than sambal, but has a nice, steady heat that's rich in flavor," he says. Ramirez has tossed XO with blistered shishito peppers, finishing them with crème fraîche. He's also glazed chicken wings with honey and XO, topping them with crispy shallots. That pairing with a sweet ingredient like honey speaks to a larger trend of tempering heat with either savory or sweet, and XO sauce performs its savory duties beautifully.
---
Insights on the XO Sauce Trend – insights from our team of experts on why XO sauce is one of our top 10 flavor trends for 2019.
---
Katie Sutton, senior product development chef for Food & Drink Resources, sees XO sauce translating well in a variety of applications. "You may think the opportunities to use XO sauce in your establishment are limited, but it could be used sparingly and really add a punch to a dish," she says.
She sees modern bowl builds offering a great platform for XO, as well as dipping sauces for crispy seafood dishes, like crab cakes. "Or a riff on carbonara—bucatini, pancetta, housemade XO sauce, fermented egg yolk and crushed Sichuan pepper," says Sutton.
Daniel Gorman, executive chef at Henley, a modern American brasserie in Nashville, Tenn., loves XO sauce. He currently menus Scallops & Cornbread with fresh diver scallops, housemade cornbread pudding, scallop XO and shiitake bacon.
"Since the XO we make at Henley is primarily made up of scallops and local ham, it brings out the natural sweetness of the scallop, but also adds a little more oomph," he says.
Gorman has also tapped XO to enliven grilled bok choy, highlighting it in an XO vinaigrette. "Or try Carolina Gold rice with XO, or field peas and onions sautéed with it. Both are to die for," he says.
Thach Tran, executive chef at Denver's Ace Eat Serve, pairs his XO with scallops, too. His Scallop & Shrimp XO Rice Pillows star stir-fried cheong fun noodles, XO chile sauce, lotus root, garlic, chives, crispy shallots and cilantro.
"This sauce is packed with umami flavors delivered from the highly priced dried scallops used in the sauce—upwards of $120 per pound—combined with twenty other aromatics, chile oils, and savory aroma from the XO," he says. "It's truly a unique sauce that delivers complex flavors and highlights the scallops in this dish."
An XO Sauce Strategy
Priciness is a factor in menu development—so chefs won't be table-topping Sriracha-style bottles of XO anytime soon. But its high price lends it well-earned premium positioning.
At Fat Rice, a global comfort-food restaurant in Chicago, chef/co-owner Abraham Conlon makes XO sauce, serving it in various dishes over the years, including a cauliflower dish in which the vegetable is dry-fried, then stir-fried with ginger, garlic, celery, scallions and XO sauce. "It's a rich, oily, umami-laced condiment with a mellow heat, because you're using dried chiles, not fresh," he says. "It's expensive. It's not for the faint of heart. It's all about high concentrated flavors from the shrimp, ham and scallops—there's a finesse involved with it."
Conlon has also served it with noodles, dumplings, and rice with a fried egg on it. "It's got such big flavor, you want to pair it with things that are relatively mild in flavor," he says.
Andrew Hunter, principal at Chef Andrew Hunter culinary consultancy, calls XO sauce a "goldmine of ingredients." "Imagine the umami in this sauce. You only need to use a little. It's a great callout for a restaurant. It would be great as a limited-time offer, as it really is very special," he says.
His strategy for higher-volume restaurants is to either make it in-house or have a supplier create a proprietary version—and then make a grand statement with the sauce.
"I would make a big deal out of the presentation of XO, treating it like caviar," says Hunter. "Bring it out in a special bowl with a special spoon, and turn it into a table service opportunity."
He gives an example of a Chinese seafood noodle dish. "Bring the noodle dish to the table in a soup plate, then have the server spoon a dollop of XO over top, explaining to the guest what it is. The server can leave a small serving vessel of the XO, in case they'd like to add more," he says. This gives the server a chance to interact with the guests, elevating the experience into a singular one that, he says, may lead to repeat business.
Using XO Sauce with Vegetarian Dishes
The secret to XO sauce is in its ability to make a dish's flavors dynamic—with just a wee bit. Some chefs are doing that with vegetarian versions of the sauce.
At the Blind Pig Kitchen + Bar in Rancho Santa Margarita, Calif., Karl Pfleider, executive chef, menus a Beef Tartare with house XO sauce, crema, oregano and housemade sourdough crostini. "The XO sauce used here is our take on a traditional Chinese condiment, but the major difference is that ours is vegetarian," he says. The depth of flavor comes from the chiles, garlic, vinegar and herbs that are signature to this version. "The umami, subtle heat and fat from the oil make this dish stand out," says Pfleider.
The Source by Wolfgang Puck in Washington, D.C., offers a vegan dish called the Impossible Potsticker, with vegetarian XO sauce and Meyer lemon vinaigrette. Its XO is a blend of dried shiitake, fermented cabbage and soy-marinated tofu.
Alden & Harlow in Cambridge, Mass., pairs a smoked mushroom XO with its New York Strip.
"That's the great thing about XO—it's open to interpretation," says Louis Maskin, marketing director with The Culinary Edge. In fact, its artisan quality, where no two XO sauces are alike, adds to its cachet with modern diners who value craftsmanship, narrative and intrigue. "It's got a great name and an authentic backbone. What could be better?"