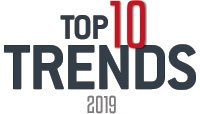 Today, a whole world of flatbreads is opening up new opportunities. One big driver here is the huge success of hummus, which has led to a major push in innovation around plant-based purées. Flatbreads, whether puffy and doughy or thin and crisp, are an ideal partner for these dips and spreads.
Another driver is the larger trend around Eastern Mediterranean foods. Countries like Lebanon, Turkey, Israel and Syria serve up a delicious flatbread tradition, championed by culinary superstars like Alon Shaya of Saba in New Orleans and the newly opened Safta in Denver, as well as Michael Solomonov of Philadelphia's Zahav and Goldie. They're flatbread gurus, and thanks to flawless technique and attention to cultural detail, they have helped demonstrate to dining consumers that flatbreads can be enthralling, comforting and incredibly craveable.
Flatbreads are igniting interest and innovation in equal measure. Fanning the flames is a hankering by many diners for the return of the bread basket—albeit an updated one that reflects a global sensibility of conviviality and adventure. "Flatbread says, 'share me.' It is a great food to eat with friends," says Ron DeSantis, principal advisor of CulinaryNXT.
How Restaurants are Serving Flatbreads
Restaurants across the country are maximizing flatbread's shareability and versatility, moving it to signature status.
Ciudad, a restaurant in Seattle that specializes in grilled meats from around the world, serves housemade Middle Eastern flatbreads as accompaniment to its creative and flavor-forward array of sauces, from burnt honey and Calabrian relish to smoked yogurt and black garlic aïoli.
---
Flatbread Trend Insights – Insights from our team of experts on why flatbread is one of our top 10 flavor trends for 2019.
---
At Sababa, an Israeli-inspired fast casual in San Francisco, the signature fluffy pitas can be filled with a variety of intriguing fillings, like sabich (fried eggplant with a 300-minute egg) and a Moroccan carrot salad flavored with sheep's milk feta and orange. In both instances, the flatbread acts as a safe platform for adventurous flavors.
"Flatbreads are gaining momentum because they represent a change of pace from traditional breads and provide a unique fun, fresh, familiar taste and texture," says Pam Smith, RDN, menu development consultant. "They're a way to trial foods of various ethnicities in an approachable package." That approachability, when married to comfort and craveability, is a potent combination that sets up a big menu opportunity—from shareables to handhelds.
"The opportunity here is moved forward by a product that is wildly versatile and extremely familiar," says Maeve Webster, president of Menu Matters consultancy. "And most cultures have some type of flatbread-esque format, so there are a lot of different cuisines that can be authentically or uniquely applied. Given the breadth of prepared and value-added options, it's also something that can be pulled off by a variety of operators."
Love It, Share It
Consider the simple joy of guacamole and tortilla chips. Or the wonder that is a creamy artichoke dip served with chunks of pumpernickel. There's something immensely satisfying about ripping, tearing, dipping and scooping food. Flatbreads, and the global cultures informing the renewed interest in them, celebrate that interactivity.
We've certainly seen the huge success of hummus. Of course, a lot of that is driven by its wholesomeness and pleasing flavor, but that social element of ripping off a piece of chewy, warm flatbread and dipping it draws a big crowd. It also presents big opportunity for further menu development.
"Flatbreads are exceptional vehicles for adding creative flavors to the dough," says Chris Koetke, CEO of Complete Culinary LLC. "They also represent a low-cost product that, when prepared well, can drive business and create food memories."
At both Ema and Aba, two Mediterranean concepts from Lettuce Entertain You in Chicago, the house bread is warm, puffed-up flatbread. It's served with a choice of hummus dishes, from Roasted Mushroom Hummus with truffle butter to Lamb Ragu Hummus with harissa, serving as a familiar and sociable pairing to more exotic offerings.
---
Pick Your Palette – Flatbreads offer huge versatility—find your "native" flatbread and top it with seasonal ingredients.
---
Sofreh, a Persian restaurant in Brooklyn, N.Y., serves Persian flatbread with a luscious dip of smoked eggplant crowned with two soft-poached eggs, demonstrating a world of possibility for menu adaptation.
Bavel, a recently opened Middle Eastern restaurant in Los Angeles, serves different versions of shareable flatbreads on its menu, topping them with intriguing flavor combinations. The Butternut Squash Flatbread is Turkish flatbread that combines feta, baharat, pepitas, fried sage and wildflower honey, and the Malawach Flatbread, a Yemeni version, is topped with grated tomato, dill crème fraîche, aged egg and strawberry s'chug. Each of these stars big, brash flavors, a strategy that has proven successful with today's diners, particularly Millennials.
"There is plenty of room for creativity in the flatbread space by adding new ingredients and flavors," says Koetke. Flatbreads also convey the flavor of fire, with a tradition of being pulled from a wood-burning oven and featuring doughy centers with crispy, charred bits.
Handhelds for the Win
Chefs are always looking for the next handheld hero. The banh mi. The torta. The bing. A number of leading-edge concepts are turning to Eastern Med flatbreads to house their global-inspired handhelds. "There's great opportunity with flatbreads—they're easily stuffable, convenient and portable," says Brian Darr, managing director at Datassential. "They become a great way to experiment with Middle Eastern and Eastern Mediterranean foods."
In addition to showcasing its housemade flatbreads as vehicles for dips and sauces, Ciudad also runs a number of unique sandwiches, all served in a flatbread. The Harissa Chicken comes with smoked yogurt, chopped olive and baby spinach, and the Fava Falafel features smoked yogurt, green tahini, harissa and baby spinach.
Balkan Treat Box, a food truck in St. Louis that now has a brick-and-mortar location, pushes into the Balkan peninsula for flatbread inspiration. "We feature street food from Turkey, Montenegro, Bosnia and Serbia," says Loryn Nalic, chef/owner. On offer, a number of handhelds, including pide (pronounced "pea-duh"), which she describes as a "Turkish wood-fired flatbread."
"Ours is a sourdough base, and it's baked at a high temperature."
Pide are canoe-shaped, with the edges crimped up to hold the toppings. An egg is often broken over the bread during the last minute of baking, inviting diners to dunk slices of flatbread into the soft yolk. "One of the things that makes pide different is that the toppings go down on raw dough—without any tomato sauce or olive oil under it," she says.
"The meat gets flattened into the dough, enriching the flavor of the flatbread. Once baked, we brush ours with brown butter and top with a sauce called ajvar, which is a relish of roasted red pepper, garlic and eggplant. Some pide are open, like ours, and others have defined sides. Some are sealed at the top, almost like a calzone."
She describes the pide at Balkan Treat Box as doughy and chewy. "It's hearty and filling, and the different flavor combinations from that part of the world make it something new for a lot of people," says Nalic.
Certainly, Balkan flatbreads represent a first-to-market opportunity, especially in the handheld category. The Beef Pide features house-ground beef sausage seasoned with onion, garlic and Turkish peppers. Once it's pulled from the oven, it's finished with ajvar, fresh herbs, cabbage and fefferoni, a pickled pepper from the Balkans. "It's got a bright heat, like a pepperoncini," she says.
Zaytinya, José Andrés' Eastern Med small-plates concept in Washington, D.C., also menus pide, serving up unique flavor combinations that showcase opportunity for wider translation. His Peynirli Pide features Turkish tomato sauce with cinnamon and oregano, and is covered in halloumi.
Tempo, a fast casual, also in Washington, D.C., shows how pide can easily slide into that segment. With a similar setup to modern chains like Blaze Pizza and MOD Pizza, guests choose their toppings to go on the pide, which they define as "Turkish-style, boat-like flatbreads." Toppings include chicken sautéed with green peppers, onions, tomatoes, garlic, and herbs, feta cheese, caramelized onion and salam (Turkish beef salami).
Concepts that want to leverage these perfect-for-today flatbreads, but don't want to move too far into global flavors, can do so with ease. "A rich, flavorful flatbread can be filled to the brim with any combination of ingredients that balances sweet and salty, soft and crunchy," says Pam Smith. "They are a perfect vehicle to carry familiar favorites like quiche Lorraine ingredients, beef Stroganoff, a Reuben—the possibilities are limitless."
Beyond the Eastern Med
If anyone can demonstrate how deftly flatbreads can help ratchet up the crave factor, it's David Chang of Momofuku fame. His Bang Bar, a spit-roasted meat stall in New York that features Korean flatbreads, is open for breakfast and lunch, serving long lines of eager customers until the food runs out in the afternoon.
"Bang" means bread in Korean. It's the star of the show here. Breakfast offerings include the Mortadella & Cheese version, a mini wrap stuffed with mortadella, cheese and spicy mustard. There's a "Rip and Dip" option, too, where the flatbread is served with a choice of spicy eggplant or chickpea dip.
Lunch wraps are cleverly rolled into a "U" shape so they hold their fillings—like gochujang-marinated pork shoulder or yakitori-glazed chicken—while folks eat on the run. The success of Bang Bar illustrates how flatbreads fit perfectly into the modern foodservice landscape.
Khachapuri
Chefs are discovering another global flatbread that boasts serious deliciousness. Hailing from the Eurasian country of Georgia, khachapuri is a flatbread that features both cheese and egg. In addition to that winning combination, it introduces guest interaction.
Described by some as a "fondue in a bread bowl," khachapuri typically starts with an open-faced bread boat filled with a salty Georgian cheese called sulguni. The bread is then topped with a sunny-side egg and a bit of butter. The general idea involves the guest stirring the yolk and butter into the cheese, then tearing off pieces of the bread and dunking them into the pool of cheesy goodness.
Kargi Gogo in Portland, Ore., menus a version described as an open-faced bread boat with cheese, butter and an easy egg, signaling the ease of adaptation for U.S. consumers.
"These narratives behind global flatbreads are helping move them forward today," says Datassential's Darr. Story, origin, authenticity—all play a role in making flatbreads a viable part of modern menus. It doesn't hurt that they're also delicious and satisfying.