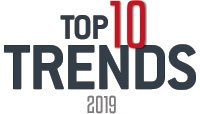 A number of years ago, terms like "gut health" and "functional foods" were limited to health food stores. But thanks to a few drivers, the idea of health benefits derived from wholesome ingredients in both food and beverage has powered its way into the consumer consciousness.
Certainly, retail products have helped define and market the concept, with everything from yogurts touting the benefits of probiotics for digestive health, to cold-pressed juices promising boosts in mental clarity and immunity.
The mainstreaming of retail products promoting all sorts of positive physiological effects helped move the idea of functionality from hippie culture to a broader consumer base.
"The main drive comes from the perpetual innovation in retail," says Rob Corliss, chef/founder of All Things Epicurean (ATE). "This retail explosion of cross-functional products has started to spark the same output in foodservice."
This phenomenon—although impacting all aspects of the menu—holds the biggest opportunity on the beverage side. It's fueling tremendous innovation in the nonalcoholic beverage category, where nutrient-dense ingredients like turmeric, blueberries, beets, carrots and kale find a natural home.
And although they've been making their mark in non-alc for a while now, beverage directors are delving deeper into both creative combinations and messaging around the health benefits of these ingredients.
Eureka!, a 22-unit casual-dining chain based in Hawthorne, Calif., signals a good-for-you profile with its well-named TLC Nectar, a nonalcoholic beverage starring turmeric, lemon, carrot and honey.
Spuntino Wine Bar & Italian Tapas, with locations in New Jersey and Long Island, borrows the name "Green Machine" from the healthy beverage section of retail for its mocktail that features matcha powder, vanilla simple syrup, pineapple juice, coconut milk, club soda and a frozen banana slice.
The trend in functional builds is also making impressive headway on the cocktail side of the menu, balancing the sin of liquor with the redemption of wholesomeness. "It makes sense that functional ingredients are partnering with booze," says Tamra Scroggins, director of food culture at Sizzler USA. "So many diners like to drink alcohol, but if they can add a little function to their cocktail, they'll feel better about their choice. This is a huge growth opportunity for restaurants with bars."
Honey Salt, a New American bistro in Las Vegas, goes all-in with the functional beverage trend in its cocktail called the Boo-Tox, which boasts fresh-pressed beet juice, ginger, coconut activated charcoal, local honey syrup and coarse sea salt—all spiked with lemon vodka.
Four Generations
In addition to a huge boost from retail presence, functional beverages are gaining traction thanks to all four significant generations. Yes, all four—this is a trend that holds broad appeal, a winning formula in the continuing effort to attract a wide swath of consumers.
"This trend is driven by Millennials, but Generation Z, Gen X and Boomers have all shown significant interest," says Maeve Webster, president of Menu Matters consultancy.
"What's most appealing for all of these groups is the intuitive or natural tie between 'whole' ingredients—honey, turmeric, produce, etc. It's not necessarily something that's manufactured or lab-based, but a benefit that comes from something in nature, which is extremely appealing to many consumers. It's also something that can be worked into a diet somewhat easily rather than a specific regimen that needs to be followed or that calls for a radical change in behavior."
---
Switch It Up – Bring a healthy halo to your cocktails and non-alc drinks.
---
In fact, many of the heroes in the functional beverage category are not new to consumers: carrots, beets, ginger, for instance. They simply have elevated their standing, moving into the hallowed grounds of functional and flavorful.
One of the reasons that functional beverages resonate with consumers young, old and in-between is that it lines up with the personalized health trend. While a Boomer might be seeking ingredients that help restore or protect heart health or mental clarity, a Millennial might be seeking that same ingredient as a preventative measure.
"There is a merging of Millennial interests with Boomer interests," says David Commer, president of Commer Beverage Consulting. "In the case of functional beverages, the motivation from all demographics is to stay healthy, be healthy or get healthy."
New Kids on the Block
Although familiar ingredients are championing this opportunity, a few superstars are surfacing, catching the eye of consumers interested in functional health benefits.
Kombucha, a fermented tea that's slightly bubbly and tangy, and boasts good bacteria and probiotics, is gaining ground with those looking for digestive health benefits—as well as consumers who are drawn to interesting, trend-forward ingredients. According to Datassential, it has grown 71 percent on menus over the last four years, with 62 percent of consumers who have had kombucha believing they receive functional benefits from drinking it.
Kombucha has already found its footing in the nonalcoholic world, with concepts like Bad Hunter, a plant-forward restaurant in Chicago, serving drinks like a turmeric-ginger kombucha.
Starbucks moved its Evolution Fresh brand of flavored kombuchas into retail last summer, offering varieties from Pink Grapefruit to Mango Pineapple Kombucha.
Now, mixologists are discovering that alcohol makes a really great partner.
ArtBar, a modern American restaurant in Cambridge, Mass., menus a boozy kombucha called the Pombucha Twist, featuring pomegranate-flavored kombucha, brown-sugar syrup, lime juice, fresh pomegranate juice and rum. "Typically, cocktails are made with heavy sugar-based syrups that tend to suppress the flavor of the spirit. Kombucha offers just enough sugar to enhance the flavor of the spirit rather than overpowering it," says Elena Divic, ArtBar's food and beverage manager. She also says serving kombucha lines up with the demand for healthier options.
One of the driving forces behind kombucha's rise is its fermentation. Marco Zappia, beverage director at Colita, a new modern Mexican concept in Minneapolis, explores a different side of fermentation. Every one of his cocktails features a "ferment," drawing from the Mesoamerican tradition of herbalism and fermentation.
For example, his version of a margarita, called a Naked Dani, features an orange ferment, made with Seville orange, clove, allspice, marigold and chamomile. The Colita Old Fashioned stars a fermented amari—one that excludes the distilled spirit. "The botanicals of our aromatic bitters—dominant in gentian, quassia, ceylon, clove—and the botanicals of our amari—dandelion, burdock, angelica, cinchona, saffron, eucalyptus—ferment for 14 days, hovering around 8 percent ABV," says Zappia. "The flavors of a ferment are elegant, adding complexity and nuance to a cocktail."
They also help deliver an intriguing narrative, one that Colita introduces through server interaction.
MCT and CBD Oil
Other functional ingredients are emerging, too, offering up the promise of tighter skin (collagen), lower blood pressure, weight management and better brain function (MCT oil), and pain relief/anti-anxiety properties (CBD oil). CBD, short for cannabidiol, is derived from hemp and is the darling of the functional wellness category. Some restaurants and bars are incorporating it into their drinks.
Plant Miami, a wellness- and plant-based restaurant, offers a CBD-infused cocktail called Plant Medicine, playing up its pro-health positioning. It combines rum, lemongrass, toasted coconut flakes, coconut milk, fresh pineapple juice, cloves, agave and CBD oil. "There are so many benefits of CBD oil, but pain relief and reducing inflammation top the list, as well as lowering anxiety," says Karla Dascal, owner of Plant Miami.
Firepot Tea Bar in Nashville, Tenn., demonstrates the potential for on-trend tea drinks to push the envelope on functional ingredients. Its Bowl of Soul is a warm tea drink with turmeric, cinnamon, cayenne, cacao powder and MCT oil.
Juice It Up!, a chain based in Irvine, Calif., that serves handcrafted smoothies and raw juice drinks, menus the Vital Proteins Blue Smoothie, featuring spirulina, Greek yogurt, pineapple, mango, lemonade and collagen. It makes reference to collagen's "healthy support for your hair, skin and nails, and is full of extra protein."
That protein call-out is worth noting as a new phenomenon in beverage, beyond the health-club world. Last summer, Starbucks rolled out two plant-based protein-enriched cold brew drinks. The Almond Protein Blended Cold Brew combines cold brew coffee with almond milk, plant-based protein, almond butter, banana-date blend and ice, while the Cacao Protein Blended Cold Brew has cacao powder, coconut milk, banana-date blend and ice. And peanut-butter powder boosts the protein in the PB Power smoothie at Fresh Juice Bar's four Southern California locations.
"Functionality with beverages seems to have increased as the consumer desire for personalized wellness and healthful benefits has increased," says ATE's Corliss. "We are much more cognizant of what we put in our bodies, and we look to products that address our personal needs—more protein, less sugar, energy, overall wellness and more."
Flavor First
For the most part, the element that drives functional ingredients to succeed in beverage development is enhancement of the flavor experience.
Combinations like those found at Barrio in Chicago evoke flavor: carrot/ginger/fennel and red beet/spinach/nectarine. Keeping with a modern brunch vibe, guests can "spike it" for an additional $6, adding vodka, gin or tequila to the juice concoctions.
Brunch is actually a great place to marry function with fun. "Since brunch always follows a Friday or Saturday night, it's a good idea to replenish some of the vitamins and nutrients lost the night before," says Ben Potts, bar manager and co-owner of Beaker & Gray in Miami. The restaurant's cocktail called That's All Folks serves that purpose, featuring gin, carrot, ginger and cilantro.
At Call, a chef-driven European cafe in Denver, the beverage menu plays nicely in the functional space. The Turmeric and Ginger Tonic is offered either hot or cold, leading with its healthful properties and gorgeous color. "We use fresh ginger, turmeric, black pepper—which activates the anti-inflammatory properties of the turmeric—organic cane sugar and water," says Joe Buckley, general manager. The addition of mezcal and Aperol turns the tonic into a cocktail called Smoke Signals.
The Doctor's Orders combines Pimm's, chai-apple reduction, lemon and honey. "An apple a day keeps the doctor away," he says. "And we use local honey, which is supposed to help with allergies. Some people are just looking for a drink that's exciting. But if they ask more questions, then we let them know about all of the health benefits. There are a lot of health-conscious folks in Colorado who actively seek these kinds of options."
Both Ever Bar and Jane Q at the Kimpton Everly Hotel in Los Angeles dive into the produce-forward trend. Green cold-pressed kale juice offsets the alcohol in Jane Q's Vodka, So … Duh cocktail (main image above), with Stolichnaya vodka, lemon cordial and soda.
---
Functional Beverages Trend Insights – insights into the functional beverage trend from our panel of experts.
---
And at Ever Bar, the Drink Your Vegetables cocktail stars a housemade gai lan broccoli and black-garlic shrub, with Espolòn Reposado tequila, Cointreau, lime and agave. Although unusual, the flavor combinations are enticing. "That's so important here," says Shane Schaibly, VP of culinary strategy and corporate chef for First Watch Restaurants. "You have to have flavor with function. That's our approach."
First Watch's Morning Meditation features orange juice, lemon, turmeric, agave and ginger, with a beet-juice topper. "You have a lot of function in that glass, but most importantly, it's delicious. And guests love it. That drink is killing it. The movement toward health and wellness is absolutely driving this trend, but it starts and ends with flavor."