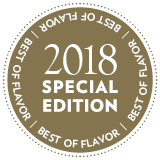 In the menu development process, there's no limit to creative execution of flavor-forward builds. Savvy menu developers know that making subtle but surprising recipe tweaks can result in standout signatures.
At Jsix in San Diego, Executive Chef Anthony Sinsay tinkers with classic flavors for items that create interest and appeal menu-wide, from his shareable Fried Pickle Spears that are served with a potato salad mousse to the clever dessert offering of "Waked" Alaska, with vanilla sponge cake, coffee ice cream and housemade coffee liqueur.
For the Korean Rice Balls, he essentially turns the Korean classic bibimbap upside down, swapping the traditional bed of warm rice for deep-fried balls of rice, gochujang, bulgogi, kimchi, spinach, carrots and sesame seeds.
"The texture resembles the crispy bottom of the traditional rice bowl served in the earthenware pot," says Sinsay, noting that the flavors, format and striking visual presentation help make it a standout.
At Público, a Latin-inspired, wood-fired cantina concept in St. Louis, Chef/Owner Mike Randolph offers traditional Mexican and South American dishes with contemporary influences. He employed a delicate but intentional flavor twist by transforming the classic oysters Rockefeller into a brand fit. His Baked Oysters incorporate a corn custard, and are finished with cilantro, radish and lime.
"This is one of those dishes that once one goes out into the dining room, others see it and follow suit," says Randolph. "It's really taking a classic technique like oysters Rockefeller, but with a whole new flavor profile."
Chef de Cuisine AJ Walker taps into the beloved Crab Rangoon dish for an inspired fried shrimp offering at Publican Anker in Chicago. He builds the bar bite with crispy tempura-fried shrimp with pepper jelly, pickled shallot, chive cream cheese and chow-chow, topped with fresh mint and cilantro.
"It brings back memories of eating crab rangoon from a takeout place," he says. "It's a hit because people love fried shrimp, and it's a good bar snack."
It might be tough to envision kale as a companion in a standout signature dish, but at Matadora in Woburn, Mass., Chef de Cuisine Billy Jimenez deftly uses the superfood to create a signature salad. The base of the salad is a warm, cheesy layer of provolone, giving it a rich, savory mouthfeel. That's topped with kale dressed in a vinaigrette of orange juice, sherry vinegar, olive oil, oregano and shallots. Jimenez adds chickpeas, olives and red onions, then finishes the build with crispy pumpkin shavings, pepitas and burnt raisins. "Even people who hate kale have said they love this salad," says Jimenez.
Skillful strategies to tweak known flavors and ingredients can indeed result in a menu standout, gently guiding patrons along for a new and memorable flavor experience.