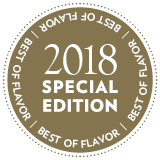 Crab rangoon, a regular on the appetizer menu of Chinese restaurants, may be an oddly Americanized invention, but its crunch-plus-creamy texture has made it an old favorite. New gastropub Publican Anker has put its creative stamp on the unassuming dish with its Fried Shrimp creation: crispy tempura-fried shrimp with pepper jelly, pickled shallot, chive cream cheese and chow-chow, topped with fresh mint and cilantro.
"The cream cheese is smeared on the plate to give it some fat, and the pepper jelly is essentially sweet-and-sour sauce with a Southern twist," explains Chef de Cuisine AJ Walker. "It brings back memories of eating crab rangoon from a takeout place."
The busy Publican Anker, the newest addition to the One Off Hospitality family of restaurants, draws diners for its interesting beers and fun-to-eat pork rinds. The Fried Shrimp is a big draw as well.
"It's a hit because people love fried shrimp, and it's a good bar snack," says Walker.