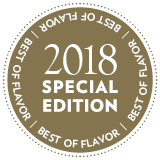 New York City is a melting pot. As the child of Japanese immigrants in the Big Apple, Maiko Kyogoku knew that firsthand. When she opened Bessou in Manhattan, she wanted to incorporate the diverse flavors wafting through the city streets.
The result is a menu inspired by global mash-ups, from an eggplant shakshuka seasoned with miso to a bananas Foster paired with Japanese-style pancakes.
But the best-selling item at Bessou is the Chicken Karaage, a Japanese-style fried chicken seasoned with Moroccan spices.
"It's a new spin on a familiar flavor and satisfies anyone's fried chicken craving, says Kyogoku, Owner, who developed the menu with Executive Chef Emily Yuen. The chicken is marinated overnight in soy and double fried in a traditional Japanese batter made from flour and potato starch. It's dusted with Moroccan spices, including paprika and cumin.
Kyogoku and Yuen were inspired by the flavors in Middle Eastern cuisine when developing this recipe, so they pair the chicken with a shiso tzatziki that provides a unique cooling dip. Black-garlic potatoes add dimension to the plate.
The combination of Japanese, Moroccan and Middle Eastern flavors makes the dish unique and representative of Bessou's global approach to Japanese cuisine.