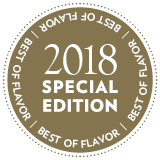 As Florida's oldest steakhouse, Okeechobee Steakhouse has become something of a mecca for beef lovers. This family-run, heritage restaurant has been serving mouthwatering cuts since 1947, and prides itself on its secret, in-house, dry-aging process dating back more than 60 years.
This bone-in, dry-aged Cowboy Ribeye is aged 55 days, then seasoned and placed back in the cooler for another 24 hours. It's then slow roasted and paired with housemade au jus.
This iconic dish is served only one night a week and sells out every time. Why? "Because it's a one-of-a-kind ribeye that is served by few restaurants today," says Proprietor Ralph Lewis. "The flavor of the meat is very robust, with a decadent aroma of aged beef. It is incredibly tender and is truly a ribeye lover's euphoria. It's what ribeye tastes like in heaven!"
Dry aging beef may be the steakhouse's specialty, but this dish's popularity has spurred experimentation with Okeechobee's dry-aging rooms to create new products.
"Because of its success, we are looking at working with dry-aged lamb and dry-aged pork next."