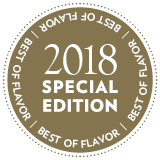 Tostadas are having a moment, kicking off from the wild embrace of tacos and offering a distinct advantage: a craveable crunch. In its BBQ Carrot Tostada, Compass Group North America gave the tostada a plant-forward twist to help showcase the foodservice provider's commitment to veg-centric cooking.
Chris Aquilino, Corporate Executive Chef with Compass' Envision Group, created the item, which runs as a limited-time offering from the exhibition station in a number of college and business cafés across the country.
"Its simplicity and recognizable flavor components make this a winning dish with a creative twist," he says. and featuring it in a made-to-order format encourages valuable guest interaction.
Mashing up both Mexican and barbecue flavors, the veg-centric item features a crispy corn tostada topped with avocado and smoky-sweet roasted barbecue carrots. A creative pineapple-zucchini salsa provides sweet, citrusy and vegetal notes. Scallions, carrot greens and cilantro garnish the tostada, rounding out a unique flavor profile that's as colorful as it is flavorful. and the BBQ Carrot Tostada also exemplifies root-to-stem practices.
"We featured this as a 'Stop Food Waste' recipe due to the 100 percent utilization of the carrots and the tops," says Aquilino. While the tostada leans into both the veg-centric and barbecue trends, its adaptability makes it a wonderfully malleable base.
"A fresh-fried or baked, crisp, corn-tostada shell is a great vehicle for a wider variety of flavor combinations," says Aquilino.