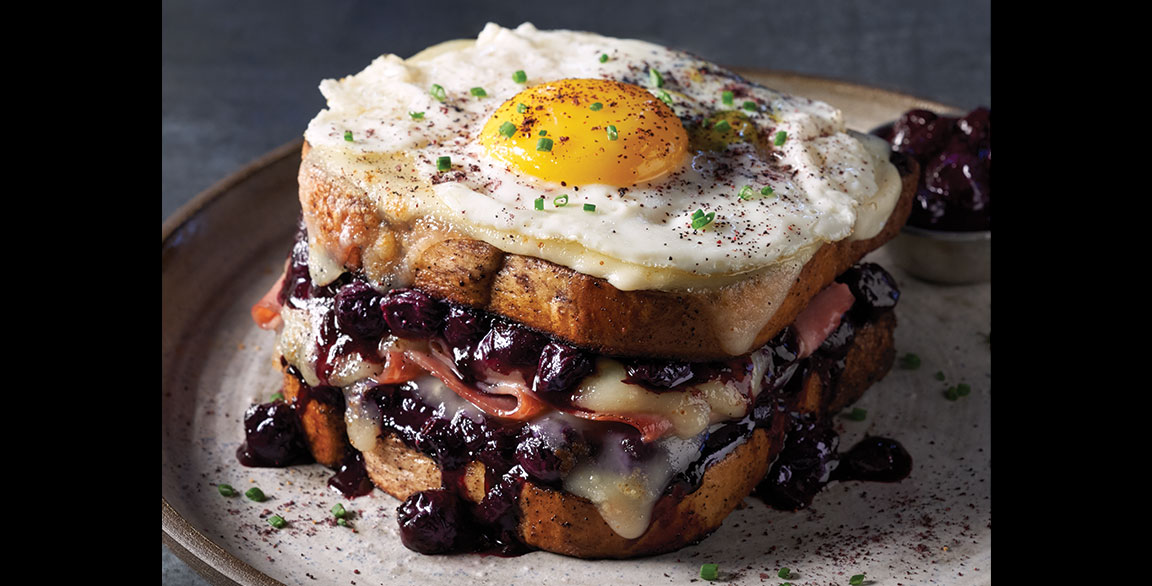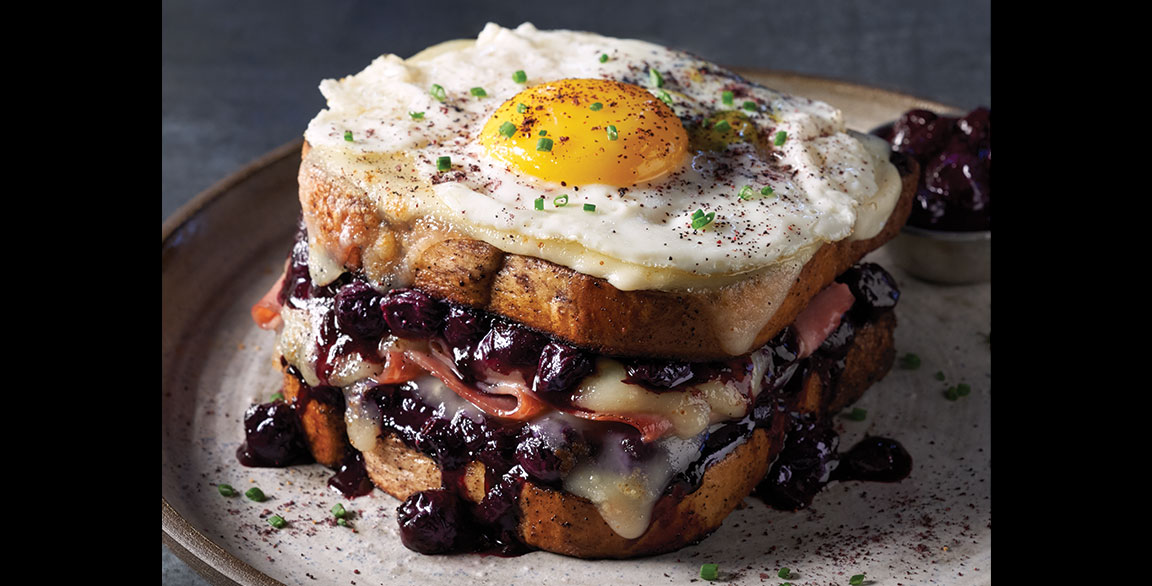 By Flavor & The Menu
August 28, 2020
Breakfast fare is beloved, familiar and comforting—three qualities that keep this category rich with opportunity. Consumers are reaching for sublime takes on favorites and seeking out fun, flavorful new bites. Given the new reality, their eating habits may have shifted, but their quest for comfort with an element of surprise has not. Success at breakfast hinges on flavor innovation.
BREAKFAST STARS
We tapped eight talented corporate chefs to offer up their creative approaches on how to make breakfast special today. Their shared inspiration was the highbush blueberry, known for its plump juiciness and year-round availability.
1. Blueberry Bagel French Toast Pudding
Thinly sliced blueberry bagels layered with IQF blueberries and vanilla drizzled with maple syrup and blueberry compote. Or, try a Coconut Chia Pudding Crunch with Fresh Blueberries: Creamy coconut milk chia pudding layered with macerated fresh blueberries and topped with a crunchy oat and almond-dried blueberry granola cookie crumble. "Anything on Einstein's menu that has blueberries sells very well. Our customers love blueberries and give us permission to try them in many innovations at breakfast."
—Chad Thompson, Product Innovation, R&D, Einstein Bagels
2.  Egg & Cheddar Tostada
Gets a sweet-tart foil with a blueberry-pineapple pico de gallo.
—Fred Slater, Executive Chef, Farmer Boys
3. Blueberry Monte Cristo
Brioche encrusted in a blueberry-lemon infused crème brûlée batter, with white cheddar, turkey and ham, served golden brown with a blueberry compote and dusting of powdered sugar. "Blueberries provide guests with fruit that brings value, flavor and nutrition. They are packed with antioxidants, fiber and vitamins C and K. They're great to use in year-round innovation as you can always find them in either a fresh or IQF form."
—Ramon Solorzano, Director of Culinary, Shari's Management Corporation
4. Russian Blueberry Syrniki
Sweet, cheesy pancake-type dish made with ricotta, eggs, sugar, flour, blueberries, salt, vanilla, lemon and vegetable oil—all scooped into a hot sauté pan and cooked until golden brown. "Another blueberry inspiration comes from my grandfather's bakery, Woolfie's Bakery in Dennis Port, Mass., where I first learned to love food a long time ago a long time. The French Wafer is a puff pastry sheet, rolled thin (with granulated sugar) to be about 10 to 12" long by 1.5" wide, cut with an elongated cutter, placed on a sheet pan and baked. Once cooled, fill or pipe the bottom puff pastry with Italian butter cream with blueberries mixed in (or, make a thickened blueberry compote). The second piece of puff pastry covers the top, sprinkle with powdered sugar, garnish one rosette butter cream and a few fresh berries for show."
—Kevin Doherty, Corporate Director, F&B, Delaware North
5. Blueberry Waffle with Brie, Maple Syrup, Whipped Blueberry-honey Cream
"It seems really simple but blueberry compote added to waffle batter on the waffle iron then baked and topped with Brie and finished with maple syrup is ridiculous. Powdered blueberries, heavy cream and honey in an Isi dispenser make any breakfast a better decision."
—Jason Knoll, VP of Culinary, Another Broken Egg
6.  Flaugnarde with Blueberry-cardamom Compote & Blueberry Fool
"I made this custard-based French dessert with fermented blueberries, reduced the amount of sugar, and used almond meal to give it more body than the traditional version. It eats well, and looks great."
—Kevin Cecilio, Senior Director Culinary Innovation, Sodexo, USA
7. Blueberry Matcha Kouign-amann
"Traditional kouign-amann shape filled with matcha pastry cream and topped with sour blueberry jam infused with orange zest."
—Lori Fulmer, R&D Food, Peet's Coffee
8. Michigan Blueberry and Cherry Omelet
"We created a Michigan blueberry and cherry omelet featuring frozen blueberries. Also, savory breakfast bowls like congee bowls are a good platform—we recently turned this more into a show, offering multiple different toppings, blueberries being one of them. We pickle the blueberries and they have been fairly popular option here."
—Kurt Kwiatkowski, Executive Chef, Residential Dining, Michigan State University
"Not only do you get that color pop from blueberries, you're also getting a clean flavor that checks that 'good-for-me-ingredient' box."
Jason Knoll, Another Broken Egg
TAKE & BAKE
Make breakfast meal kits and take-and-bakes the last transaction of the dine-in experience, or a reason to order curbside/takeout.
1. Blueberry French Toast Casserole
Assemble a kit for an easy bake at home of French toast batter, brioche bread cubes, fresh blueberries, blueberry jam cream cheese, and blueberry compote for drizzling over top. Provide instructions. "Creating items that capable of traveling well is always a challenge but with blueberries, but I tend to find that with the right application you can infuse their flavor in just about anything without compromising quality. For example, I recently created a dish using fresh blueberries that were macerated. This was perfect application as the longer the blueberries sat with all the other ingredients, the more they released their natural sugar and created more of a flavorful sauce to be served with. Blueberries also tend to hold up great when developing baked good whether you are using a fresh, IQF or even powder; the flavor and texture works especially well in items such as muffins, scones, pinwheels, etc."
—Ramon Solorzano
2. Ginger Snap Blueberry Crisp
Frozen blueberries blended with blueberry jam topped with a gingersnap, oat and walnut topping baked in a cobbler pan.
—Chad Thompson
3. Blueberry Casserole
Prepared with day-old cubed bread and an egg and milk mixture with dollops of blueberries infused with Nutella and cream cheese. Bake at home.
—Fred Slater
4. Blueberry & Banana Empanadas
Package coconut-infused dough balls along with a blueberry-banana filling and lemon icing, with instructions on assembling and baking at home.
—Kevin Doherty
5. Breakfast Pots
With teff or chia and cooked-down blueberries or a blueberry gel.
—Kevin Cecilio
6. Savory Blueberry & Sausage Breakfast Souffle with Hot Blueberry Jam
Could be made in individual servings or one big casserole to cut up. Good to eat right away or reheat as needed.
—Jason Knoll
7. Make-your-own Jam
"A make-your-own jam, maybe with chia instead of normal pectin or gelatin would be fun. Also a casserole bake would be a simple item that could be a big hit the next morning at home. We still have a lot of students wanting French toast sticks, so making a star anise-infused blueberry and maple dipping sauce was an easy addition, and something the students have liked grabbing."
—Kurt Kwiatkowski
BUILDING REVENUE
Temporary fixes during the shutdown and limited-seating guidelines are becoming viable sources of long-term revenue for a lot of operators.
Nearly nine in 10 will continue meal kits
Two-thirds will continue to-go family meals
Two-thirds will continue pantry
Source: 2020 Technomic, Inc. | Planning Program 2020
BLUEBERRIES IN MANY FORMS
"I like to use dried blueberries in all-day dining applications. When dried, the sweetness changes to a rich, full-body tone, something that mimics more of a dark chocolate flavor. Obviously, granola bars are a great fit here, but I could see them getting added to a more savory overnight oat, or added to a corned beef hash. In the hash preparation their sweet note plays nicely off the salty/fattiness of the corned beef." —Kevin Cecilio, Sodexo, USA
BLUEBERRIES +
Intriguing flavor combinations often win over consumers looking for a little excitement at breakfast/brunch:
Blueberries + Serrano peppers
—Jason Knoll
Blueberries + fresh corn
—Kevin Cecilio
Blueberries + balsamic glaze
—Ramon Solorzano
Blueberry + lemongrass + cream
—Lori Fulmer
"Blueberries bring familiar and health-oriented interest to a menu that appeals across generations. They have a way to be the 'safe' part of a recipe to help balance out more exploratory ingredients or formats, like in Blueberry-Pine Nut Shortbread Cookies topped with Maldon sea salt. Blueberries' delicate sweetness allows them to pair well in savory and herbal ingredients, creating fun, seasonally applicable items across the menu."
Lori Fulmer, Peet's Coffee
For more breakfast inspiration, visit blueberrycouncil.org/foodservice.
© 2020 U.S. Highbush Blueberry Council