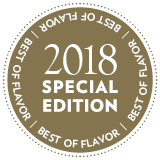 Kei Ohdera likes the in-between days, when two seasons overlap—one breathing a last gasp and the other showing early signs of life. That changeover inspired a dish at Farm Spirit, an inventive vegan restaurant, that features the best of both worlds—his Tetsukabuto Squash with a wild stinging-nettle purée, hazelnut "yogurt" and wild cress.
"The variety of squash is a more savory version of kabocha, so it is sweet and creamy with a grassy undertone," says Ohdera, Chef de Cuisine. "To promote the fruity aspects of the squash, it's paired with a yogurt made from hazelnut, which has an incredible fruity-lactic finish."
The nettles provide a grassy note, and the wild cress offers a bright counterpoint to the richness of the squash. "I tried the dish without the nettle—the sweetness of the squash and the acidity of the yogurt completely fell out of balance," says Ohdera.
The squash itself is seared, roasted and glazed with a syrup made from candy cap mushrooms. "The candy cap mushrooms are lackluster in their regular form, but when you dehydrate them, they become sweeter and take on a flavor profile akin to maple syrup. This really blew me away the first time I had it," he says.