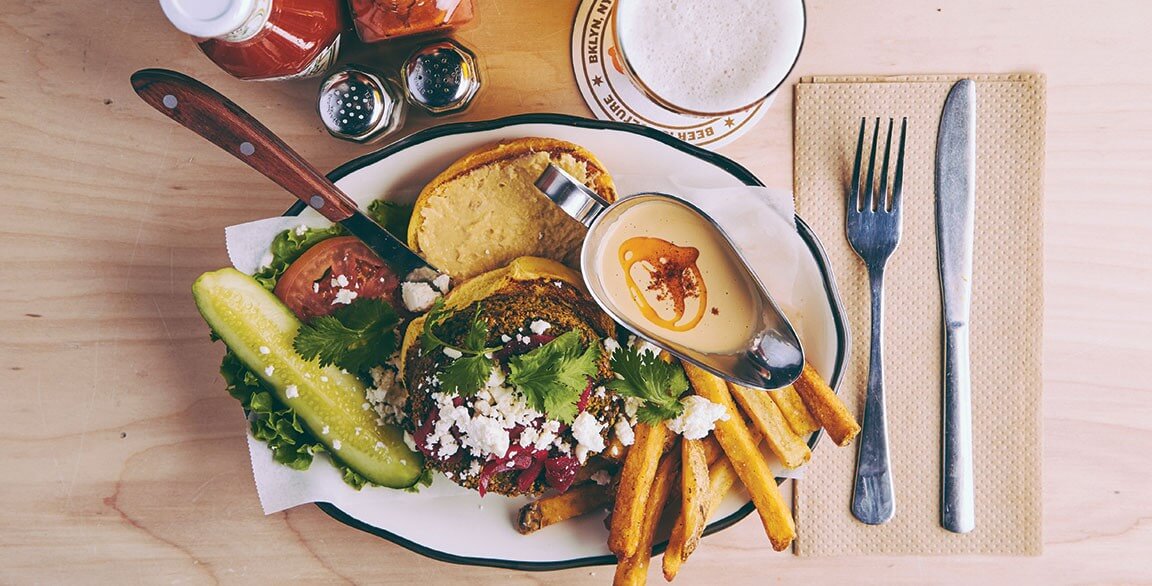 The term "functional ingredients" wasn't common a few years ago. Today, it's a buzzword that is impacting food and beverage across segments. It's the next iteration of how consumers interpret health and wellness on menus, moving on from "better-for-you choices" and "feel-good foods" to today's trend in "functional foods."
As Colleen McClellan, Datassential's director, says, functional ingredients correlate with an overarching movement toward the "personalization of habits, where consumers are starting to choose food based on what's best for their individual health needs." Incorporating functional ingredients into menu development and messaging authenticity around their benefits is a smart strategy.
Restaurant brands have to figure out how they're going to play in this realm. A tincture of CBD oil added to a matcha latte isn't the right pathway for everyone. Turmeric, beets, kombucha—these certainly can help inform a strategy, lending recognizable star power to functional callouts. But a larger strategy can be found by tapping into the broader terms of both "plant-based" and "plant-forward," which hold a lot of functionality under their big umbrella. The challenge—as always—is delivering this adventure in a familiar format.
That leads us directly to plant-forward burgers. According to recent consumer research on the packaged goods side of the industry, burgers are the point of entry for almost half of consumers who are exploring plant-based foods for the first time. In fact, menu mentions of plant-based burgers are up 91 percent over the past four years, according to Datassential. It makes sense: Burgers promise a recognizable and popular flavor experience. The fun part is interpreting functionality through the profile of a plant-forward burger, all while keeping it craveable and memorable.
Nielsen reports that retail sales of plant-based foods have grown to more than $3.7 billion.
Go Big on Flavor
The flavor-intensive areas of the world are the hottest spots for menu inspiration today: India, Israel, Turkey, South Korea, and so on. Their pantries are redolent with big, bold flavors and ingredients that fit into the plant-forward burger universe nicely—from spices and seasonings to plant-based ingredients like pulses and grains.
Chefs are leveraging these adventurous flavors and applying them to plant-forward menus in thoroughly modern burgers that serve up zero trade-down in experience. Black Tap Craft Burgers & Beer, with three locations in New York, one in Las Vegas, and two more locations opening soon, menus its Falafel Burger, which stars a crispy falafel patty chock-full of mint, parsley and cilantro, and then topped with pickled onion, Greek feta and a slather of hummus on the bun. The burger is served with a side of tahini dressing to help ratchet up a sense of place and a creamy, intense flavor. Black Tap, which menus 14 burger choices, sells out of the Falafel Burger every day.
At Cinderlands Warehouse in Pittsburgh, the Cinderlands Black Bean Burger showcases seriously modern flavor play. The black-bean patty is seasoned with cumin, coriander, cardamom and cinnamon, and topped with brined mushrooms, roasted cashews, jalapeño and onion. It's served on a potato roll with a roasted cherry tomato salsa, cashew cheese, and fried onions.
Billy Strynkowski, director of culinary wellness for Restaurant Associates, a subsidiary of Compass Group, sees plant-based foods as a huge opportunity for chefs looking to provide their guests with fuel that gets them through the day. He calls out functionality in his California Walnut Omega Burger, which relies on big flavors to help boost its curb appeal.
"This burger will live in our cafés across America," he says. "It features heart-healthy walnuts, packed with omega-3s, and answers a demand from our guests for plant-driven foods." The patty combines toasted walnuts, chickpeas, quinoa, breadcrumbs, chia seeds, apple cider vinegar, olive oil, cumin, eggs and garlic. It's pan fried until golden brown, then served on a seven-grain roll.
"Plant-based foods are hugely popular in our cafés," says Strynkowski. "We used to see maybe 30 tickets a day. Now, it's well over 100." The key, he says, is a focus on flavor.
Blended Burgers 2.0
The blended burger was first brought to market a few years ago, combining a meat-based patty with mushrooms, resulting in a leaner, but still-beefy option. Relying on the umami-rich quality of mushrooms, it subs out some of the meat without sacrificing any of the flavor. "The blend" has found great success, particularly in the college and university segment.
At The Shore, a modern Mediterranean restaurant in Reno, Nev., the Barendo Burger demonstrates a next-level attention to flavor detail that falls in step with on-trend burger development. It features a blended patty, pickled shiitake mushroom-bok choy slaw, XO aïoli, house bonito-flake/sesame-seed potato bun, togarashi fries and ginger ketchup.
The approach here is to lead with flavor, promising guests an eating experience of an all-beef burger, but with the benefit of plant-based ingredients.

Jorge Cespedes
Chefs are taking a long look at the idea of a blended burger, where meat joins forces with plant-based ingredients to boost functionality while maintaining the satisfaction granted by a meat-based burger. To increase plant-based protein and reduce fat and calories, one of the blended burger's next iterations sees an inclusion of beans.
"The approach here is to lead with flavor, promising guests an eating experience of an all-beef burger, but with the benefit of plant-based ingredients," says Jorge Cespedes, culinary creative director with Marlin Network, based in Springfield, Mo. He suggests maximizing today's burger trends of creative flavor and texture.
"Tout the functional values in your blended burger, but then deliver on that modern flavor promise with ingredients like a signature sauce, bright, vinegary slaws, pickled banana peppers, regional cheeses, satisfying buns," he says. "Play the plant-forward burger the same way you would present any signature build, but call out the functional ingredients like protein-packed beans, fiber-rich grains or vitamin-dense mushrooms."
As with a classic burger, today's plant-forward burger is demonstrating craveability in wonderfully creative ways.