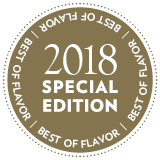 There's a reason burrata is the "it" cheese these days—that creamy, soft texture is decadent and irresistible. The Burrata with Roasted Spaghetti Squash at Geist, a newly opened neighborhood bar and restaurant, highlights a creative textural play, where the lush cheese is stuffed with the squash.
"This dish seems incredibly simple, but it has numerous flavors and textures layered together that all complement each other," says Executive Chef Josh Stockton.
He makes a fresh ricotta, and hand-stretches all of the burrata skins from fresh mozzarella curds. He slow-roasts the spaghetti squash in the oven, then chars it on a wood-fired grill. "We use the squash inside the burrata and also as a garnish," says Stockton. The squash used in the garnish is marinated with extra-virgin olive oil, lemon zest and fresh parsley.
Adding a crunchier element, housemade rye sourdough is grilled and served warm on the side."Everyone loves spreading a creamy, smoky cheese on warm grilled sourdough," says Stockton.
"I also think people appreciate that we're using local products, made in-house. They understand that it's something special that you just don't see in most places."