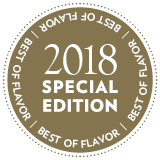 Ancient grains have been finding their way onto modern menus, adding both wholesomeness and narrative to everything from salads and bowls to shareables and bar bites.
Here, the Grilled Shrimp Lettuce Cups offer up crisp Boston Bibb lettuce filled with a sorghum and grilled-corn salsa—equal parts whole-grain sorghum, plum tomato and corn—tossed in a spicy-tart dressing featuring chipotle pepper, lime juice and zest, cumin and cilantro.
Grilled shrimp tops the handhelds, which offer guests a light, refreshing, unique bar snack or shareable. Sorghum is ideal for carrying the spicy flavor of the chipotle pepper, along with the tartness of the lime and the subtle flavor of the cilantro.
"Presented in its own edible cup, this dish is the perfect shareable. The flavor profile is fresh with a little kick and is appealing to many different palates," says Kathy Siegel, nutritionist and Managing Partner at Triad to Wellness, a health marketing consultancy.