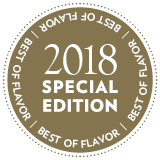 Using an approachable format is an easy and auspicious way for chefs to play with flavor. At Jsix, a neighborhood restaurant and bar, that's exactly what Executive Chef Anthony Sinsay does, taking traditional Korean bibimbap and presenting it in bite-sized meatball-shaped format with the Korean Rice Balls.
Working alongside cook June Yoo, whose Korean heritage inspired the dish, Sinsay swaps bibimbap's traditional bed of warm rice for deep-fried balls of rice and gochujang.
"The texture resembles the crispy bottom of the traditional rice bowl served in the earthenware pot," says Sinsay. With a crunchy exterior encasing soft rice in each ball, he says, "The dual texture is reminiscent of the original."
He plates the rice balls over housemade kimchi and bulgogi (marinated beef), then garnishes with spinach, carrots and sesame seeds. Jsix's take essentially turns bibimbap upside down, evolving the format while delivering the craveable flavors of this dish. The shareability ups its appeal and the flavors, format and striking visual presentation help make it a standout.
Says Sinsay, "It's done very well, and customers are loving it."