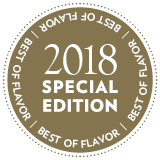 It's hard to make something as ubiquitous as a kale salad stand out, but Matadora, a Spanish tapas concept from COJE Management Group, does so by pairing kale with an unlikely ingredient: melted provolone.
"Who the hell else puts provolone on kale?" asks Chef de Cuisine Billy Jimenez.
As the salad category blurs boundaries with the bowl category, this Kale Salad entices with complex flavor and texture. The base of the salad is a warm, cheesy layer of provolone, giving it a rich, savory mouthfeel. That's topped with kale dressed in a vinaigrette of orange juice, sherry vinegar, olive oil, oregano and shallots. Jimenez adds chickpeas, olives and red onions, then finishes the build with crispy pumpkin shavings, pepitas and burnt raisins.
Cooked on the restaurant's plancha, the raisins provide a sweet balance to the bitter kale, and their mode of preparation is on-brand, fitting with the wood-fired meats Matadora is known for. This modern salad is finding just the right note with customers.
"Even people who hate kale have said they love this salad," says Jimenez. "I don't like raw kale, but I love this!"