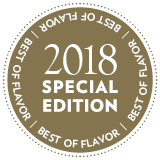 Translating one of today's hottest menu trends into a vegan offering is a smart strategy. The craveable flavor system of Nashville hot has been showing up in different iterations across the country, with chefs capitalizing on its newfound national spotlight.
Nashville hot chicken has certainly swept through Los Angeles, and Sixth Street Tavern is one of the few restaurants offering a vegan version of this trending sandwich, alongside a regular version—keeping up with the modern palate yet meeting increasing demands for plant-based cuisine.
"We dredge our housemade seitan in vegan buttermilk, seasoned flour, and fry it until it's golden brown and crispy, and then coat it with Nashville hot spice," says Chef Trevor Faris. It's served on a vegan brioche bun dressed up with Sixth Street sauce and cider-vinegar slaw.
"It hits all the good textures and flavors: spicy and crispy seitan, a tangy vinegar slaw and a creamy sauce."