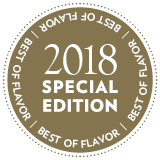 Nashville hot is now a go-to flavor system, thanks to its craveable profile of big heat and savory flavor. Ida Claire, a Front Burner Restaurants concept known for its updated Southern classics, leverages it for a signature take on toast.
Its Nashville Hot Chicken comes served atop grilled pimento-cheese toast. Chef de Cuisine Amanda Vasquez says that the dish's craveability has made it a top seller.
"The heat is enough to keep you coming back in an effort to keep your lips happy, and the pimento-cheese toast works as a 'gravy,' in a sense. You just have to keep going back for it."
To make the dish, a half chicken is first brined overnight. It's then dipped in an egg-white and Tabasco wash, resulting in a great crunch once fried. Out of the fryer, it's submerged in a mixture of cottonseed oil, garlic, smoked paprika, brown sugar, black pepper and cayenne, then placed atop a thick slice of brioche grilled over pecan wood and slathered with housemade pimento cheese.
"The grilled bread over pecan gives a slight hint of smoke, and the pimento cheese acts as the creaminess needed to balance the heat," says Vasquez. A classic Southern cheese, pimento also deepens the entrée's narrative as a modern Southern classic. The chicken is topped with housemade pickles, onions and toasted sesame seeds.
Lunch guests can get their fix in a smaller portion made with chicken tenders.