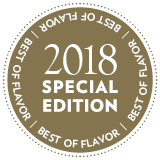 "Low and slow" is always the start of something good. At Manzo, housed in Eataly Flatiron, the Arrosto d'Agnello promises a roasted lamb shank cooked on a rotisserie for 24 hours at 200 degrees F.
"Cooking it on the rotisserie pays homage to lamb cooked over open fire in Italy, specifically Lazio, during springtime," says Chef de Cuisine Adam Hill.
"This dish pays respect to 'agnello alla scottadito,' which translates to 'lamb that will burn your fingers'— meaning it's so good that you eat it while it's still too hot. The result is rich, juicy and flavorful. It has all the flavors you want with lamb."
He marinates the lamb shank in olive oil, white wine, thyme, rosemary, lemon zest, garlic and anchovy, then coats it in a mixture of sugar, salt, lemon zest, thyme and rosemary, giving the outside a nice caramelization, roasted flavor and texture. Potatoes, red onion and artichokes roast in the marinade, soaking up all that savory goodness.
"The flavor of the marinade really takes the lamb shank over the top," says Hill. "Lamb with rosemary and thyme is a classic for good reason. Add to that citrus flavor with the lemon zest, acidity with white wine, and a rich and flavorful finish with the garlic and anchovy. After roasting, we finish it with salsa verde—a fresh and flavorful herb vinaigrette.
This dish has been a hit because it is traditional and has classic flavor combinations, but it is done in a way that makes it new and exciting."