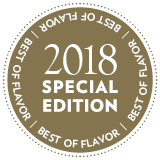 Beets and goat cheese are a classic pairing. At Salon by Sucré, a refined yet casual restaurant in the French Quarter, Tariq Hanna, Executive Chef/Owner, spins it into an unexpected salad offering.
"Our Beet Salad is one of, if not the, signature dish for the restaurant," he says. The plate begins with a velvety goat cheese mousse made from goat cheese, whipped cream, salt and pepper. "By adding whipped cream to the goat cheese, it tones down the gaminess of the cheese," says Hanna.
Thin-sliced beets that have been prepared sous vide are rolled and placed atop the goat cheese. Microgreens, edible flowers, walnut granola and a drizzle of champagne vinaigrette garnish the dish.
For a surprising and decadent touch, shavings of 68 percent bittersweet chocolate finish the salad, with the earthiness of the cocoa calling out the earthiness of the beets.
The Beet Salad has been on Salon's menu since the restaurant opened in 2015, and its popularity ensures it's here to stay. Says Hanna, "All too often I hear 'I never liked beets until I tried yours!'"