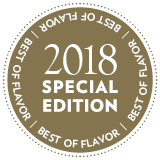 Seafood and cheese go together like … well, they don't typically go together. But Artichoke Basille's Pizza has figured out a way to make these strange bedfellows jibe: Crab Pie.
"Imagine the best crab dish you have ever had, accompanied with a low-moisture mozzarella cheese and a velvety seafood stuffing, cooked together on a crispy crust," says Sal Basille, who owns the pizza shop with cousin and best friend Francis Garcia.
The offbeat offering has attracted a cult following, presenting seafood in a portable medium that's casual, craveable and affordable, according to Garcia.
Unexpected pizza flavors and complementary textures give the Crab Pie a distinct appeal. A cream-based, bisque-like crab sauce teeming with herbs simmers for eight hours, allowing seafood flavors to optimize before being spread on Artichoke's signature pizza dough. Fresh mozzarella cheese and secret-recipe surimi crabmeat stuffing then top the pie.
"A crispy crust provides for the ultimate mouthfeel and combination of creamy and crunchy—not too much cream and not too much crunch, but a perfect balance," says Basille. Parsley tops things off for a fresh green accent.