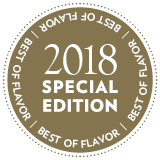 In a college foodservice setting, menu items offering familiarity with a dash of creativity are a win among students. At Siena College, Joshua Miller's Chicken Kimbachi is one such offering—a modern-day mash-up of Korean-style kimchi fried rice and Japanese hibachi chicken.
"The two dishes are harmonized incorporating a Korean gochujang sauce and Japanese yum yum sauce," says Miller, Executive Chef with AVI Foodsystems, a foodservice provider for the college. Umami and heat from the fried rice and gochujang sauce is tempered by the rich egg yolk and yum yum sauce, a mayonnaise-based sauce flavored with rice vinegar, sugar and ketchup.
"The finishing touch is a sunny-side-up egg, which is how kimchi fried rice is traditionally served, and a garnish of shredded nori."
Attention to detail is evident throughout the build, from Coleman Natural no-antibiotics-ever chicken, to the housemade kimchi, made with the guidance of a culinary team member hailing from Korea. The dish is featured at the live-action Fusion Station in the main dining hall, which adds to its appeal.
"We are able to make items like fried rice right in front of the students, which garners popularity." Miller zeroes in on what ultimately makes this dish a hit: "This combination works so well because we have stuck to familiarity while bringing creativity to the table. Rice, chicken and eggs are very conversant ingredients to many cultures, and then we added distinctive, rich flavors in a delicious combination."
Miller and team recently introduced a similar breakfast fried-rice dish with great success. "The potential combinations of these ingredients are endless."